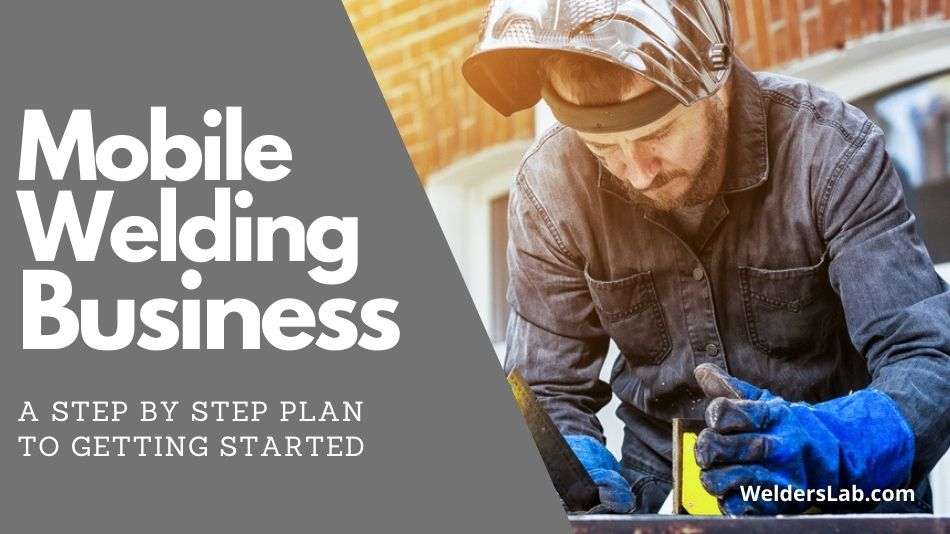 Starting a mobile welding business is a great way to earn extra income. It can also become a full-time small business if that is what you want.
As a mobile welding business owner, you will be responsible for providing welding services to businesses and individuals that do not have the equipment or expertise to do it on their own.
You will be able to travel to their locations and take jobs that are both large and small. So, if you happen to enjoy welding and have the work ethic and skills to do the job, this might be a good career path for you.
So what do you need to start your own mobile welding business?
First, you will need to make sure you have the proper equipment. Then you will need to determine your niche. Who will you serve as a mobile welder? Finally, you will need to set up your business as a legal entity and device a sales and marketing plan.
It is quite possible to make a substantial living with a mobile welding business. We have put together a step-by-step action plan for you to follow. These are all the basics you will need to start a mobile welding business. If you follow these steps and work hard your chances of success are fairly good.
How to Start a Mobile Welding Business
Step-1: Get the Right Equipment
The first step in starting a mobile welding business will be getting the proper equipment. You will need the right tools for the job and that can be a substantial cost in the beginning.
Without the right equipment, you will not be able to serve your customers effectively. You want to get the best equipment you can afford to start with.
Get a Vehicle
You will need a vehicle that has enough room to haul your tools. A flatbed truck with a toolbox attached will serve you well here.
If you can get a sturdy truck with plenty of room to carry your welding machinery and equipment. Many welders prefer a flatbed truck. Whatever you decide, be certain the vehicle can handle the job.
Get a Generator Welder
You will also need a mobile welding machine. There are a variety of MIG and TIG welders available for purchase.
You will want to shop around for one that will be able to handle your anticipated workload, last a long time, and deliver quality work. It is best to go online and do some research.
Side Note: I personally use the Miller Bobcat 250.
You will also be well served to visit welding supply shops so you can get a good hands-on review of all your options.
Load Up on Tools
You will also require a variety of safety equipment and various tools to do your job.
Helmet and gloves are important but so are grinders, hand tools, protective sleeves and aprons, and additional supplies and equipment. All of these items are available from multiple sources.
Step-2: Determine Your Niche
The next step will be to decide who you will serve and what you will specialize in. Depending on your expertise (or willingness to learn) you will want to make sure you offer a service you can provide.
If you are good at a certain type of welding you should target a demographic that needs that type of welding service. Also, you should narrow it down to what primary demographic you will serve.
Will you work in the housing and construction industry, farming, small business? You will have to analyze your choices combined with your abilities and make the right choice for you.
This can also depend on where you live. If you are in the U.S. Gulf Coastal region you will need the knowledge and expertise to accommodate shipbuilders, pipeline workers, and maybe even offshore welding.
If you live in an area that is mostly farmland, there is a lot of work repairing broken gates and farm equipment on farms pretty regularly. Again, make the decision based on all available information and stick with it.
Step-3: Set up Your Business the Right Way
Once you have settled on a niche you will want to set up your business.
#1 Get an Accountant
It is highly recommended you speak to an accountant.
They will help you save time and money getting your financials properly squared away. Listen to them and follow their instructions and you will probably save a lot of money on taxes. They will also help you get an EIN or Employer Identification Number.
#2 Setup an LLC
Your accountant can also help you set up an LLC. Setting your business up as an LLC will allow you to avoid liability if you are ever sued. It is advised you talk with a business attorney as well.
They will be able to help you set your business up and answer any questions you have about licensing, permits, and other legal concerns.
#3 Get a Business Checking Account
You should set up a business checking account and run all money from the business through that account. Income and expenses should go through this account so you can keep track of your numbers and keep them legally separated from your personal finances.
When it is time to pay yourself, you will pay yourself from your business account. Your accountant will help you get all this in order and answer any questions you have.
#4 Get Accounting Software
It is a good idea to have accounting software. QuickBooks is a good product, but you might want to consider using software that is adaptable to your accountant's.
Whatever you choose this will help you keep accurate records of your expenses and income.
#5 Get Insurance
You will also need business insurance. Some places won't even allow you to step foot on their property unless you have the proper liability insurance setup.
This also helps you do work for someone and something bad would happen and results in faulty work.
For example, if you were to weld a catwalk for someone and shortly after it breaks and that person gets injured or worse dies you could be held liable for the situation.
Their are other types of insurances available the will pay out if a machine goes down for a long period of time. So take the time to talk to your insurance agent about this. Most people skip this kind of stuff, but it will pay in the long run to have it.
Step-4: Promote Your Business
Here are a few of the ways I've promoted my welding business in the past.
Word of Mouth
Word of mouth is the best way to get started. Print out some business cards and start spreading the word amongst your friends and family.
Think of who you know that may have work or connections. Starting with your friends and family is the easiest way to get started.
Flyers
You can also produce flyers and hang them around town. Carry a stack of them with you and hand them out whenever you get an opportunity.
Advertise
Advertise on Facebook, Craigslist, the local paper, and even radio if you can get it. If there are local fairs or festivals in your area, sign up as a sponsor. You do not have to make huge contributions.
They will print your name and logo in their materials. The more you can do to spread your name the better. Before long, you will be the new face in town offering mobile welding.
3 Tips for Starting a Mobile Welding Business
Here are three important tips to help you get started. Keep in mind, running a mobile welding business is not an easy task.
Running any business can be difficult but welding is a complex and sometimes dangerous job. Take your time, follow the business steps outlined here, work hard, and you will achieve success.
You just have to stick to it. That said, here are some additional tips to get you going.
Tip #1: You Don't Need The Best Equipment When Starting Out
First, you do not have to start with the most expensive equipment.
You can start cheap and advance as you begin to make money. You will have to get better equipment anyway as demand for your work increases.
You may as well make it a part of your plan to start cheap and buy better stuff later. You will not regret the decision because it will pay off in the long run.
Tip #2: Don't Be Afraid to Bid Low on Jobs
Second, take low price jobs at first. It is far better to take low price jobs early on so you can build a reputation and get used to working for yourself.
It takes time to build a solid reputation. Taking small jobs that do not cost the customer a lot of money will get you the experience and confidence you need.
At the same time, you will be able to get some good testimonials and client reviews. Those are worth their weight in gold.
Tip #3: Take on the Odd Jobs
The third tip is to take odd jobs that others are not willing to do. Bigger companies will often pass on small jobs.
That is because they are usually swamped with bigger jobs. You can swoop in and take those small jobs. This will also increase your confidence, experience, and keep you making money.
This is one way you can get recognized in the community as a mobile welding business.
In Conclusion
Starting a mobile welding business will take a lot of work, a substantial upfront investment, and a little bit of paperwork to get started.
If you like welding, have a good work ethic, and a pleasing personality you will be able to make a good living. Just make sure you are willing to put in the time to do the low paying jobs at first.
That way you can work your way up. You will work hard at this, but if you are passionate and love your job it will not feel like work at all. Good luck with starting your mobile welding business.