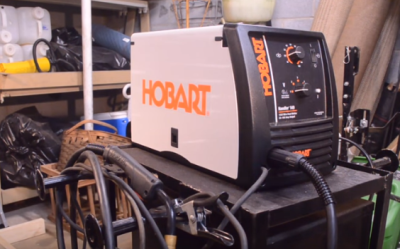 You've gotten pretty good at welding. It's a great hobby and very useful for DIY projects around the house.
As your technique continues to improve, you are beginning to realize that you need to have your own welder.
This has led you to hunt the best types of welders for home use.
Best Welder for Home Use – Hobart 500599 Handler
Our favorite welder is definitely the Hobart 500599 Handler. It is pretty affordable, relatively light, works from a home outlet, and is insanely easy to use.
Pros:
Superior craftsmanship – much higher quality than competitor brands
Runs on standard household current so you can plug in and go
Steady arc control – voltage control selector allows for a smooth arc no matter what material is being used
Cons:
Not for industrial use – for lighter operations only
Can be difficult to establish smooth wire feed – need heavy spool to avoid bird nesting in the line
Can't be used with generators – portable but not useful in locations without their own power supply
This welder is awesome. It's ready to go right out of the box, so you don't need to buy any extra kits. It even works with stainless steel as well as it handles mild steel.
Unlike most small welders, which can't handle more than 1/8 inch thickness in materials, this welder has an output that will vary from 25 to 140 amps, so you can weld in a wide range of steel from 24-gauge to ¼ inch mild steels.
It has a 20% duty cycle at 90 amps, so you get a smooth and consistent arc performance without too much downtime.
Best of all, it operates off of the standard 115-volt household current. Just make sure you use it on a 20-amp circuit because the 15-amp circuits may trip with it.
The voltage control selector offers 5 different options, so you can always control your arc. This means that you will get a smooth and stable arc regardless of your choice in material.
The aluminum drive system with a 200-amp heavy-duty work clamp will allow you to have an industrial feel to your work without needing industrial power.
The welder is also pretty easy to use. It takes less than 15 minutes to get it up and running, and at 57 pounds it isn't too heavy to handle. With a 10-foot MIG gun, a dual gauge regulator, and a 10-foot work cable, the welder is pretty basic with everything you need.
The MIG gun comes with a liner, but you'll want to use .030 wire with the welder for the best overall performance. For continuous long beads on steel plates, you will need to work slowly.
The technique this machine excels at is the interrupted stitching technique. This is especially true for thicker materials. The good news is that it doesn't usually kick out when unit temperature maxes, so it can pretty much handle anything you need within its specs.
This is a great welder for pretty much any skill level. The easy setup and user-friendly display make it extremely easy to use for beginners in just minutes. This is one of the reasons it is so popular.
Despite that, it still offers superior performance and craftsmanship for smaller, non-industrial projects so experienced welders also love having this for simple home projects.
One of the cool things about this machine is that it's really portable. It's less than 60 pounds, so you can pick it up and take it pretty much anywhere without needing the cart.
That being said, there's an optional add-on to have a wheeled cart that was specifically designed for this machine. The downside is that it won't run off of generated power, so the portability ends with outside jobs that have no power source.
This is a great home use machine because it uses household current. It's extremely versatile, with the option to run anywhere between 25 and 140 amps. This means you can weld pretty much any level of thickness in mild steels, and can even handle aluminum and stainless steel jobs on occasion.
Another thing that makes this great for beginners is the built-in safety features. This welder offers a thermal overload system that will reset itself, a wire safety mechanism that will protect your wire until you're ready to pull the trigger, and even protection against a surge in the current.
This welder has some great specifications and features.
It weighs only 57 pounds, which is pretty light for a welder.
It's got a 200 amp heavy duty work clamp,
A quick change and quick-release drive roll, a wide variety of compatible materials and thicknesses, and a lot included.
What's in the Box
In the box, you will receive your
The welder
A gas valve (gas sold separately),
A 10-foot MIG gun, a dual gauge regulator and gas hose,
A 10-foot work cable and clamp,
A 10-foot power cord,
Spool of .030 flux-cored wire,
8-inch spool tips, .030 contact tips,
And a user's guide and set up guide.
This is a massively impressive welding machine. Although it is ideal for beginners, it produces very high-quality welds that will last a long time.
It isn't a high powered industrial machine, but for light home and repair jobs, it's perfect.
You can't match the versatility or quality of this machine anywhere else on the market.
Click here to buy the Hobart 500599 Handler.
Best MIG Welder for Home Use – Hobart Handler 210 MVP
If you're looking for a great home use welder that can handle a little bit more power than the 500599, check out the Hobart Handler 210 MVP instead.
Pros:
Infinite control over your wire speed
Versatile enough for a wide range of projects
Quick-release tension for easy changeovers
Cons:
Very heavy – usually requires a cart
Much more expensive than comparable options
The ground wire is pretty stiff
The Hobart Handler 210 MVP is a great MIG/Flux Core welder. It's also the only welder in the Hobart line that can run on 210 amps of power while still remaining in a portable case.
This continues Hobart's trend for creating extremely powerful and reliable machines with unparalleled craftsmanship and quality in design.
This machine has some great specifications. It's got a 20% duty cycle at 90 amps, so it will run pretty well. It's got a flexible input voltage.
Simply swap the cor out and you can run either 115 volts (standard household current) or 230-volt power lines. It weighs a bit more than other welders, so at 80 pounds you may want to invest in a cart.
It can handle weld thickness from 24 gauge 3/8 inches. The wire feed speed ranges from 40 to 680 IPM. Using the 115-volt amperage, the range is from 25 to 140 amps. With the 230-volt power current, it can run from 25 to 210 amps.
This machine is also ready to use pretty much right out of the box. It can weld 24 gauge up to 3/8 inch mild steel in just 1 pass! This can be used for pretty much anything from construction to auto bodywork, from boats to household repairs.
The wire feed speed controller is infinite, which lets you have control over your weld and maintain the highest possible quality of arc performance without the spatter and cleanup.
This welder was designed to be extremely versatile. This way, you can maintain the highest possible quality welds without too much work and multiple passes.
In fact, this allows you to attack separate in volt receptacles to swap between running off regular wall voltage or 230-volt inputs. From there, you can choose from 7 different voltage positions for 230-volt power and 4 options for 115 volts. The duty cycle performs at 30% at 150 amps using 230-volt power and 20% at 90 amps under 115-volt power.
It's not that easy to transport because it's nearly 80 pounds. You will more than likely want to invest in (or weld as your first project) a cart for transportation.
This will also allow you to comfortably store your cables and gas cylinder. It's also much more affordable than the Hobart 230 while being nearly as strong and capable when it comes to performance. Given the number of features and the power and durability, it's an excellent value for the money.
Hobart is one of the best names in welding. They have legendary service and a reputation for products that are unmatched in durability and quality.
Like every single Hobart product, it comes with the Hobart 5/3/1 industrial warranty. This means that if anything goes down, or if any of the parts break, you get a repair or replacement for free.
This welder is one of the best MIG welders on the market today. It comes with its own gun, it's easy to set up and handle and includes tons of other features. The SpoolRunner 100 automatic feed gun is ridiculously easy to use.
This welding machine can even handle non-ferrous metals. The SpoolRunner 100 wand is an optional add-on that will allow you to weld aluminum with this machine. Pretty much any other metal can be welded just using the materials included in the box.
The great thing is that this takes very little time to start. Within minutes of plugging in, you can begin welding. There's even a convenient selector switch that will allow you to choose between MIG welding with a 4 or 8-inch spool reel or a separately purchased spool gun. This lets you swap back and forth easily fro any job. Wire voltages and gas pressure are all automatic.
This machine is able to adapt to any work environment. Thanks to the option for different power inputs, you can change your plug and be ready to work in any site, with any power source. This makes the machine portable despite its heavier weight.
Just drop this machine into the back of your vehicle and take it to where you need to do your work. It will provide a steady arc of power that lets you handle pretty much any weld quickly, without sacrificing penetration or quality.
Despite having enough quality for professional jobs, it's also great for beginners. Everything you need to know is on the cover of the machine. It's great for DIY projects and lightweight fabrication.
The controls are easy to understand and everything is marked with a clear and large display. All the information you need to adjust settings for perfect welds can be found right on the machine, and the manual is extensive.
Click here to buy the Hobart Handler 210 MVP.
Best Small Welder for Home Use – Forney Easy Weld
If you want a small and simple welder that can get home projects done with ease but won't break the bank, then you will probably enjoy the Forney Easy Weld.
Pros:
Extremely affordable – significantly less expensive than other welders
Highly portable – machine only weighs 14 pounds and can use flux core without moving gas
Tons of storage for multiple spool wires – 2 or 10-pound capacity
Cons:
Only 2 power settings – may cause issues with amperage and penetration
Wire feeder and workpiece ground wires are short
Limited capacity – designed for small projects but not thicker metals
The Forney Easy Weld is a great option for beginners. After all, easy is in its name. Although it lacks the power of heavier welders, it's perfectly sufficient for learning techniques and handling DIY home projects and lighter jobs with thin materials.
This welder can handle up to ¼ inch and run 10-pound spools. It's a great machine for on-the-go jobs because of how light it is and how large its capacity is. Even experienced welders like that this machine is small enough to allow them to work in tight spaces or without needing gas.
The machine is extremely portable. It only weighs 14 pounds ad it can be used to weld flux core, so you never need to worry about gas.
It can be carried pretty much anywhere, from home garages to workshops and warehouses. It can even handle tight spaces thanks to a 6-foot long power cord and small build.
It's perfect for beginners, too. The only thing this machine needs to get started is to be plugged into a power source. This makes it extremely convenient for quick jobs.
The storage capacity is great on this welder. You can store 2 or 10-pound flux wire. You can lock and load them so both are ready to go. In fact, the machine even comes with a free 2-pound spool right out of the box so you can start right away without worrying about buying more material.
Despite the small size, the machine can handle stainless steel welds. It's pretty durable for heavier applications. This is a great feature for beginners who may not have as much experience working with heavy-duty welds.
This welder also comes with a 6-month warranty. Forney will repair or replace any part of the machine that gets broken due to defects in manufacturing or stops working because of those defects.
To claim the warranty, you must make it within 90 days of purchasing and show proof of purchase. It won't cover damage caused by misuse, accident, or negligence on the part of the welder.
Forney has been in the welding business for nearly a century, so they know how to make quality products. This welder offers a great balance between affordability and precision. It's perfect for home repairs, like chain-link fences, and easy to use.
The design also makes it very low maintenance. There is very little upkeep required to keep this machine in great working condition. Remove the side panels and clear out the dust every 4 months or so, and you should be good to go.
The quality of the build is also really great considering the materials and price. It's made from extremely durable plastic and high-quality thin gauged metal. This will last for quite a while if used properly.
This is also pretty versatile. It uses a .030 flux core wire instead of gas, creating beautiful beads.
The welder also offers 10 different wire speeds. Simply turn the control know for the desired speed, with 1 being the slowest and 10 being the fastest speed.
I highly recommend this machine for anyone who needs a small, affordable, precision flux core welder. This is durable, low maintenance, and easy to use.
Click here to buy the Forney Easy Weld.
Conclusion
All 3 of these welders are great options. Each has its own set of strengths and weaknesses, and all of them are better than other alternatives.
That being said, our favorite is without a doubt the Hobart 500599 Handler. It works on a 115-volt outlet and it's extremely easy to use, no matter what your skill level happens to be!
If you are ready to take your welding technique to the next level, then you need a home welder.
This will allow you to master multiple techniques and practice on a variety of different joints and materials while becoming familiar with the different settings and options.
Go ahead and grab the Hobart Handler 500599 today!