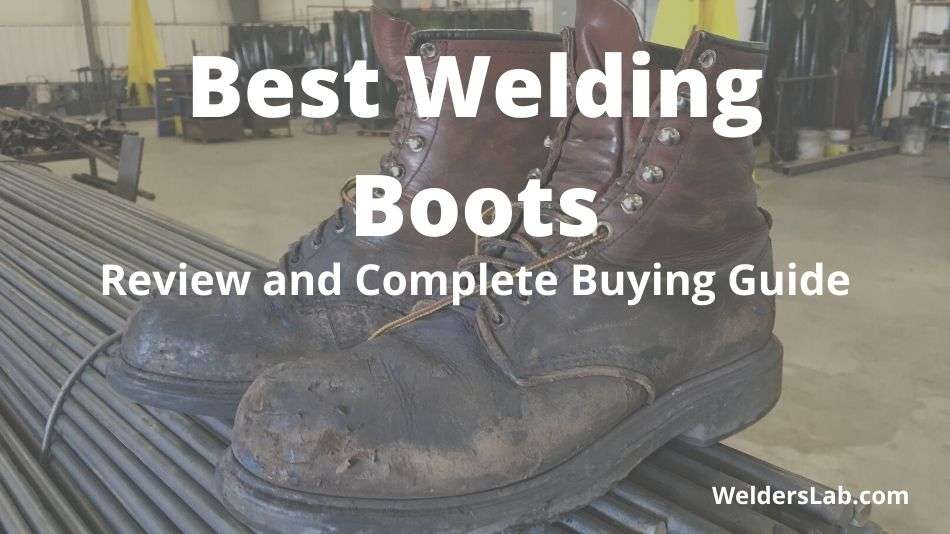 Are you tired of burning holes in your nice tennis shoes when you're doing welding jobs?
Maybe you're using boots but you keep ruining them with spatter and burn holes from wayward sparks. There is a reliable solution for just such a nuisance – welding boots.
Yes, you read that right, we said welding boots. There are boots specifically labeled as welding boots but then there are also specific qualities that make a boot both sustainable and successful to be used as personal protective equipment in the welding industry.
Stop welding in your tennis shoes and tattered cheap boots that aren't protecting your feet accordingly.
Trust us, it will be well worth it to invest in some high-quality boots for your welding jobs. After all, it's only your toes and feet we're talking about protecting. They carry you everywhere and should be treated with care.
In this guide, we will cover the 3 best welding boots as well as some extra things you might want to consider with your welding boots.
We will also round up this article with a comprehensive buying guide that will give you some things to consider and look for as you peruse your options for welding boots.
We're just getting started! Stick with us to find out everything you need to know.
Top 3 Best Welding Boots Reviewed
We've narrowed down the options and found the best 3 welding boots according to our standards.
Of course, these come from people who have been in the industry for 20+ years and have a bit of experience in choosing the right tools.
In these reviews, you will find detailed reviews and descriptive information as well as the pros and cons of each item we're reviewing.
#1 Red Wing Men's Work Boots
Red Wing Heritage 6″ Rover Round Toe Copper Rough and Tough 10.5
Lace-up closure. Fits a variety of foot shapes. Smooth lining for additional comfort. All leather footbed molds to your foot to create an enduring, customized fit over time with each wear. Flexible crepe outsole minimizes shock and vibration while maximizing support and traction. Made in the U.S.A. Measurements: Weight: 1 lb 13 oz Shaft: 6 in Product measurements were taken using size 12, width D (M). Please note that measurements may vary by size. Weight of footwear is based on

Click here for Red Wing Heritage® cleaning instructions.

For timeless, rugged style, look no further than the 6 Rover Round Toe boot.

Leather upper naturally wicks away moisture to maintain a healthy, happy foot environment.

Features a bump toe for more room up-front.
If you have an appropriate budget, you can't go wrong with these well-made boots from Red Wing.
These are the best welding boots for the money. They do have a higher price tag but they are made with superior quality. On the downside, they also are not steel toe so be sure to find out if your employer requires that.
This boot is nice and tall so it will provide ample protection without being awkward. It's stylish and looks nice.
You can wear it with your jeans out of the house. You don't have to change shoes to go about your life because these will look great before and after work as well.
This is a well-made boot. It's built to be tough and to hold up against even some of the roughest conditions.
It's designed to be durable and reliable. They are made with real leather and made in the USA.
The leather lining on the inside is soft and comfortable and even works to be moisture-wicking so your feet don't get hot, sweaty, and stinky in your boots.
They are lightweight and the company even brags that they're so tough iron miners wear them.
Pros:
Available in a wide range of sizes (up to size 14)
Made with premium leather
Extensively durable design
Made in the USA
Available in 7 color options
Cons:
Shoes are stiff at first and require breaking in
Relatively expensive boots
Not steel-toe
These boots will cost a pretty penny but we don't think you will be disappointed in the quality and durability of the boots once you get them on your feet and get them broken in.
These are comfortable and well-made to provide you with protection as well as style when you're on the job.
#2 Caterpillar Men's Second-Shift Steel To Work Boot
Caterpillar has long been a trusted brand in the shoe industry. They turn out well-made products that you can rely on and these work boots certainly deliver.
These are possibly some of the best quality welding boots you can possibly find.
These boots are sturdy and they look good. You can also choose from 4 different color options and there is a vast array of sizes as well, up to size 14.
These were specifically designed to fulfill the role of work boots and they do their job well.
The Caterpillar work boots have a reasonable price tag considering their quality and durability.
They are made with 100% leather and the break-in period is minimal. These have a thick and solid platform that does not make them overly heavy.
These boots are ankle-cut with a steel toe. The ankle is padded to provide additional comfort for your workday.
What's more, these boots also have oil-resistant outsoles so you don't have to worry about them staining up or looking awful when you use them for work (which is the intention).
Pros:
Affordable price for quality boots
Sturdy and durable boots
Available in multiple sizes and colors
Made with 100% leather
Highly durable and made for work
Cons:
The light color wears out quickly in the steel toe area
Padding is thin and wears down easily
When you're buying regular work boots, these are a great option. They fit into a reasonable price point without shucking quality out the door.
These are durable, reliable, and genuinely made to work in. You can count on this boot to last you through a workday without killing your feet.
#3 Wolverine Men's Floorhand 6-Inch Waterproof Steel Toe Work Shoe
Look no further for the best welding safety boots than these Wolverine brand boots that are simple yet effective.
These boots are made for safety and durability and they don't disappoint in those areas.
These are a great option if you need something cheaper – they steel toe and waterproof but a bit on the shorter side when you put them on.
You can choose from light or dark leather to keep it simple and they have multiple sizes, ranging up to size 14.
They even have half-sizes available which are often quite difficult to find. These boots have a comfortable footbed with lots of cushions for you to be on your feet all day.
These boots are made with 100% leather. The outsole is rubber to give you good traction.
These boots also have a nice steel toe and are fully waterproof. For this price, you hardly ever find waterproof work boots.
Wolverine is not a new name. They have been turning out high-quality work shoes and accessories since 1883 and they know what's needed to give you quality shoes on a budget.
These boots are made to be tough while also being comfortable and you simply can't beat that.
Pros:
Affordable work boot
Made with durable leather
Waterproof
Designed with comfort in mind
Durable boots that last
Cons:
The soles tend to wear out quickly
Low-cut boot that may offer less protection
These boots are definitely a cheaper option and you may see some lower quality characteristics due to that but overall they are a great work boot that offers protection and comfort when you need it.
These have all of the great qualities you want in a work boot, they just may need to be replaced more often.
Extra Accessories to Consider with Your Work Boots
We promised and we deliver. There are some additional accessories you can purchase to accompany your work boots that can be quite handy when it comes to working in the welding industry.
Things like boot protectors, metal guards, and insoles can make a significant difference in your comfort.
Let's cover this a bit more closely.
Leather Boot Protectors
Leather boot protectors like these from ZaoProteks are designed to offer additional protection in accordance with your boots. These boot protectors protect your ankle and your boot from the risk of getting sparks inside your boot.
This option is simple. It straps around your leg and can be adjusted to your fit. It covers a total length of 12.5 inches.
These slide right over your shoes and cover a section of your ankle as well as covering your shoe or boot.
The great thing about these is just an added layer of protection. It keeps those sparks out but also keeps your work boots looking nice.
Metal Guard Protectors
Metal guard protectors are another simple tool. These metal guards from Hoogoal slide over the top of the shoe and works much like a steel toe might. It's ultimately designed to protect the top of your foot from any falling metal or debris.
This particular option is made with black leather so it doesn't look overly tacky when you're wearing it. It simply ties into place and it's lightweight so it won't even bother you to wear them.
The best part is, you protect your toes and the top of your foot (where steel toes often don't cover) from various impacts thanks to the 20-gauge stainless steel concealed inside.
Supportive Insoles
There's nothing worse than an uncomfortable boot that's going to kill your feet. We can't all find the time to cope with break-in periods or shoes that the insoles just wear out too quickly. We need comfort and reliability.
Choosing a supportive insole can make your welding boots much more bearable. These insoles from Dr. Scholl's are a great option.
They're actually designed for pain relief and orthotic support. You would be amazed at how a proper pair of insoles can relieve back pain from work.
These insoles help to better distribute your weight throughout your shoe. They are equipped with shock absorption technology and they will make your feet much happier. They were made for heavy-duty support and are perfect for work boots.
A Complete Buying Guide to Choosing Welding Boots
When it comes down to it, you can use almost any work boot for welding. There are specifically some things you want to consider when you're looking for welding boots.
We've provided you with reviews of our top 3 recommendations but what exactly makes these boots suitable and what should you look for?
That's why we're here! We plan to share some knowledge as to just what you might want to consider as you peruse your options for the best welding boots.
Remember, your preferences and tastes may vary but there is bound to be a suitable solution.
The thing you should know is you probably won't find a ton of options specifically labeled as welding boots. Look for reliable work boots that fit the necessary characteristics.
Consider these tools and tactics as you make a decision.
What to Look for in a Work Boot
While you might not find welding boots labeled as such, you need to know what to look for in work boots before you make a decision.
Don't get me wrong. There are welding boots listed as such but you can easily broaden your options by seeking out work boots that meet the criteria.
Here are a few of the most important things you will want to be aware of.
Height
Comfort
Materials
Durability
Protection
Height
Work boots can be found in any number of styles. In fact, you can even purchase work tennis shoes but are they really the best protective option?
If you do decide to go that route, we definitely recommend that you consider pairing them with the strap-on protectors as those could help shield your ankles and cover far more than a tennis shoe.
What you really should consider is looking for a work-boot that is at least ankle length in cut. You don't want to risk sparks or spatter or metal debris finding its ways to your ankle area or getting inside your shoe.
Comfort
Once you put on those work boots, you're probably going to be stuck in them all day.
Try to find something that will be reliably comfortable to wear. If your feet hurt, you will struggle to be able to focus. That's not even mentioning how miserable you will be.
If all else fails, don't be afraid to go for some good inserts. Comfort is of the utmost importance.
You have a job to do and you will function much more efficiently if you're comfortable in your protective clothing and equipment.
Materials
The majority of work boots are made with leather material. When it comes to welding, you want to ensure that your work boot is made of materials that won't catch on fire when hit by sparks.
You also want to know the material will protect your foot from sparks and spatter.
The last thing you want is for something to burn right through your boot and cause an injury or discomfort.
If your work boots aren't leather, be sure to pay close attention to the materials and determine whether they will be both durable and protective.
Durability
Work boots are an investment. They certainly aren't cheaper. Some employers provide you with an allowance to purchase work boots on a regular basis. Other times, you're responsible for the cost on your own.
No matter which way it works, you want to choose work boots that aren't going to fall apart in 2 months of regular wear.
Your work boots should be made to be durable and long-lasting. If you're spending the money for work boots they need to be designed for work and able to hold up against the demands of the job.
Protection
Last, but certainly not least, your work boots are there to protect your foot. Some work boots have built-in metal guards for additional protection. Typically, you can buy a metal guard attachment that you can tie on for much cheaper.
The goal here is to protect your feet not only from the sparks and spatter but also from the metal shards and the potential for metal and debris to fall on your feet.
Protection is important. After all, welding is your livelihood and if you get injured what would you do?
Whatever you do, be sure to protect your feet appropriately with reliable welding work boots.
Our Top Pick
Picking a favorite certainly presents its own challenges.
There are so many options on the market and many of them are quality options to consider. We prefer Red Wing Boots because they are reliable and durable.
These boots will definitely hold up through the toughest of conditions and they're comfortable once you get them broken in.
Trust us, we have personal experience with this pair of boots and they will not disappoint. They are well worth the cost.
The Caterpillar and Wolverine boots are both great options too.
While they are not as heavy-duty as this pair, they are both steel toe work boots that bring a lot of strengths to the table when it comes to protecting your feet.
Conclusion
When it comes to finding the best welding boots, there is a lot to look for. Keep in mind that it is your feet that will ultimately have to deal with the boost and try to choose your boots accordingly.
We hope that you find these reviews and buyer's guide to be helpful as you peruse your options and work towards making an educated decision for your own welding boots.