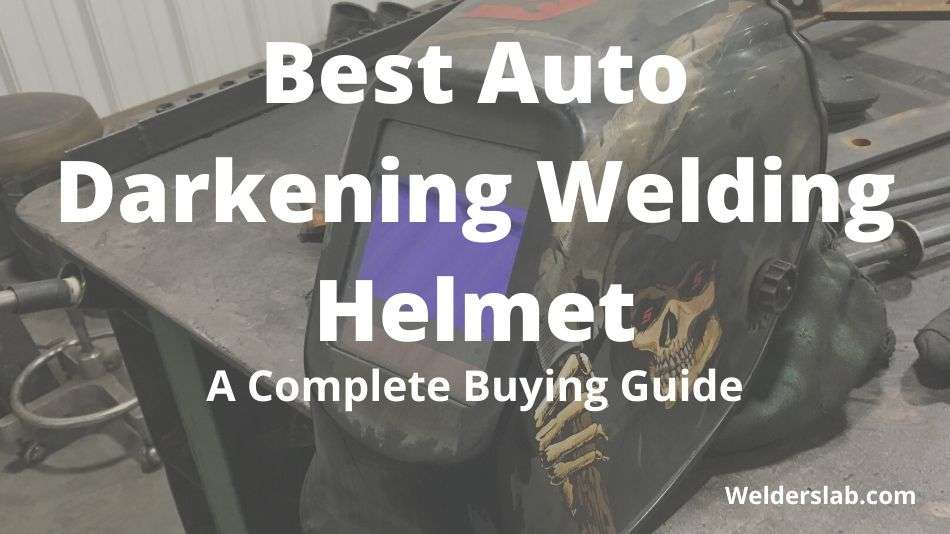 As a welder, I understand that the array of tools and gear you need may be overwhelming. A welding helmet is a given.
You know that you're going to have to have one but which one do you buy? I created a guide for the best welding helmet for you already but let's talk about the best of the best.
There are welding helmets and then there are auto-darkening welding helmets. You can have one or both that you can alternate depending on the type of job you're doing.
Auto-darkening helmets are designed to stay on for the duration of your welding job. They provide you a clear viewing screen that is meant to auto-adjust as needed for the flame, sparks, and so on.
How do you find the best auto-darkening welding helmet? I've chosen my 3 favorite auto-darkening welding helmets on the market to share with you several different options.
These 3 options will give you a suitable array of choices and will save you the hassle of having to do extensive digging and research to find the best auto-darkening welding helmet.
In this guide, we will walk through my top 3 choices.
I make these recommendations as a practiced welder who has had the opportunity to test and use a lot of different helmets over the years. In the next section, you will find comprehensive reviews of each helmet, including the pros and cons of each one.
Keep reading to learn about my top 3 choices and get the best information on how to choose your helmet in a detailed buying guide.
 The 3 Best Auto Darkening Welding Helmet Options Reviewed
In this section, we will break down all of the pertinent information for the top 3 auto-darkening welding helmets I've selected. This is an in-depth guide that will give you detailed information about each helmet.
I'll share the good and the bad so you know what you're really looking at.
#1 YESWELDER Large Viewing Screen True Color Solar Power Auto Darkening Welding Helmet LYG-M800H
This helmet is fairly new to the market but I recently got to try it out. It has a lot of really great features that many experienced and new welders alike would sincerely appreciate it.
It also comes for a really great price. I deem this welding helmet the best cheap auto darkening welding helmet available.
The viewing screen is nice and large so you have plenty of visibility. It measures 3.94×3.66 inches.
The sensors and solar-powered screen make this helmet a great option for all types of welding, particularly TIG, MIG, and Arc welding as well as grinding.
The controls are on the side of the helmet and easy to control. You can adjust the shade, sensitivity, delay, and even what you're doing – such as welding, cutting, or grinding.
Yes, this helmet is auto-darkening but these give you some semblance of control over the helmet as well.
The helmet allows you to see true color and is fast-darkening to protect your eyes, after all, that is the purpose, right?
This helmet has one of the largest view areas you will find, it's optimal for all uses. The helmet is comfortable and lightweight and includes pivot-style headgear for easy lifting.
Pros:
Supremely large viewing lens
Helmet is equipped with 4 premium sensors for darkening
Compatible with all types of welding
The lens is true color so you get the best clarity
Comfortable helmet that is simple to lift and lower
This helmet is incredibly affordable
Cons:
The lens is slow to lighten when you finish welding
The settings may require some adjusting and playing with to suit your uses
Overall, you really can't beat this helmet considering the price. It's highly-rated in the field and it has far more good things than bad things.
It's comfortable and easy to use. You do have to do some manipulating of the settings to get them just right but it's pretty easy to figure out overall.
This has quickly become one of my favorite auto-darkening helmets to work with.
#2  Antra AH7-860-000 Solar Power Auto Darkening Welding Helmet AntFi with Jumbo Viewing Screen
This helmet from Antra is not quite as good as the first option I shared but it is still a great option for all types of welding, whether you're welding MIG, TIG, grinding, or even plasma cutting.
This helmet also comes with a really great price tag that you simply can't argue with.
The helmet advertises a jumbo screen. The screen measures 3.78×3.5 inches, which is slightly smaller than the first helmet but still quite large, giving you plenty of viewing space.
The helmet itself is well-made and long so it sufficiently covers your face and your neck to give you ultimate protection.
The headgear is easy to adjust and fit your head size. It's comfortable and lightweight so it doesn't feel like it's weighing you down needlessly.
It's simple and the mechanism makes it easy to lift and lower the helmet as well whenever you need to.
This helmet has the compatibility to work with an additional lens, you can even use a magnifying lens with the helmet if you need to. The shade adjusts from 5-9 or 9-13 and it is auto-darkening to give you the best protection for your eyes.
You can also play with the settings for sensitivity and delay on this helmet, giving you some control over the details.
Pros:
Nice large viewing screen
Lightweight and comfortable
Adjustable sensitivity and delay features
Welding helmet can be paired with a hard hat if necessary
Compatible with added lenses, including magnifying lens
Cons:
Tends to lose charge capacity much too soon
The auto-darkening is sometimes too slow to respond
This helmet is a good option for many types of welding and works for a lot of things across the board. It's not perfect but it has an affordable price tag and works well enough.
The large viewing screen is very nice and it's a comfortable helmet that will be reliable and durable.
Welding Helmet, Black, 3350 Series
Price For: Each Battery Type: Solar Cells Lens Shade: 5 to 13 Viewing Area: 3.74 x 3.34 Graphics: None Welding Helmet Light State: Not Rated Headgear: Ratchet Welding Helmet Color: Black Welding Helmet Type: Auto-Darkening Series: 741 Electromagnetic Sensor: No Power Source: Solar Switching Speed: 1/25, 000 sec. Item: Welding Helmet TIG AMP Rating: 2A

ADF Controls: Knobs Number of Arc Sensors: 4 Color: Black Grind Mode: Yes Country of Origin (subject to change): China
If you're looking for the best quality auto-darkening welding helmet, I recommend you go with this one. It's a high-quality helmet. It's nice and long and will cover your neck.
This helmet also comes at a much higher price tag so it does require a larger investment. However, if you go for it, I don't think you will be disappointed.
This helmet is nice and lightweight but yet has all of the coverage that you desperately need while you're working on any welding job.
You certainly won't have to worry about the flash burns on your neck thanks to the long build of the helmet. This helmet also has a decent-sized viewing screen, comparable to the size of its counterparts listed here. It measures at 3.74×3.34 inches.
This helmet is designed to a sensor and switch at 1/25,000 of a second. It has 4 sensors and is incredibly fast.
You can complete multiple types of welding, including grinding while using this helmet. The headgear is fully adjustable and is quite easy to work with as well.
This lens is solar-powered. The lens adjusts from shades 5 to 13 and they adjust automatically as necessary. There are also plenty of controls and adjustments to settings so you can maintain some control of the features.
The lens offers optical clarity so you can see perfectly no matter the situation.
Pros:
Large viewing screen
Top of the line, high-quality helmet
Lightweight and comfortable to wear
Produced by a trustworthy brand
Extra-long shield to protect your neck
Sleek and designed with the best technology
Cons:
The harness gear takes some getting used to
The screen can break if the helmet is dropped
This is definitely your high-end helmet. It has a lot of great qualities considering the cost but it will cost you a pretty penny.
With that in mind, it's also well-made and will be one of the better performing auto-darkening helmets you will see with its quick darkening responses. It's worth the cost if you're able to swing it.
A Complete Buying Guide to Auto Darkening Welding Helmets
Welding helmets are an essential of the job. You really can't get around that. Does it matter which type of welding helmet you get? Well, that's a loaded question!
Traditional welding helmets and auto-darkening helmets are not quite the same. There are several differences between them. It ultimately boils down to a matter of preference but you should also know that not all traditional welding helmets are dark enough for every type of welding.
We're not here to debate whether auto darkening is better than traditional helmets. Both types of helmets are great at the right times. I just want you to be aware that there are differences and you might find that you prefer one over the other – and that is perfectly ok.
I also want to touch on what makes an auto-darkening helmet a good choice. What qualities should you look for as you peruse your options?
After all, there are a ton of options out there so how do you know which ones are really good and which ones are just pretending to be good?
It can take a lot of time sorting through the options, reading reviews, and doing research. That's why we're here.
I've done all of that for you. I've even had the privilege of trying some of the options and knowing what really works and doesn't work out there.
The one thing we know we need in a welding helmet is reliability, so that's where it really starts.
Let's talk about some other features you might want to consider.
Auto Darkening vs. Passive Welding Helmets
Like I said before, we're not here to debate which of these is better. A welding helmet is a welding helmet and what you prefer to use is totally up to you.
I do think it's important for you to understand the differences and know why we're singling out auto-darkening welding helmets here.
The name auto-darkening really says it all for you. These helmets are exactly as they sound. They darken automatically when you light up your welding torch. They sense the flame and even the type of flame and they adjust accordingly. Seems pretty useful to me.
Passive (or traditional) welding helmets are your everyday steel and lens helmet. The lens is a static darkness. In this case, you should be sure to purchase one with a lens that is the ultimate dark level for your needs.
You don't want to risk burning your eyes. The lens in this type of helmet doesn't adjust but still protects your eyes, in fact, in some cases it protects better because you don't have to wait for it to adjust.
The traditional welding helmet might take some practice because you have to get used to working through the lens. It's the start that can be a challenge for beginning welders. On the same note, some auto-darkening helmets take time to adjust.
The other upside to an auto-darkening helmet is you can leave it down because you can see just fine even when you're not welding.
Traditional helmets have to be pushed down and pulled up over and over as you work. Not necessarily a big deal but certainly a factor to consider.
Features to Look for in an Auto Darkening Welding Helmet
In case you were wondering, not every auto-darkening welding helmet is created equally. There are several prominent features you should consider when you are purchasing your helmet.
We're going to cover them in more detail but here is what we recommend looking for specifically.
Darkening range
Adjustability
Headgear Comfort
Darkening Speed
Darkening Range
The darkness of the lens you need can vary based on the type of welding you are doing. For arc welding, you need the darkest out there, which is 13.
Be sure to review the shades that your helmet can adjust to so that you know if it's truly suitable for the welding that you are often doing. You also might want to check some reviews and find out if the helmet really gets as dark as it says or whether your eyes might not be as protected as you think they will be.
Adjustability
If you are a seasoned welder or a welder that works with a lot of different variables in the field, you want to ensure that you have the adjustability you want.
A lot of auto-darkening helmets let you control an array of settings. You can often adjust the shield sensitivity as well as the delay and you can override the auto-darkening to set the shade within your own range or preferences as well.
Some helmets will adjust according to what they sense while others adjust based specifically on how you set them. In the YESWELDER helmet, you can adjust nearly every aspect of the helmet, including whether you're welding, cutting, or grinding and then the helmet reacts accordingly.
Headgear Comfort
If you're going to be wearing a helmet most of the day, you want something comfortable, lightweight and adjustable.
This is perhaps one of the most important aspects to consider. Of course, you want to protect your eyes and face but you also don't want to hurt your neck, shoulders, and head in the process.
Look for gear that will fit comfortably. You might want to look for cushion, adjustable straps, and rotating straps that allow you to lift and lower the helmet as you please.
The lens is auto-darkening but that doesn't mean you won't want to be able to lift the helmet up when you're not welding.
Darkening Speed
Reaction time is extremely important. A delay of even a millisecond for that lens to darkening could cause you to burn your eyes, which can be quite painful and have lasting side effects.
You want to ensure that your helmet is going to darken quickly and effectively with little delay. And if it isn't, you need to be prepared to close your eyes and give the helmet time to adjust.
We noted with the Lincoln helmet that it adjusts within 1/25,000 of a second – now that's quick.
My Top Pick
Overall, all factors considered, I prefer the YESWELDER auto-darkening helmet.
If you're looking for the best auto darkening welding helmet at the best price, this is your winner.
This helmet has quite a lot to offer with many desirable features and relevant value for the money.
Conclusion
When it comes down to making your selection for the best auto-darkening welding helmet, remember these tips and tricks and you won't be disappointed.
Also, be sure to purchase within your budget and to choose the helmet that you believe will best suit your welding needs.
I hope that you find this guide helpful for choosing your helmet. Happy welding.