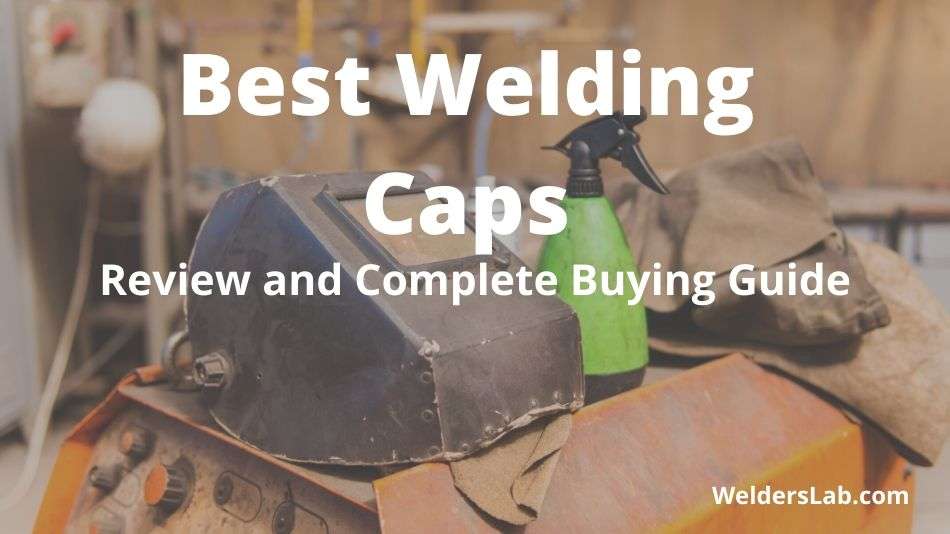 You've just about got your welding "uniform" ready. You've purchased your welding jacket, your gloves, your boots, and a trusty apron. You've got a helmet on the way, what more could you possibly need? Do you have your welding cap yet?
Welding caps seem odd, they have a unique design that is like no other cap you will find. However, these caps have been effectively used in the welding industry for more years than most of us have been alive.
From the original design, they have evolved over time but their fit and purpose remain the same, there's just more variety now.
A welding cap closely resembles the design of a railroad cap. They have a very similar build and design but they each still have their own style and differences.
The unique thing about your welding cap is that it can be adjusted to shield your eyes and face but it can also be pulled to the side to cover an ear or even both ears to protect them from getting anything in them.
We've put together a guide to share with you the 3 best welding caps on the market. We will walk you through each cap individually with a detailed review.
Once we've completed the reviews, we will also share with you an informative buying guide to set you on the path for choosing your welding cap.
Stick with us to learn everything there is to know about purchasing a welding cap.
The Top 3 Best Welding Caps Reviewed
Welding caps are like no other cap and you may not know what to expect if you're not familiar with them. In these reviews, you will find detailed information rounded out with the pros and cons of each welding cap.
#1 Lincoln Electric Welding Cap All-American Print K3202-ALL
Lincoln Electric Welding Cap| Mesh Inside Liner | All American Print |K3203-ALL
HIGH QUALITY COTTON – Made from soft, high thread count cotton and features a stylish stars and stripes fabric pattern.

SWEAT ABSORBANT LINER – The inside of the Welders Cap is lined with a soft athletic mesh which absorbs moisture and help prevent hair pulling.

FLAT STITCHED SEAMS – To prevent discomfort from seams from pressing / rubbing against the forehead, the welders cap is flat stitched to improve comfort and increasing durability.

LIGHTWEIGHT & BREATHABLE - The 100% cotton material is breathable by design. This allows consistent airflow to keep you cool for all day use.

ELASTIC FIT – This headwear features an air cushioned elastic band which stretches to fit the users head dimensions.

USED BY PROFESSIONALS – This headwear is used by professional fabricators on a daily basis.
Spice up your welding cap with this American design from Lincoln Electric. We vote this welding cap as the best quality welding cap available.
It comes from a trusted brand, has a nice design, and is well made with a back flap for extra neck protection.
You don't have to worry about any sparks or slag finding its way down the neck of your shirt thanks to the flap that extends reasonably to cover your neck.
This welding cap (and this brand) has been trusted by professionals in the welding industry for over a decade.
This welding cap is sweat-absorbent thanks to the athletic mesh liner. This liner won't pull your hair but will absorb moisture to keep your head more comfortable and keep sweat from dripping into your eyes.
It fits snugly on your head and can be worn under any welding helmet.
The cap is lightweight, made with 100% cotton that is completely breathable.
The cap is not meant to be another uncomfortable accessory but rather something that will add protection and barely be noticeable while you're wearing it. It's soft and it looks great.
Pros:
Made with a stars and stripes pattern that looks great
Designed with flat-stitched seams to prevent rubbing
Enhanced with a mesh absorbent liner to seep up that sweat
Has super soft and breathable material
Affordable and dependable
Cons:
Tends to run a bit small
The elastic may be uncomfortable for some
Overall, this welding cap has a lot to offer. It's one size fits most cap, which may not be suitable for those with a larger-sized head.
It's a great price with a great design and you can definitely rely on it to protect your ear and neck as needed as well as to fit comfortably beneath a welding helmet.
#2 Revco BSX BCW5-BK Armor Cotton Welding Cap Double-Layer Protection
This Revco Black Stallion welding cap is probably the best fitting welding cap on our list.
It's still one size fits most hat but it's not quite as tight as the Lincoln Electric option if you need something a bit larger.
This welding cap is made to act like a doo-rag, beanie, and welding cap all in one simple design.
This welding cap is 100% cotton but it's made with Armor Cotton that gives it a double layer of protection.
You can wear it as a cap to protect your eyes or turn it around and let the flap cover your neck. It's flexible and easy to work with.
There is no fancy design here but rather a simple cap with a flame and horse logo that Black Stallion is known for. It's simple and effective.
The cap can easily be adjusted and stretched for your sizing. It's very flexible and versatile.
The best part is, this welding cap is actually flame-resistant rather than just being thin cotton that offers little protection from sparks.
The black could potentially attract heat in the summer and there is no mention of moisture-wicking mesh.
Pros:
Flame-resistant cotton
Designed to fit well with the ability to turn as needed
One size fits most, even some larger heads
The well-made flap that can cover your neck
Affordable and well-made
Cons:
While the fit is better than some options, it may still be tight
This cap is non-refundable so you're stuck if you hate it
Black Stallion is a reliable brand that makes many suitable welding accessories. This Black Stallion item comes from Revco and it appears you're stuck with this item if you don't like it.
The nice thing is, it's not a terrible price and it's well-rated across the board. It's a well-made welding cap worth the risk.
#3 Lincoln Electric Black Large Flame-Resistant Welding Beanie
Ok, if you're tired of the wannabe welding caps and you just want something cheap and reliable, here you are.
This welding cap from Lincoln Electric is the cheapest welding cap but it's truthfully better than some of the more expensive options you will come across.
Guess what? This cap is made to be large so it will fit the large heads that sometimes struggle to be able to wear that one size fits most caps.
This cap is designed to be worn like a beanie. It does not have the extended flap and primarily sits on your head. It's really great to wear under a helmet or when working over your head.
This beanie is made with flame-resistant cotton so it will protect your scalp and head from sparks, spatter, and slag.
It's perfect for wearing under your helmet for additional comfort and cushioning. This is made for large hat size coverage so it will not work for smaller heads but there are small options available of the same make.
Ultimately, this beanie is designed to protect the top of your head from heat, spatter, and sparks. Without the flap, you won't get neck coverage but it's still a great option and this cap is super cheap.
It's breathable and comfortable while also being effective for the designed purpose.
Pros:
Fits large hat sizes (7 – 7 3/8)
Made with flame-resistant cotton
Breathable material
Protects well from sparks, spatter, and heat
Works perfectly paired with a helmet
Budget-friendly option
Cons:
Does not have a flap for adjustable protection or neck coverage
Sizing tends to be inconsistent
This welding beanie is a great cheap option. It does not have the flap that can protect your neck and ears and it is not large enough to pull down over your ears either.
This truly works best when paired with other head coverage (like your helmet). It's comfortable, breathable, and simply effective for the design.
A Complete Buying Guide to Welding Caps
It's no small task to sort through the hundreds, or even thousands, of options for welding accessories on the market. In this case, we search for welding caps and there are so many options it can quickly become overwhelming.
Let's face it, we don't all have hours to sift through and research all of the options only to find ourselves lost and not any closer to choosing the best welding cap.
That's where we come in. We've done the research and the sifting for you and narrowed it down to our top 3 picks.
Now it's time to talk about what makes a welding cap a good investment and what qualities you might want to look for as you try to choose a welding cap for your needs.
Why Use a Welding Cap?
We know what you're thinking. Why would I need a welding cap? I'm already using a helmet. Let's start by letting you know that welding caps are small and thin typically and perfectly made so they can be paired with a helmet.
A welding helmet is primarily made to protect your eyeballs. They don't typically cover much of the top of your head and they certainly don't protect the back of your head or your neck.
Most welding caps are made so you can turn them and offer protection from your neck or ear by using the flap of the cap.
No, you certainly don't HAVE to have a welding cap but they are relatively inexpensive and you might just find them to be useful for comfort and a little extra protection.
Welders that have been in the practice know and understand the importance of a welding cap.
Furthermore, you can add your own style to your work clothes with a welding cap.
You can buy them with literally just about any design – whether you like flames, USA, solid colors, or some other design, chances are you can find a welding cap with the right design for you.
Ultimately, a welding cap is meant to be a functional accessory.
You would be surprised at just how useful that little flap can be when you're working, particularly if you're working overhead and could potentially have something drip onto your neck or into your ear. Trust us, it's well worth the added protection!
One more thing! Your welding cap can be multi-functional. You can wear it just for work, you can wear it for everyday use, and you can wear it riding your motorcycle.
Don't shrug it off, these little welding caps are small but mighty and every welder knows you just have to have a cap tailored to your style.
What to Look for in A Welding Cap?
Choosing a welding cap goes far beyond just finding a design you like. You need something comfortable and suitable for your welding jobs.
For instance, there are beanies that have no flaps but typically can be pulled over your ears. There are different materials your welding cap can come in.
How do you choose? What qualities should you look for?
Here are some of the things you will want to be aware of as you pick your welding cap.
Fabric
Flap and coverage
Flexibility
Durability
Style/Personality
Comfort
Now, let's break these down a little bit further and talk about each one individually and just what might be important about them.
Fabric
First things first, the fabric needs to be comfortable. We will talk about comfort more later but there's nothing worse than an itchy, scratchy awful fabric on your head. Especially when you're most likely going to be working with heat and sparks.
So, be sure your welding cap is made with a soft and comfortable fabric. The fabric you DON'T want to see listed is nylon. Nylon is never safe when you're working with flame and heat.
The most common fabric you will see if cotton. Some caps are flame-resistant cotton while others are just pure cotton. Cotton is breathable and lightweight which is what makes this a popular choice.
Flap and Coverage
As you can see in our reviews, not every welding cap has a flap. However, those caps that don't have flaps still should have sufficient coverage.
It's one thing if you're just wearing a cap to add some comfort under your helmet. It's an entirely different thing if you want added protection benefits from your welding cap.
We recommend going for a cap that either has the flap or can be pulled down to cover your neck or ears as needed. After all, we're telling you that is the true purpose of a welding cap so we should advise accordingly, right?
Flexibility
I think it's safe to say that not all heads are made the same. Also, not all welders work the same types of jobs. One of the most unique things about a welding cap is it can be turned in multiple directions to offer the coverage where you need it.
Your welding cap should be flexible and mobile. You should be able to comfortably fit it to your head and move it around as needed for whatever type of job you're doing at the time.
The most challenging aspect of this is probably trying to be sure you choose a cap that will fit your head size.
Durability
Welding caps are not extremely expensive but you still want something that isn't going to fall apart right away or burn through on the first use.
Choose a welding cap that doesn't have to be extensively broken in but that also is made with high-quality threads and fabric so you don't have to worry about having a great cap one day and no cap the next day.
Style/Personality
Welding caps are known for their personality. You choose your style and personality.
In fact, in some places the wilder the better when it comes to choosing a cap. Choose something that reflects you and gives your head a bit of personality.
Comfort
Last, but oh so definitely not least, your welding cap needs to be comfortable.
You need something that will be comfortable. Chances are, you're going to be wearing that cap all day and it's going to be hot. It's exposed to sparks and spatter and flame.
Choose a welding cap that will be comfortable and that won't make your head extra hot while you're working.
The Final Verdict
When it comes right down to it, our favorite pick of the 3 we mentioned above is the Lincoln Electric Welding Cap.
It's perfect in so many ways. It's lightweight and breathable while also offering a nice flap that adequately protects from sparks.
It also has a great, rugged design and a worth price tag.
You simply can't go wrong with this welding cap from a reliable brand. It meets all of the important criteria we mentioned in qualities to look for – style, comfort, fabric, flexibility, flap, and durability.
Conclusion
The important thing to note here is that you're choosing a welding cap that you will be stuck wearing.
Be sure to choose wisely but also make an informed decision knowing which qualities are important.
Knowing these details can quickly help you narrow down your options and set you on a simpler path to making a decision.
We hope that you've found this guide to choosing the best welding cap to be a useful and informative resource. Remember to keep it fun and comfortable and simply find the style that works best for you.