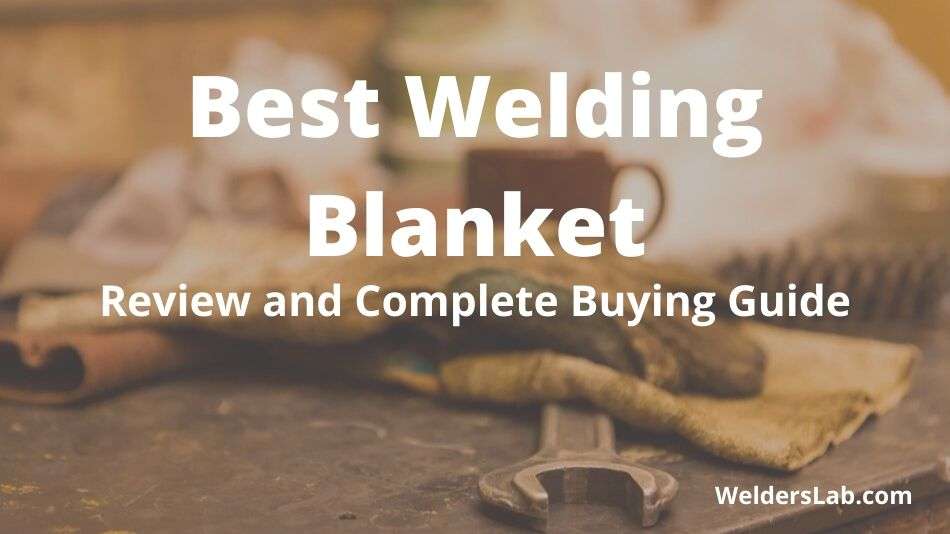 Everyone likes a good blanket, even welders. Although a welder's blanket is far different from your everyday blanket, they have a similar design and concept.
A welding blanket is yet another accessory that a welder can use for his or her own safety as well as the safety of the area surrounding the welding space.
These blankets are specially made to sustain the welding environment and protect surfaces and tools from the hazards of welding (heat, spatter, sparks, etc.).
You might think just any old blanket will do, but this is actually quite far from the truth.
A welding blanket is made with special materials so that it won't burn or burst into flames while you are working on your welding jobs. That would be quite counterproductive, wouldn't it?
There are many things you should be aware of when choosing the best welding blanket.
This is why we've put together a comprehensive guide that includes detailed reviews of our top 3 picks. The guide will then move into a buyer's guide that gives you a good understanding of just what is important about a welding blanket.
Our hopes are that this guide will not only share with you some great welding blanket options but will also provide you with relevant information that you should know and be aware of before you make a decision and spend your hard-earned money on a welding blanket.
Stick with us to learn all of our buyer's guide insider tips and more.
The 3 Best Welding Blanket Options Reviewed
In the following 3 reviews, you will find detailed information that explicitly breaks down all of the important details about each individual product.
These 3 products are what we determined to be the best on the market, after much studying and testing.
Let's get started!
#1 Waylander Welding Blanket Premium 6×6, 1400 Degrees F, Heavy-Duty Kevlar Stitched Vermiculite with Brass Grommets
[amalinkspro type="showcase" asin="B01MTUMLV8″ apilink="https://www.amazon.com/dp/B01MTUMLV8?tag=wl19sf-20&linkCode=osi&th=1&psc=1″ associate-id="" new-window="1″ addtocart="0″ nofollow="1″ sc-id="4″ imgs="LargeImage" link-imgs="false" stack-imgs="false" specs="100% FLAME RETARDANT – These welding blankets are the most reliable protection against heat, sparks and splatter for vertical and horizontal surfaces.~~~PREMIUM PROTECTION – Specially treated fiberglass makes the blankets heat resistant until 1400°F / 750°C. For heavy duty welding or cutting, or as personal and material protection.~~~SKIN FRIENDLY – Made of vermiculite impregnated fiberglass, makes it skin friendly while keeping the heat resistant features: minimum skin irritation and stress, unlike other welding blankets!~~~SUPER STRONG & USER FRIENDLY EDITION – Reinforced solid hem with 12 heavy duty brass grommets for secure and easy hanging. Lightweight (5.5 lbs/2.2 kg) but very solid blanket for convenient and safe handling.~~~Dimensions: 6 x 6 / 183 cm x 183 cm. Thickness: 0.03 / 0.75 mm.~~~" btn-color="#ff9900″ btn-text="View on Amazon" alignment="alignnone" hide-prime="0″ hide-image="0″ hide-reviews="0″ hide-price="0″]Waylander Welding Blanket Premium 6′ x 6′ 1400°F Heavy Duty Welders Kevlar Stitched Vermiculite Impregnated Fiberglass with Brass Grommets[/amalinkspro]
If you want one of the best-rated welding blankets available, this is probably a good option for you.
It's highly-rated across the board and has a very high heat tolerance that you simply don't find in a lot of welding blankets. This blanket can tolerate up to 1400 degrees Fahrenheit.
This blanket will cost you a bit more than some other blankets but when you compare the reliability, materials, and positive factors, the price is quickly justified and you will know this blanket is designed to be one of the best and it will certainly deliver great results.
This is a heavy-duty welding blanket that even has brass grommets so you can hang it if you need to.
t's fiberglass that is coated with vermiculite to avoid splintering and shedding. Additionally, the blanket has been stitched with Kevlar.
The grommets surround the entire blanket to provide you with plenty of functionality as you work with it.
This blanket is 6-feet by 6-feet but you can also purchase this option in 3×3 if you prefer. This blanket is guaranteed to be 100% flame retardant – so no accidental fires in the workspace.
Pros:
Protects up to 1400 degrees Fahrenheit
Built to be heavy-duty
Reinforced with Kevlar thread
Covered in vermiculite to prevent shedding and skin irritation
Equipped with 12 brass grommets surrounding the edges of the blanket
Cons:
Welding sparks could potentially penetrate the blanket
Could be slightly itchy to use
If you're the person that likes to buy the best quality option when it comes to your welding tools, this blanket it the perfect choice for you.
Despite being slightly more expensive, it's a well-made blanket that boasts to be 100% flame retardant. It's heavy-duty and quite effective.
[amalinkspro type="cta-btn-css" ctabtn-id="" asin="B01MTUMLV8″ apilink="https://www.amazon.com/dp/B01MTUMLV8?tag=wl19sf-20&linkCode=osi&th=1&psc=1″ associate-id="wl19sf-20″ addtocart="0″ new-window="1″ nofollow="1″ alignment="aligncenter"]Buy on Amazon[/amalinkspro]
#2 Weldflame Welding Blanket 680G/M2 4 x 6 W/Kevlar Stitched Edge Heavy-Duty
[amalinkspro type="showcase" asin="B075QBHK3Q" apilink="https://www.amazon.com/dp/B075QBHK3Q?tag=wl19sf-20&linkCode=osi&th=1&psc=1″ associate-id="" new-window="1″ addtocart="0″ nofollow="1″ sc-id="4″ imgs="LargeImage" link-imgs="false" stack-imgs="false" specs="Heavy duty extra thickness~~~Non coated ,Golden color, Heavy duty,Kevlar stitched 100% fiberglass heavy duty blanket designed for excellent welding facility, 680G/M2,~~~Protects equipment and working area from sparks, flares and spatter while welding. This is an essential for safety measures.~~~Kevlar stitched fine edge,highly pliable.~~~With brass grommets every 12 inch and is heat treated,Thickness size 4*6,1000 Degree F.heat rating~~~" btn-color="#ff9900″ btn-text="View on Amazon" alignment="aligncenter" hide-prime="0″ hide-image="0″ hide-reviews="0″ hide-price="0″]Weldflame Welding Blanket 680G/M2 6'X8′ with Kevlar Stitched Edge Heavy Duty Golden (6'8′)[/amalinkspro]
If you're looking for the best cheap welding blanket, look no further. This inexpensive blanket from Wedlflame is cheap but it is still incredibly well-made.
Cheap does not always mean shoddy and this blanket proves it. Plus, it's highly-rated and you simply can't argue with the tested and true.
This Weldflame blanket is slightly smaller, measuring at only 4-feet by 6-feet but you can also upgrade and purchase the company's 6×8 option if you prefer.
This blanket is golden in color and has reinforced Kevlar stitching for the ultimate heavy-duty protection that everyone looks for in a welding blanket.
This blanket can easily be called an essential with its ability to protect your space from spatter, sparks, heat, and flame.
The label states that this blanket can withstand up to 1000 degrees Fahrenheit, giving it a good range and a heavy-duty vibe.
The blanket is reinforced with brass grommets that are located every 12 inches around the edge of the blanket.
This range gives you plenty of ability to maneuver and adjust the blanket to your needs. Every last inch is heat-treated without any annoying coatings.
Pros:
Can withstand up to 1000 degrees Fahrenheit
Reinforced with Kevlar stitching
Includes brass grommets every 12 inches around the edges
Satisfaction guaranteed by the manufacturer
Cheap and reliable all in one simple blanket
Cons:
A bit on the smaller size but large enough for most needs
The fiberglass material may cause skin irritation
Many times you will hear it said that you pay for what you get. In this instance, you get far more than what you pay for.
This welding blanket certainly has a lot of great things about it and it has one of the best price tags you will find.
It's highly rated and certainly a high-quality blanket, even at a slightly smaller size option. Remember, you can upgrade your size if necessary.
[amalinkspro type="cta-btn-css" ctabtn-id="" asin="B075QBHK3Q" apilink="https://www.amazon.com/dp/B075QBHK3Q?tag=wl19sf-20&linkCode=osi&th=1&psc=1″ associate-id="wl19sf-20″ addtocart="0″ new-window="1″ nofollow="1″ alignment="aligncenter"]Buy on Amazon[/amalinkspro]
This is perhaps the best type of welding blanket on the list. This one falls into a middle price range and it definitely earned its spot on our top 3 countdowns.
This blanket is made with quality material and is highly-rated across the board. It's been tried and tested and proven to be a reliable option.
This blanket is again slightly small at 4-foot by 6-foot measurements but this size is still plenty large for hanging and covering surfaces.
Plus, it's affordable enough you could just go ahead and by two in case you need to cover the extra surface area. Problem solved!
You will find that this blanket is 100% flame retardant, designed to protect you and your work area from sparks, spatter, and heat.
It provides thermal protection where it's needed most and can easily be used as a multi-functional tool for anything working with heat or flames.
This blanket will protect against heat up to 1000 degrees Fahrenheit. The company ensures maximum durability and the ability to use this blanket in the workplace over and over again.
It hangs like a curtain but the grommets are only located in the four corners of the blanket. The company promises to stand behind the product should you have questions or issues.
Pros:
100% flame retardant
Premium quality welding blanket
Can withstand up to 1000 degrees Fahrenheit
Simple to work with
Reliable and affordable
Cons:
Only 4 holes for hanging (one in each corner)
Slightly smaller in size at 4×6
If you give this welding blanket a shot, we don't think you will be disappointed.
It is again smaller in size and it doesn't have as many grommets as the other blankets but it's still a high-quality option that will be reliable for multiple uses.
It is highly-rated and easy to work with and that price tag isn't so bad either.
A Complete Buying Guide to Welding Blankets
We can share welding blankets with you all day long but how do you know we've used credible criteria to choose our top 3 welding blanket picks?
In this portion of our guide, we will share with you all of the things that are essential to look for in a welding blanket.
What you should know is that we based our selection criteria on these characteristics, using this knowledge to pick out the best of the best and ensure the success of the welding blanket chosen.
We certainly don't want to lead you towards something you can't rely on and have you hold it against us!
There are some essential characteristics and things to look for as you peruse your options to purchase the best welding blanket for your needs.
Additionally, there is some information you should know about welding blankets in general and we have all of that here for you.
Welding Blankets Explained
By now, you're quite familiar with the need for safety tools and accessories when it comes to welding jobs.
Your career field is known for being a risky path and it is only fair that you understand the safety precautions you can take – not just for yourself but for your surroundings as well.
A welding blanket is designed to do just that. Most welding blankets have grommets of some sort that give you the option to hang them.
When you hang them, they act almost like a protective curtain (think of it as a shower curtain – but for heat).
Welding blankets are designed to withstand extreme heat scenarios, meaning they will protect what they are covering from potential flames and sparks as well as spatter that could damage materials and surfaces before you even know it's found its way there.
Most welding blankets are made with fiberglass-type materials. You might see vermiculite and Kevlar listed in the materials and these are all notable materials that do what they are designed to do.
The design of a welding blanket could protect against temperatures anywhere from 300 to 2,500 degrees Fahrenheit.
Not all blankets will be able to protect to the maximum but this is a quality we will discuss as we move forward. At one time, welding blankets were made with asbestos. We clearly don't want that for health reasons, which is why they are made mostly of fiberglass and vermiculite now.
Why Use a Welding Blanket?
Welding blankets are a form of safety accessories. You use gloves, sleeves, jackets, and more to protect your arms and hands. You use boots or boot covers to protect your feet.
You use dip and anti-spatter solutions to protect your tools and immediate areas. You use aprons and caps, and helmets to protect yourself. Why wouldn't you use something to protect your surroundings?
It's fair to say that welding can be a messy job. It's also a very dangerous job. You're working in extreme heat scenarios with an open flame.
There are sparks and spatter, slag and heat. Those things alone can do a number on anything else they might come in contact with.
Maybe you're on a welding job that you can't move the item very much and there are valuable things nearby.
A welding blanket could cover those valuable items and prevent you from perhaps causing insurmountable damage that your customer won't appreciate it.
What to Look for in a Welding Blanket
Not every welding is created equally, which we already touched on. However, there are a few primary characteristics that could potentially help you pinpoint what makes that particular welding blanket a good or bad choice.
Here are a few of the things we looked at in our research.
Measurements
Materials
Heat resistance
Grommets for hanging
Durability
These are just a few simple things that you should be able to read about on any blanket's labeling or packaging. And these things are quite important to pay close attention to. Let's dig a little deeper into each one.
Measurements
A welding blanket is meant to hang and cover a suitable area or be laid across a large area. It's a blanket because it covers things. As such, the blanket has to actually be large enough to cover surfaces suitably.
You will notice in our reviews that each of the blankets we shared measured a minimum of 4 x 6 feet. This size correlates quite similarly to a curtain and would work well if used as such. It is also still large enough to cover a good-sized area if it were laid over a surface.
We don't really recommend going smaller than this size, simply because you want to ensure you have plenty of coverage area. These welding blankets fold up nicely for transport, much like a throw blanket on your couch would fold small.
You don't have to worry about these welding blankets being overly bulky or challenging to work with but you do have to worry about how much open space they can cover and whether or not it will be sufficient to cover what is needed.
Materials
We touched briefly on suitable materials earlier in this guide. We want to point out specific materials here for a reference. The most common base materials of welding blankets are fiberglass and vermiculite.
These are reliable and common materials that, when the proper strength is used, will protect against the necessary elements like sparks and heat.
You might also see many options that are reinforced with Kevlar. Kevlar is one of the best fire-resistant materials so if you see this mentioned, it's a good thing. It means they've gone the extra mile to make the welding blanket high-quality.
Other materials you might find for welding blankets include leather and carbon fibers (also known as PAN). These are also durable and reliable materials that tend to be quite a bit more expensive.
Heat Resistance
The capabilities of welding blankets to stand up to heat can notable vary anywhere from 300 to 2500 degrees. The higher the better, but the higher it can also be considerably more expensive. A good minimum to shoot for would be 1000+ degrees.
There may be circumstances where you know you absolutely have to have higher, and that's ok. We're just recommending that you don't settle for anything lower to gives your blanket optimal usage.
Grommets
Most welding blankets are made to hang and this is something that you will want to watch for. Look for the quality of the grommets.
It also may be of importance to you to be familiar with how many grommets your blanket has and whether or not you feel that will be sufficient.
Durability
Last, but definitely not least, you want a durable welding blanket. You don't want something you will have to replace after 2 or 3 uses.
Try to choose a blanket that you can rely on for many uses to come. This quality comes with understanding the heat resistance and the materials that the blanket is made with.
Our Top Pick
Overall, our top pick for the best welding blanket goes to the Waylander option. It's affordable and reliable.
This blanket covers a large surface area and can withstand the hottest temperatures.
You can also reliably hang this blanket with the large number of brass grommets it has.
Conclusion
In the end, it is up to you to choose which welding blanket will be the best for your needs.
However, we hope that we've provided relevant ideas and information that will help you as you work to make a decision on the best welding blanket.