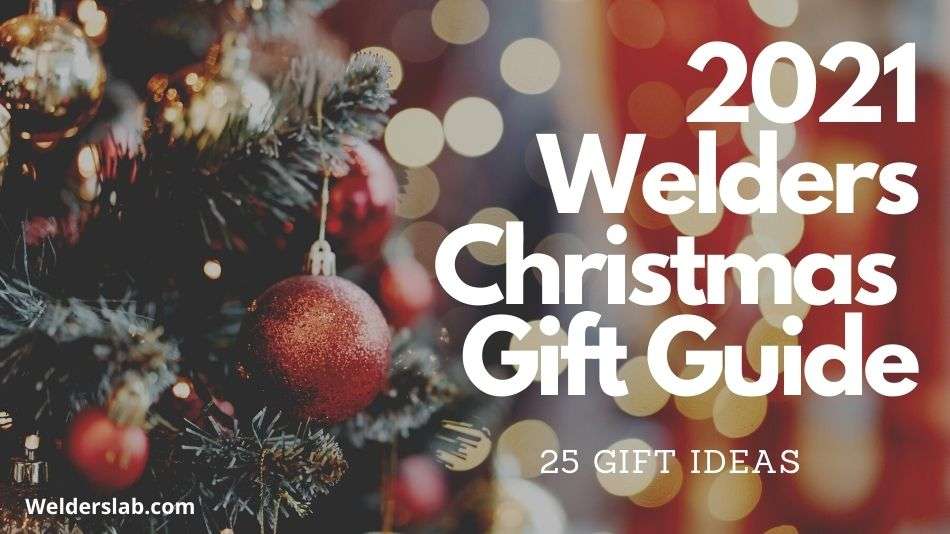 If you're a welder or maybe you're shopping for someone who is a welder you're probably looking for that one gift you can get them for Christmas that will get them all fired up and excited. As someone who is a welder, I'm always on the lookout for those unique and interesting things.
In this guide, I'm not just going to share the same old stuff but rather those unique gift ideas that will cover a wide range of prices and ideas. So no matter if you're just looking for that quick stocking stuffer or that big gift that will please any welder you'll find it here
By the way, if you get through the list below and you want to see all the tools I normally recommend you can check out all of my Buyers Guides by clicking here.
So if you're struggling to find that perfect gift for the welder in your life then keep reading.
25 Unique Christmas Gift Ideas For Welders
#1 Welders Hoodie Sweatshirt
Welders love clothes that show off their profession. Whether they are at work or just working on a project in the garage they know you appreciate them when they see it.
This sweatshirt is a popular one right now that says, "I'm here to weld your crap and not take any."
To learn more click to check it out on Amazon.
#2 Ear Buds for Welders
As a welder one thing, we like to do while welding is to listen to music. However, welding can be a loud and noisy job. With the ISO Wireless Earplug Earbuds, they give you just that.
The earplugs are OSHA-approved and also give you the ability to wirelessly connect to your smartphone and listen to your favorite music or podcast.
With a 22db noise reduction, 21-hour battery life with rechargeable battery case, and noise reduction mic you'll be able to work all day and stay compliant.
Not only that they are heavy-duty built and are small enough that they won't interfere with your welding helmet.
Click here to learn more about these earbuds on Amazon.
#3 Welding Shirts of America
Buying for welders at times can be tough but most welders like it when they can express not only their profession but the country they are proud to be a part of.
This shirt says it all without any words. The shirt comes in black only, has multiple sizes, and has options for men and women.
Click here to order this shirt on Amazon.
#4 Welding Helmet Stickers and Decals
Welders love to add decals to their helmets that express their personality. Decals also show off who you are as a person.
Whether you like simple statements or something that will make people laugh decals and stickers are the way to do it.
Check out the full selection of them here on Amazon.
#5 The Welders Gear Bag With a Twist
This next gift idea is great for the welder who is always traveling. The last thing you want to do is use some old ratty gym bag to keep all of your gear in. This can cause your helmet to get scratched or ruined and who knows what else.
With the Revco GB 100 BSX it will do all of that and more. It'll hold all of your tools and gear but best of all it also has a helmet hatch that allows you to securely store your helmet without scratching it all up.
It also makes traveling a whole lot easier because won't have to waste time trying to figure out where everything's at. With all the pockets and storage space this is the only way to travel as a welder.
To learn more about the Revco GB 100 BSX click here.
#6 The Grasshopper Welding Finger
One problem I know almost every welder has is trying to hold small stuff while trying to weld. When you wear thick heavy welding gloves this is almost impossible.
That is where this handy link tool comes in called the Grasshopper Welding Finger. This handy little clamp puts pressure on one specific spot so you don't have to try to hold the part with your welding gloves on.
This handy little clamp has a high tension spring and magnetic base to make holding small parts a breeze. Best of all you use it on flat surfaces, rods, and even pipes.
To learn more about the Grasshopper Welding Finger click here.
#7 The Welding Business Owners Handbook – Change
Being a welder is one thing but being a welding business owner is a completely different thing. As someone who's been running a welding business for over 11 years now, it takes a lot of knowledge and skill.
Recently I came across the Welders Business Owners Handbook and decided to buy it. I found a wealth of knowledge in this book and that's coming from someone who's been running a welding business for a long time.
So whether you're looking at earning some money on the side or going full time with your welding business this could be the perfect stocking stuffer for your welder this year.
To learn more about the Welding Business Owners Handbook click here.
#8 A Table For One – Change
The next gift idea is for the home hobbies welder working out of their garage. Nothing worse as a welder if you have to work on an old rickety workbench or worse on the ground.
Instead, you may want to consider getting a quality welding table like the Klutch Steel Welding Table. This little table not only gives you a flat surface to work off of but it all comes with clamps to help you hold your projects in place.
Not only will this little table save you time but it'll also save your back from being hunched over or working on the ground.
To learn more about the Klutch Steel Welding Table click here.
#9 Going Portable
One of the greatest improvements with welders is that they've been getting smaller and smaller. Some of the very first welders I used 20 years ago were as big as a tank. Ok, I might be exaggerating a bit but you get the idea.
Nowadays you can get welders that are portable like the Deko Pro Welder. This handy little welder is as small as a suitcase and runs on a normal 110 outlet.
Best of all it's portable and can be used nearly anywhere you want to bring it. If you're a small-time welder working out of your garage this is the perfect option for you.
To learn more about the Deko Pro Portable Welder click here.
#10 The MIG Light
As a welder one thing, you need to be able to do while welding is to be able to see what you're welding. Once you strick that arc it can be fairly easy to see what you're welding but what about when you're not.
This is where the MIG Light comes in handy. This heavy-duty light fastens to the neck of your welding gun that allowing you to position yourself and see where you're welding.
These handy little tools work great when you're in cramped tight spots with no light. Best of all it's light and never gets in the way and keeps light on the exact spot every time.
To learn more about the MIG Light click here.
#11 Get Clamped
Welders can never have enough clamps. The Bessy Clamps are the best around for welding. These F-style clamps are very strong, German-made, and will hold up through some of the most straining conditions.
I have personally owned a set of these for over two years now and have yet to break, bend, or destroy any of them.
To learn more click here to check them out on Amazon.
#12 Magswitch Ground Clamp
One thing every welder must have is a ground clamp. This creates a complete circuit and without it you're welder won't work. But what do you do when you don't have a place to clamp your ground to?
This is where the Magswitch Ground Clamp comes in handy. This little device uses a magnet instead of the normal ground clamp. So no matter where you are you'll always be able to ground out your welder.
It also has an easy on-off switch that allows you to easily turn off the magnet when you're done.
To learn more about the Magswitch Ground Clamp click here.
#13 Plugging Holes
When it comes down to it welders love tools, especially if it makes their life easier. One job a welder has is to plug an unused hole on a project. If you freehand it will likely need a lot of grinding and worst of all get stuck to the welding table.
This is where the Hole Plug Magnet comes into play. This simple little device magnetically clamps to your table and covers the bottom of your hole to help you get a smooth flat weld that will require no grinding afterward.
This little tool is small but it is mighty and worth every penny in my opinion.
To learn more about the Hole Plug Magnet click here.
#14 Welding Scrap Metal Art
If you're a welder with a full-time job you probably have no problem doing the work all day. But what if you want to do some fun projects on the side?
I recently came across this great book called How to Weld Scrap Metal Art. This book has 30 different easy-to-weld projects you can do even from your home garage.
So if you're looking to tinker around and try out some new ideas or you know a welder who has a knack for this sort of thing then this is the book for you.
To learn more about this book click here.
#15 Welders Mug
If you're a welder or know a welder you'll know that they like to express who they are at times. Best of all welders are proud of who they are but the question is how can they express this in a unique way?
A unique way to do this is to get them the Welders Coffee Mug. This coffee mug is a funny and unique piece that will get people talking.
Best of all it will show who you are and the type of person you are. So if you have a spouse or a boss that is a welder then this is the perfect gift for them.
To learn more about the Welders Coffee Mug click here.
#16 Turn Up the Heat
One unique tool a welder needs from time to time is a way to check the temperature of the metal they are welding. If you weld metal too cold the weld won't adhere and will likely crack off. In other cases depending on the type of metal you're welding you'll need it to be heated up in order to weld it.
The is where an Infrared Laser Thermometer comes in handy. With this simple little tool, all you have to do is a point and click and it will instantly tell you how hot or cold the surface of the metal is.
We use this tool when we weld AR400 metal plates which we heat up to 300 degrees before welding.
To learn more about the Infrared Laser Thermometer click here.
#17 I Weld For Tacos
If the welder in your life has plenty of tools then maybe you should get them a new shirt. But like anything you want it to be something that gets people talking and makes you stand out.
This shirt is a great way to make yourself stand out. It also lets people know that you have a quirky sense of humor and that you are a welder.
To learn more about this great shirt click here.
#18 Magnetic Wristband for Welders
For most welders tools and small parts can be lost quickly. However, there is a solution to all of this. The magnetic Wristband.
This handy tool slips over your wrist and holds everything from small wrenches, sockets, and screws. This idea makes a great stocking stuffer for family and friends.
Click here to learn more about the Magnetic Wristband to check it out on Amazon.
#19 Magnetic Digital Level
I can't tell you how many times over the years I've had projects I'm working on and I need to find an angle to something. This simple tool solves that entire problem.
The Magnetic Digital Level does just that. Simply just set it on the part you are working on and it will instantly tell you the angle of the part.
In the end, this handy little tool will save you time and patience trying to figure out the angle you should have and is a must-have tool for any welder.
To learn more about the Magnetic Digital Level click here.
#20 MIG Gun Holder
One aggravating problem I've come across over the years as a welder is where do I put my Welding Gun when I'm not welding. You could hang it on your welder, lay it on your welding table, but that will likely result in a damaged welding gun or at the very least falling on the ground.
Instead, why not get a MIG Gun Holder like the one from CNA. This is a handy tool that not only holds your MIG gun but also has a magnetic base that allows you to move it around to where you need it.
So don't just lay your MIG gun on the ground, you've likely paid a lot for that welder and the last thing you need is a damaged MIG gun.
To learn more about the CNA MIG Gun Holder click here.
#21 Flame Resistent Long Sleeve Welding Shirt
Welding clothes and gear are things welders can never have enough of. These long sleeve shirts will not only keep you warm while welding but also safe from catching on fire.
These shirts are made of 100% cotton, are flame-resistant, and are strong and durable for those long cold days of welding.
To learn more check out these shirts on Amazon here.
#22 Welding Beanies
Welding can be dangerous but if you have the right gear then it can make all the difference. A welding beanie is great for just that. It prevents sparks from landing on you and burning your hair.
This beanie also has a longer bill that helps prevent sparks from rolling down their back. It also has a great patriotic design as well.
To learn more about this beanie click here to check it out on Amazon.
#23 Welding Helmet Cooling System
If you don't know much about welders or you are one yourself you know how hot things can get especially in the summer. In fact, some factories can get up to 120 degrees in the welding booth. The problem is you can't just turn a fan on because you'll blow the shielding gas off of your weld.
The solution to this problem is the CoolBelt Welding Helmet Cooling System. This device hooks into your helmet and pumps cool air into your helmet as you weld.
With clean air and no more sweat getting in your eyes as your weld, this handy little tool is worth its weight in gold to have on those hot summer days.
To learn more about the CoolBelt Welding Helmet Cooling System click here.
#24 Angle Clamp
One thing no welder can never have enough of is clamps and more specifically specialized clamps. Without good quality clamps, it's almost impossible to fabricate something without it warping.
This is where the KAKA AC-60 Angle Clamp comes in. This handy little clamp helps you get an accurate 90-degree angle every time without having to use a square and constantly tack and tweak to get a part to get it right.
Best of all it's heavy-duty built for welders. When it comes down to you can't go wrong with this clamp.
To learn more about the KAKA AC-60 click here.
When it comes to being a welder it's all about being accurate. Things have to be built correctly or they just don't work. This means you need to be accurate. The question is how do you do this?
This is why I recommend the Tungsten Scribe. This scribe gives an accurate line to help you get your parts cut and welded right every time.
I personally like this tool for marking out my parts for bending and getting a precise mark.