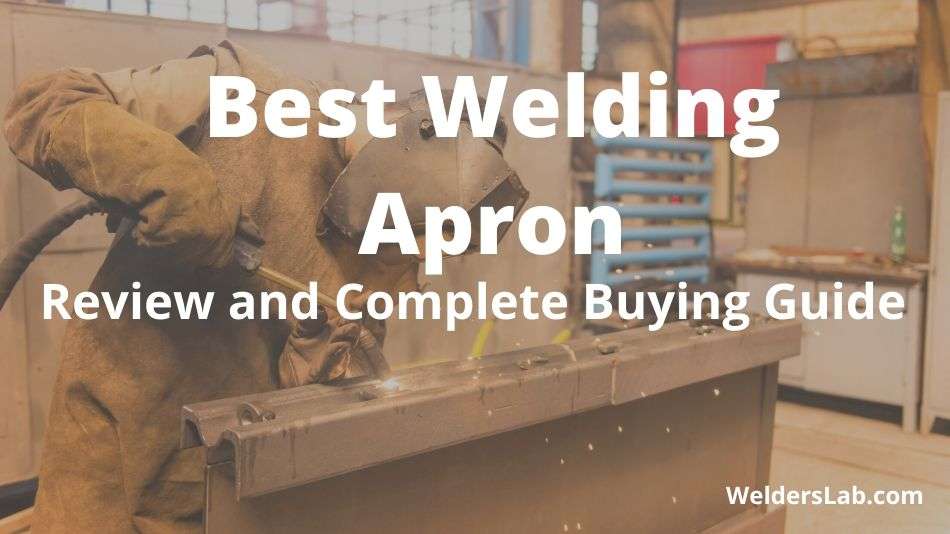 Welding can be a messy job. It's so easy to ruin clothes from spatter and sparks. You also run the risk of burning yourself if you are not careful.
The best way to avoid the mess and avoid the wear on your personal clothing is to invest in a quality welding apron.
A welding apron is not required to work on a job, although gloves are required. But we think you will see the benefit of using a welding apron if you look at the facts.
Whether you're an experienced welder or you're just getting started, it's safe to say you're familiar with just how an apron might be able to protect you and your clothing.
In this guide, we will review the 3 best welding apron options on the market. We will cover our top 3 picks in detail, sharing the pros and cons as well as other information.
Then we will move on to an in-depth buyer's guide to give you all of the inside information you should know before you go out and buy a welding apron.
The Top 3 Best Welding Aprons Reviewed
In these reviews, we will share with you all of the pertinent detail about each apron and why that particular apron made it into our ranks.
We will share the pros and cons and general information so you know just what you are looking at in each review.
#1  G & F Leather Welding Apron
The G&F welding apron is our top pick. It takes point as the best welding apron for MIG welders.
This apron is nice and long with plenty of coverage while also being lightweight. The apron goes to your knees so you will be fully protected.
One of the best things about this apron is that it is lightweight.
If you're welding in the heat of the summer, it's nice to have an option that won't have you drenched in sweat just to keep yourself protected from welding risks and messes.
This leather apron has a large chest pocket that you can store tools in for easy access. It measures 36 x 24 inches and the back and neck straps are adjustable so you can have a comfortable fit.
The back strap simply snaps into place and is easy to snap and unsnap on your own.
If you feel like 36 inches isn't quite long enough for you, you can also purchase this brand of the apron in a 42-inch length as well for more coverage.
The leather is premium cowhide material to ensure that the apron stands up against the heat and the wear and tear of the job.
Pros:
This apron is made with lightweight premium leather so it's not overly hot to wear.
The apron is plenty long, reaching down to your knees and has a longer option also available.
There are 2 pockets across the chest area that keep your tools at a convenient reach.
The apron is adjustable so you can wear it to your comfort.
This apron can be worn by both men and women comfortably.
Cons:
The color of the apron may vary slightly from pictures when you receive it.
The straps in the back tend to tangle easily and take some getting used to.
Overall, this apron wins our top pick because it's both reasonably-priced and high-quality. It's plenty long and it's also lightweight and comfortable.
You get plenty of coverage without the added weight of a heavy apron and it's simply hard to beat that!
#2  QeeLink Leather Welding Apron
Leather Work Shop Apron with 6 Tool Pockets by QeeLink – Heat & Flame Resistant Heavy Duty Welding Apron, 24″ x 36″, Adjustable M to XXL for Men & Women (Brown)
SUPERIOR PROTECTION: Heat & Flame-Resistant heavy duty split cowhide leather welding apron. Extra Long ( 24 inches wide x 36 inches tall ) full coverage apron protect you until the knee when you are working.

MORE DURABLE: Made of thick split cowhide for durability. And it is wear & flame-resistant for protection from flame and spatter. Sewing with strong, heat resistant US Kevlar thread. We pay attention to every detail, emphasis on quality.

TOOL POCKETS: 6 pockets for tools and work accessories. Include one cell phone pocket and one pencil pocket. We offer customer great convenience as much as possible.

MULTI - FUNCTION. They are not only for welding but also useful for many other work and home tasks. Idea for tools apron vest, shop apron, utility apron, work apron, bbq apron, grilling apron, woodworkers apron, workshop apron, garage apron, lead apron, personalized apron, mechanics apron, machine apron, lathe work apron, metalwork apron, metalsmith apron, blacksmiths apron, gardening apron, pocket apron, bulk apron, farrier apron. Unique gift apron for men, women, mothers, fathers.

SATISFACTION GUARANTEED: If youre not COMPLETELY SATISFIED with our product, you will get a 100% COMPLETE REFUND.
This welding apron from QeeLink is probably the best welding apron for the quality.
It costs a little bit more but it has great coverage and holds more tools than the other aprons represented here today.
This apron has great length and should reach nearly down to your knees to keep you clean and protected.
This welding apron is 100% genuine heavy-duty leather. It's flame and heat resistant cowhide leather that reaches 36 inches in length and is 24 inches wide. It's a great fit with durable and comfortable protection for any welding job.
This apron is equipped with multiple pockets including a double pocket across the chest and then a large pocket with multiple sections near the waistline.
This gives you plenty of storage and organization space for all the tools you might need while you are working.
The leather is heavy, the stitching is smooth and appealing and the apron is soft and comfortable to wear.
This apron is designed to be top-notch with full-coverage and heavy-duty protection. The straps are extra-long and can be adjusted to fit men and women sizes M to XXL.
Pros:
Heavy-duty material brings you a high-coverage and heavy option.
This apron is nice and long to give you sufficient coverage down to your knees.
The straps are comfortably adjustable to a men's XXL.
This apron is made with premium cowhide and is quite soft to the touch.
There are plenty of pockets for both work storage and organization.
Cons:
This apron has a strong smell that may be bothersome when you first receive it.
The straps seem to be slightly hard to work with at first.
This apron costs slightly more than our top pick but is still a reasonable price. This is the heavy-duty apron that gives you the ultimate coverage and quality.
No mess and plenty of coverage in a simple apron with lots of pockets and adjustable straps that fit multiple sizes of people.
#3 Hobart Non-Leather Apron
If you're looking for the best cheap welding apron, this is probably the option for you.
This one is a cheap option but it's still decently made for the purpose. It doesn't cover near as much of your clothing and body as the other options, but for a cheap apron, it's a suitable alternative.
This is a simple cotton apron with a neck strap and a snapping back strap.
It's equipped with a small single pocket on the chest to give you some tool-handling space. The apron is flame-retardant cotton so you will still be safely protected.
This apron is considered to be one-size-fits-most. It's listed to measure 24 x 36 inches but information reflects that it's not quite as long as the alternatives.
The strap across the back is made with elastic and it snaps together so it's easy to use and it's adjustable.
The nice thing about the cotton apron is you can easily throw it in the washing machine when it needs to be cleaned.
Of course, be mindful of the types of things that may be on the apron when you wash it.
You can also purchase the apron in various sets that include vests and other accessories as well.
Pros:
Budget-friendly apron option that still provides good coverage.
Flame-retardant cotton material keeps you safe and protected.
Comfortable to wear and to work in.
This apron is machine-washable.
Includes a single pocket on the chest.
Cons:
Covers slightly less area is overall than its counterparts.
While the information says fire-resistant, it seems like it wears down much too quickly by sparks.
This isn't your high-quality leather apron but if you're looking for something cheap that still works pretty well, it's a great option still.
It's plenty long and provides significant coverage, although not quite as much as its competitors. The apron is simple but effective while also being affordable.
A Buyer's Guide for Purchasing a Welding Apron
An apron seems like a pretty straightforward item to purchase. As a welder, you know the importance of protecting your body and your clothing. Welding aprons are not technically required for safety purposes but they are recommended.
Most welders use aprons as a means of protection against mess and sparks. Not only are you protecting your skin and your body but you are also protecting your clothing underneath.
There are tons of welding aprons on the market. It's hard to know just where you should look to find the best one. You may have personal preferences and that is ok. We're simply here to get you as informed as possible as you proceed to make a decision.
Why Use a Welding Apron?
Welding aprons aren't just for looks. They are really a matter of safety and protection. The process of welding produces a lot of heat but it can also produce slag, hot metal shards, sparks, and spatter to all surrounding areas.
When you don a welding apron, you take a stand for your safety and the protection of your clothing while you are working on any welding process. Welding aprons can also typically be multi-functional and act as aprons for other activities like carpentry, cooking, and more as well.
Whether you're welding, grinding, cutting, or something else, an apron is meant to keep you safe and it does so effectively.
Did you know that the most common welding injuries are burn-related? A welder can experience second and third-degree burns just from sparks and spatter.
This is where the apron comes in. It adds another fire-resistant layer between those sparks and spatter and you and your clothing.
This is all about safety. But in the meantime, you can also compliment your personal styles and preferences with the materials and the pockets on your welding apron.
Material
There are 2 primary variations of style when it comes to welding aprons.
You can find a full-length apron that provides full coverage typically from the neckline down to your knees. Or you can purchase a half apron that ties on at the waist and goes past your knees when on.
We recommend going with fuller coverage because it's more protection overall but you can choose the style you prefer.
Not every welding apron is made the same length. Common length measurement is 36 inches but you can also find them both shorter and longer. You would also be surprised that 36 inches from one brand may not match 36 inches from another brand.
Strap Options
When it comes to the straps, it's mostly a matter of comfort. You want straps that you will be able to adjust to your personal sizes without spending hours trying to adjust. You also want straps that will adjust to your size.
For instance, if you are a XXL male, you may need to pay attention to measurements to know the straps will adjust to your size.
Most aprons are presented as a one-size-fits-all but it's safe to assume that they may not truly fit all so just watch for measurements and fittings so you don't purchase an apron that doesn't allow enough adjustment to your sizing needs.
You also want to be sure that the straps are durable and will lie comfortably for you. Some straps wrap and tie while others snap together or clip-on.
It's up to you to decide what you think will be most comfortable. Tying allows you the most room for getting to fit your size and is quite simple.
You might also find that straps crisscross across the back or simply come around the waist. You want to be comfortable and covered without having to fight with the straps or worrying about your straps getting tangled and messy too easily.
Alternatives or Additions to Welding Aprons
There are a lot of alternatives and protective wear that you might be able to use in place of an apron or to work with an apron. Here are a few of those options to consider.
Welding jacket
Welding gloves
Split-style bibs (worn similarly to chaps)
Full jacket that splits on the sides and ties like an apron
Welding suit
Welding sleeves
Many of these items can be paired together. A welding jacket is great because it covers your arms fully but the downside is that sometimes they can be heavy and restrictive.
Just be sure you are choosing something that will suitably cover and protect your skin so you don't end up as a welding burn statistic due to a lack of protection.
Recommended Welding Safety Gear
Safety is of the utmost importance when it comes to welding. You are working with high heat, flame, grinding and more. It's important to take measures to protect yourself so you don't end up injured.
Here are some of the most important safety items that are recommended for welding. Some of these are required according to OSHA and industry standards while others are recommended.
Welding gloves
Eye protection
Welding helmet
Welding apron or jacket (or both)
Flame-resistant pants
Earplugs
Flame-resistant shoes
Ventilation equipment or lung protection
Each of these accessories has its own purpose to keep you safe.
As we mentioned, some of these are absolutely required while others are optional and recommended to give you the safest working environment possible.
Our Top Pick
Overall, our top pick for the best welding apron goes to the G&F leather welding apron.
This apron has sufficient coverage but is also lightweight enough to be comfortable so you don't end up feeling overheated, particularly in the hot months of summer.
This apron is well-made to be durable but offers a sufficient amount of protection and it comes at a great price.
It has the best of everything and its place at the top of our ranks is well-earned by the quality and features this apron has to offer. You simply can't go wrong with this choice.
Conclusion
When it comes down to it, you can choose any style or design of a welding apron that you think will be most compatible with your needs.
Whether you want the best of the best or you just need a cheap option to get you going, there are plenty of welding aprons to choose from.
We hope that you have found this guide to be a useful resource for narrowing down your options to the top 3 welding aprons available.
We also hope that you find the additional buyer's guide to be informative as well. Finding your best welding apron should be about your personal style and comfort but also about premium protection.