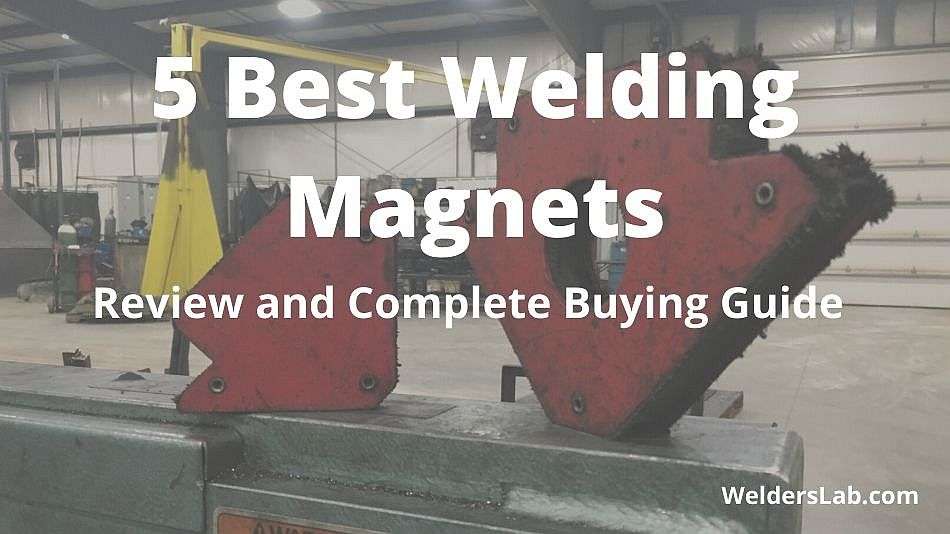 Every welder should load their tool bags and toolboxes with the appropriate tools to cover any type of job they might come up against.
Seasoned welders and beginning welders alike have to be prepared for various jobs. Having the proper tools and accessories will equip you to get every job done correctly. In your arsenal of tools, you should plan to purchase welding magnets.
Welding magnets can do a lot of things. Whether you want to improve your fabrication techniques or simply be able to weld angles accurately, welding magnets are a versatile tool that is is important for you to consider.
In this guide, we will cover the 5 best welding magnets on the market. We've sifted through all of the options to bring to you the very best. We will review each one individually and then provide you with an extensive guide to help you choose the best for you.
The 5 Best Welding Magnets Reviewed
#1 ABN Arrow Welding Magnet Set – 6 Pack of 25, 50, and 75 lb. Magnets for Metal Working, 45, 90, 135 Degree Angle Magnet
If you're looking for the best welding magnets for beginners, this is an ideal option for you. These are perfect for anyone really because it's a full set with a variety of sizes and angles.
This set is quite affordable and will fill your tool bag with a variety of options that could cover just about any need.
These welding magnets are easy to use. You can adjust angles and hold metal projects together while you are working through them, keeping your hands free to do what it is you should be doing with your hands – like welding.
These welding magnets are a useful tool for many different welding functions. You can use them for welding, soldering, marking, installations, assembling and more.
Since the set comes with so many options you can also set up multiple facets of a job at once so you can work more efficiently as well.
On top of these other great characteristics about these magnets, you can expect that they are well made. ABN is a well-known brand in the welding industry.
They are made with high-quality stainless steel and coated with a powdery finish that makes them built to last and easy to use.
Pros:
Complete set of 6 magnets to give you a variety of options
Well-made magnets that are durable and sturdy
Magnets have the strength to help hold projects together and keep your hands free
A quality set of magnets that are available at a budget-friendly price
Magnets have great holding power and could potentially replace clamps for some jobs
Cons:
Over time the magnets tend to bend and may need to be monitored for accuracy
#2 50 lb. Strength Strong Welding Magnetic Holder Corner Welding Magnet Pack of 2
This 2-pack of magnets is your simple fix to almost any magnet job you could think of. While there are not various shapes, angles, or sizes these are adjustable and they are 50 pounds, which is typically sufficient for most jobs.
The magnet is strong and powerful with plenty of holding force so you can use it for a variety of jobs.
They attract any ferrous metals so they should stick to just about any metal-type surface you need them to.
With these magnets, you can work safely and efficiently and keep your hands free.
You might even be able to use the magnets instead of clamps in some instances. These magnets are user-friendly and simple to work with so you can apply them to your job quickly and get to work.
The magnets are made with high-quality materials. They will last you for years to come and they do not turn soft or have any plastic that is bound to break or wear down while you use the magnets.
The magnets are also shaped to handle 60, 90, and 120-degree angles effectively.
Pros:
Ideal for holding heavy pieces of metal and even separating metal for projects
2-pack of magnets that give you access to a variety of angles
Well-made magnets that won't wear down or break easily
Versatile magnets that can be used for a variety of functions
Magnet created to be a universal size and strength so you can use them for any project
Cons:
While I've found these are strong they do not consistently hold 50 lbs.
#3  Strong Hand Tools, Grasshopper Welding Finger, AGH230
This is not your everyday welding magnet but it is a significant option. This is great for welders who can use an extra hand at times (can't we all?).
The Strong Hand Grasshopper magnet is quite unique in structure but it has a lot to offer and it does it for a reasonable price.
This is one of the best multi-functional welding magnets on the market because it does so much more than just hold your pieces of metal together.
You can purchase this magnet in packs of 1, 2, 3, or even 4 to fully equip your tool bag for any project.
This welding magnet is uniquely made with an attached arm that makes it resemble a grasshopper in shape.
The attached arm can help to hold or steady small parts you might be working with. You get the magnetic capabilities and an extra finger for things like nuts and bolts during your welding job.
The downside to this one is you don't get as much angle functionality as you might get from other magnets.
However, it's well made with brass, including a brass tip on the steadying arm. The magnet is built to effectively hold up to 35 lbs.
Pros:
Unique grasshopper arm to help with steadying nuts, bolts, and other small parts
An effective weight capability that allows you to work with multiple-sized projects
Affordable price point and available in packs of 1, 2, 3, or 4
Designed primarily to provide an extra hand for working with small parts
Well-made piece with high-quality materials
Cons:
Not designed to help with angles or positioning features
#4 Magswitch MINI Angle, Yellow/Silver/Black
If you're looking for one of the best cheap welding magnets on the market, look no further. This magnet is well-made and it comes at a very reasonable price considering the overall quality.
You can purchase it individually or buy a pack of your choice with up to a 5-pack.
This magnet is small but mighty and is highly-rated across the industry. It has an extra-high weight allowance and can work for a variety of angles.
The best part about this mini angle magnet is that it is small and mighty at the same time.
The small magnet easily fits into hard to maneuver spots. Its shape and structure are ideal for just about any setup.
You can also count on this magnet to support up to 90 pounds. The best part is, you can also work with multiple angles, including 45, 60, 90, and 120-degrees.
This magnet is made to be strong and durable but is also lightweight and easy to work with. It can be challenging to find all of those qualities wrapped into a small package such as this.
This magnet is small (it does have mini in the name) but is still quite effective for the intended purpose.
Pros:
Small but mighty magnet that can handle up to 90 lbs.
Magnet is well-designed to fit into tight spaces
The magnet can handle the 4 main angle options, including smaller angles like 45 degrees
The high-quality magnet that is quite possibly the best cheap welding magnet available
Cons:
The magnet is small, it is labeled as mini and truly fits that description. Pay closer attention to sizing to be sure it will work for you
5. Strong Hand Tools, Adjust-O Magnet Square, 4-3/8" x 3-3/4", MSA45
In terms of the best quality welding magnets, this magnet from Strong Hands takes the cake.
This magnet switches on and off easily and works much like a square making it easy to work with and maneuver to your needs.
This magnet is a bit higher-priced and only comes in a single pack but it is well worth every penny you would spend if you have the budget to get one or more of these for your tool bag.
This magnet is well-made and is highly recommended across the market.
Strong Hands is a long-standing name amongst the welding industry and they are known for producing high-quality options that you can count on.
This magnet certainly fits into that category. It's versatile and functional while also being simple to use.
You can expect this magnet to hold up to 65 lbs., which is sufficient for a myriad of projects.
It's lightweight and the on/off switch function makes the magnet super easy to work with. The square feature is also ideal for angling just about anything you need.
Pros:
A high-quality magnet that is well-suited to a variety of projects
It can hold up to 65 lbs. giving you quite a bit of versatility for use
The on/off feature of the magnet is very easy to work with
Highly-rated and recommended product from a trusted brand across the market
This same style of a magnet is available in sizes that handle up to 160 lbs.
Cons:
Only 1 magnet provided for the price, which is a bit higher
A Buyer's Guide to Purchasing Welding Magnets
When it comes to choosing your welding magnets, it takes more than simply knowing what the best welding magnets on the market are. You should be informed of the characteristics and qualities that you might want to look for in your magnets.
Welding can be an extremely individualized industry. Many welders work in a variety of ways and while it all falls under the general concept of welding there are various types and concepts behind it.
Not to mention many welders develop their own style of how they prefer to work.
Your tools should reflect your individual style and needs. What is perfect for one welder may not be the ideal solution for you.
Here are some characteristics you should consider as you peruse the options to purchase the best welding magnets for your business.
Sizes
Ensure that you are purchasing a magnet that is an ideal size.
There are many options that are somewhat of a universal size but then there are options like the Magswitch Mini magnet listed above that people are disappointed in when they get it because it is so small.
Just pay attention to the dimensions and know and understand whether that magnet will work for you.
Weight Capacity
Not every magnet is created equally. Some magnets only support small amounts of weight like 25 lbs. or less. On the other hand, you might also find magnets with weight capacities up to or beyond 200 lbs.
As you check out your welding magnet options, just be sure to watch for the magnet weight capabilities and know you are getting something that will be strong enough for your needs.
If you handle primarily thin, lightweight materials you don't need a significant weight capacity.
There are many middle-weight magnets available, which would cover somewhere from 50-100 lbs. essentially. If you see a magnet with this weight just know it will be suitable for a versatile number of jobs and will be sufficient for the majority of work it is needed for.
Angles
One of the benefits of welding magnets is the ability to work with angles. Welding magnets are much more than just magnets.
They allow you to measure, angle, line-up, and prepare your job so you can move on without having to worry about those things while you are working.
The welding magnets allow you a hands-free approach. You set your angles and your magnets and proceed to get the job done. It is best if you are able to purchase a magnet that will conform to a variety of angles.
Nearly all of the magnets we shared here in our product reviews can handle anywhere from 2-5 angle options.
To get the most out of your magnet, consider the measurable angles the magnet can provide. We certainly recommend that you purchase with the intent to use a variety of angles.
Magnet Usage
The final characteristic we recommend you consider is how you intend to use your magnet. There are two primary types of magnets, electromagnetic and permanent. The primary difference is one type allows you to switch the magnet off and on while the other is always magnetized.
In welding you have to be careful not to weld too closely to magnets to avoid de-magnetizing them but with an on/off magnet option that helps protect your magnets to a degree.
Magnets like the Strong Hands magnet we shared at #5 are equipped with an on/off switch that makes them easy to use.
There is not necessarily a right or wrong choice here. The on/off magnets are some of the best-selling magnet options. Most welders prefer these options because they are so simple to work with and move around thanks to the switch.
You can choose whichever form of magnet you like but be aware that there are different options. Both options work quite well for just about any magnetic process.
Our Top Pick
Overall, all of the magnets listed here have their own strengths to bring to the table. They are all high-quality magnets that will deliver when you need it. We would recommend the ABN Welding Magnets as the top pick.
These are perfect to get started with. You get a variety of magnets that offer a variety of weight accommodations and a variety of angles.
This multi-pack is ideal for stocking your tool bag and you can get them at a reasonable price point. You simply can't beat that.
Our runner-up would be the Strong Hands Magnet Square. It is quite versatile and the square features do a lot to make this a high-quality tool. It is a bit more expensive but it is one of the highest-rated welding magnet tools on the market.
Conclusion
You really can't go wrong with any of the options listed above. We even shared a unique tool in the Grasshopper welding finger that provides an alternative that isn't focused primarily on angles and weight.
When it comes down to it, we've provided you with an array of suitable options. All of them are well-made and will hold up to the test when you truly need them to.
We hope that you have found this buyer's guide to the best welding magnets to be a valuable resource for not only finding the best options but also for knowing what you should look for in a welding magnet.
There is no right or wrong answer here but rather knowing and understanding what will be best for you.
Good luck with your welding magnet selection process and we hope you can find the perfect set to best help you in all of your future welding adventures.