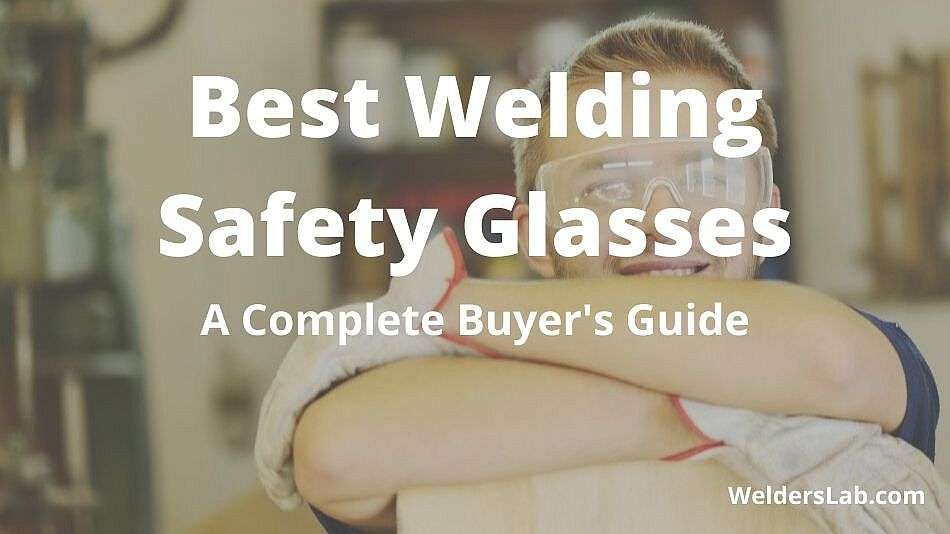 As a welder, I know that not all welding falls into a single category. You have MIG, TIG, arc, and several other forms of welding and they are each unique in their own way.
Arc welding is by far one type of welding that requires the most safety gear but there are types of welding that you might be able to reduce your gear.
For instance, in some cases, you can forego the full-sized welding helmet and just use welder's safety glasses instead.
These glasses are designed to still protect your eyes when you don't need the highest shading lens available for your welding job – and glasses can be far more comfortable to work in.
How do you know what glasses are the best welding safety glasses? And who says when you need glasses or when you need a darker helmet? There are a lot of factors to consider here and lucky for you, there are safety glasses specially designed for welding.
In this guide, we will cover the top 3 welding safety glasses options on the market. I'll cover each pair of glasses in extensive detail, even sharing the pros and cons of the glasses with you to give you the inside scoop.
I'll also round out the guide with a comprehensive buyer's guide so you know what to look for and when glasses are most appropriate.
I hope you'll stick with me as I review the 3 best products and dive into the best qualities of safety glasses for welding.
The 3 Best Welding Safety Glasses Reviewed
The following reviews are meant to give you a detailed overview of each product.
I've done extensive research and been able to try many different types of glasses and other safety gear during my years in the welding industry.
I've done the work for you so that you don't have to spend hours upon hours researching glasses only to be more confused and lost when you're just trying to find a good pair of welding safety glasses.
I've got your back and I'm here to share the information you need to know.
Let's get started!
This 2-pack option really isn't glasses at all but rather a face shield that is lighter and more simple than your average welding helmet.
This option provides you some of the best safety glasses for welding because they offer a full shield to protect your face from debris and sparks while you're working.
These glasses are ideal for grinding, cutting, and welding because the shield offers so much more protection than basic safety glasses every could.
The shield is clear and will not fog over while you're working. It's also appropriately tinted to protect you against low UV and low heat viewing functionality.
This face shield is made to cover a decent-sized area, measuring at 8 x 15.5 inches. It's made with durable material and even has a helmet-like design so you get plenty of coverage and protection.
You certainly won't find many other options that provide as much protection as this face shield meets goggles creation.
The shield is made with durable materials so it won't just fall apart or crack when debris hits the shield. It's made with polycarbonate and ABS to be incredibly durable.
This shield is also adjustable to nearly any head size using a ratcheting mechanism quite similar to that of most welding helmets.
Pros:
Extensive coverage from sparks and debris
Dark enough for low-heat welding needs
Adjustable headgear to fit most sizes
Includes a full face shield for extra protection
Comes in a pack of 2 so you always have a backup
Cons:
The information states you can arc weld but the tint really isn't dark enough for the majority of welding. Best for grinding and cutting.
Overall, if you're looking for something with good protection when you don't need the fully-tinted welding helmet, this face shield is a great option.
It's suitable to protect your face from all of the risks of the job while also providing some eye protection for the heat. It's pretty versatile and comfortable and easy to use as well.
To check the price and reviews on the Ginode Face Shield click here.
If you just need some of the best cheap welding safety glasses to have on hand, this is a great option. These glasses are light and simple.
You can carry them around in your pocket or tool bag and not worry about them just falling apart. These won't offer you a ton of protection from debris but they're effective for covering your eyes.
One great thing about these glasses is you can easily wear them underneath your helmet if you don't want to mess with taking them on and off.
They're slim and simple and even have a nice color option so you don't feel like you look awkward in your safety glasses.
These safety glasses are clear so they aren't ideal for welding but they do have anti-fog coating on them to prevent low visibility issues from the heat.
They are pretty basic safety glasses but they're much more comfortable than most with their overall build and design.
These glasses are meant to protect your eyes from sparks and debris but you will need to be mindful when wearing them that there are gaps that aren't fully covered by the glasses, particularly under the eye.
However, I think these are great when you just need some simple safety glasses on hand. And they're pretty cheap for what they are!
Pros:
Sturdy and durable
Made to be comfortable and fitted
Affordable safety glasses option
Can fit under your welding helmet
Lightweight and adjustable
Cons:
No shading for welding eye protection
Potential for debris to find its way under the rim of glasses
I wouldn't rely on these for heavy cutting when you expect a lot of debris or sparking but rather as your quick and simple fix when you just need to cover your eyes for the most basic of operations.
These glasses are durable and reliable and they won't let you down as far as basic safety glasses needs to go, just don't over credit their capabilities.
To check the price and reviews on the Uvex Safety Glasses click here.
Styles like this option from Itotin make some of the best quality welding safety glasses you will find.
The reason being that they fully protect your eyes, there are no gaps where debris could try to slip through and harm your eye while you're working.
These safety glasses are a bit bulkier than other types of safety glasses so they won't fit underneath your helmet, which is perhaps their greatest downfall.
This pair of safety glasses are designed with a clear lens; it does not have any shading for heat protection while you're welding so be mindful of the limitations.
However, that said, they work great for any kind of grinding, cutting, sanding, or whatever else you may be doing that will spark or cause debris to fly. These also only protect your eyes and not your full face so you will want to keep that in mind as well.
This pair of safety glasses is adjustable and it just slides onto your head with a simple elastic band.
You can easily pair them with a mask or respirator as needed. In fact, if you wear personal eyeglasses, these can even typically fit over your glasses so that's a nice feature as well.
Pros:
Large frame fully covers your eyes
Curved shield lets you have full range of vision
Headgear is adjustable and comfortable
Designed with anti-fog coating
Includes nose pads for comfort
Can be worn over eye glasses if needed
Cons:
No shading for welding
Will most like not fit underneath your welding helmet
These may not be your first choice since they won't fit under your helmet but they do offer some of the best protection available thanks to the larger lens shield that has no gaps.
Overall, these are simple and easy to work with and they're a really great option if you rely on eyeglasses to be able to see anything. I say these won't disappoint in the realm of safety glasses.
To check the price and reviews on the Itotin Protective Safety Glasses click here.
A Buyer's Guide to Welding Safety Glasses
Welding safety glasses can easily be made up of traditional safety glasses. There are certainly specialty-made welding safety glasses that have tinted lenses or shields and will offer the ultimate level of protection, but you also have your welding helmet for those purposes.
It's important to understand just what features might make a pair of safety glasses worth trying and using when you're welding.
Understand that welding safety glasses are more often used for cutting and grinding rather than welding but you can find glasses for both purposes.
You can see options all day long but only you will really understand what type of glasses is going to fit your needs.
We've shared 3 very different options here with the understanding that we all have different needs and preferences for our safety glasses.
With that in mind, there are some specific qualities that might help you decide which safety glasses are truly the best.
In this section of the guide, we will cover this and more to help guide you into an informed decision for your welding safety glasses.
Welding Safety Glasses vs. Welding Helmet
Welding safety glasses are really not meant to replace the need for your welding helmet.
Yes, there are some low-heat types of welding you can undertake in some of the tinted safety glasses but you should not rely on your safety glasses when it comes to protecting your eyes from flash burns and heat of welding.
That being said, you can purchase various options when it comes to shading for your safety glasses. You can also purchase clear glasses.
In most cases, safety glasses for welding are designed specifically to protect you from sparks and debris while you're grinding, cutting, or using low-heat.
A welding helmet, on the other hand, is designed to protect your eyes from all shades of heat, some of these helmets have auto-darkening features and some require you to manually change the lens for your purposes.
Safety glasses are a way to protect your eyes without having to use the bulk of the welding helmet when you don't really need the darker lens for what you're doing.
There are many aspects of welding that don't necessarily mean you have to shield your eyes from the heat levels, which is where the glasses come in handy.
Remember that most glasses won't offer you any other facial protection, although there are options that have shields to protect your face.
Additionally, your safety glasses might even be designed so you can wear them underneath your helmet. This is just a matter of convenience, ultimately.
Safety glasses certainly serve a purpose. They aren't comparable to the protection that a welding helmet offers and they are not meant to replace your need for a welding helmet.
The job of each safety item is different in scope.
The Best Features of Welding Safety Glasses
Welding safety glasses are somewhat self-explanatory but there are some specific features you may want to be aware of and consider as you are making a purchasing decision.
Total Protection
Comfort
Durability
Total Protection
It would be a waste of both time and money to purchase safety glasses that aren't really going to protect your eyes.
You want to ensure that whatever you choose is really made for the protection you need.
Whether you're looking for something to shield your eyes from grinding and cutting or whether you want some low-level heat protection for certain practices is totally up to you.
Just be sure that you review what the glasses you are considering are capable of so you can know they will fit your needs.
The key here is protection.
Comfort
If you're going to be wearing safety glasses, whether you wear them under your helmet or just as you need them, you need something comfortable.
Check out the way the glasses are designed. Do they have grips or straps? What will make them stay on your face will they be squishing your face while they are on? Is there padding around the brims, particularly around the nose?
These are small things but they can go a long way to make or break your comfort when you are wearing the glasses.
Be sure to check out reviews and all of the relevant information to see if others will attest to the comfort of the glasses as well.
Durability
Safety glasses are not terribly expensive but you also do not want to waste your money. Safety glasses are meant to protect your eyes. Some have added features of a shield that can protect the majority of your face.
If the glasses can't stand up to flying debris, you probably shouldn't waste your time. If they are going to snap or break or crack when you use them the first 5 times, try a different pair.
Sometimes, you simply don't know the level of durability until you have the glasses on and you're working away. However, you can read the materials the glasses are made of, particularly the lens or shield portion.
You can also read reviews and basic information to get a feel for how the safety glasses you're looking at hold up. I can assure you that all of the options I've shared here are made with durable materials and are highly-rated.
My Top Pick
When it comes down to choosing the best welding safety glasses, I prefer protection over minimalism.
My top pick goes to the Ginode full-face shield because it covers your face from all types of debris and sparks that you are subjected to no matter how careful you are.
It's slightly inconvenient to have to remove the shield to put on the helmet or remove the helmet for the shield but the added protection seems quite worth it to me and it's really not that big of a deal to switch between the two pieces of gear.
This option comes in a 2-pack, it's comfortable and well-made and it will give you the best protection of just about any type of safety glasses on the market when it comes to your welding needs.
It's even shaded to be compatible with low-heat types of welding.
Conclusion
I hope you find these reviews and complete buying guide to be a valuable resource.
My goal was to provide with you a variety of options so you can determine what will best work for you, while also taking the burden of testing and research off of your shoulders.
The features listed in this guide are simply meant to provide you relevant information to consider as you work to determine what the best welding safety glasses for your needs will be.
Remember, safety first when it comes to welding.