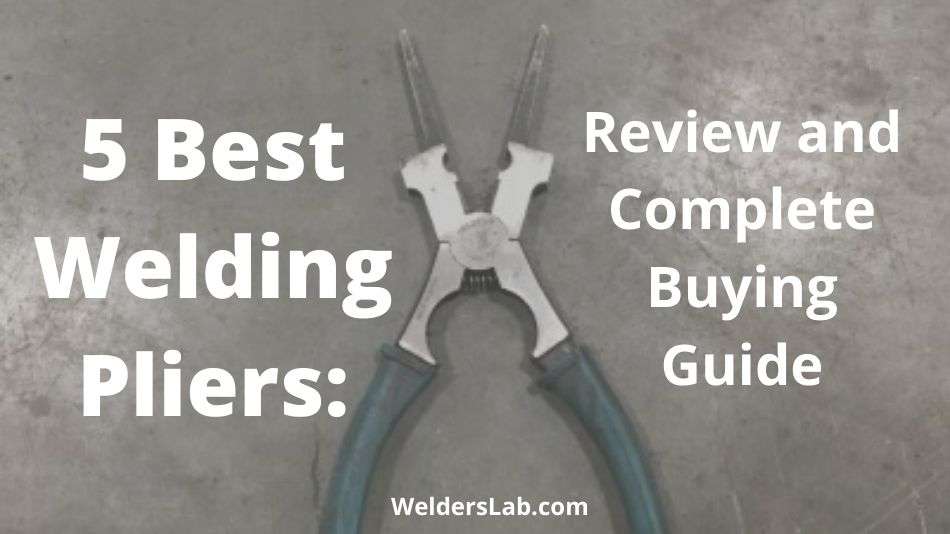 Welding pliers are an essential part of the life of a welder. Welders might use them for any number of tasks like clearing splatter, hammering, removing and installing tips, wire cutting and so much more.
When it comes to choosing the proper welding pliers you need a pair that you can trust and rely on when you're in the thick of things. Not just any pliers will do. You need specialized pliers that have a slim nose and a good grip.
You need pliers that you know aren't going to let you down and that you aren't going to have to replace on a regular basis. If we're being honest, you probably also need backup pliers just to be on the safe side.
In this guide, we will share with you the 5 best welding pliers on the market. We will give you all of the need-to-know details so you don't have to spend hours searching through the options.
Keep reading to find out just what the best welding plier options are.
A Formative Review of the 5 Best Welding Pliers
1. Hobart 770150 MIG Multi-Function Welding Pliers
You can purchase these Hobart Multi-Function welding pliers in various packages including 1, 2, 3, 4, or 5-packs.
This way you can set yourself up with extras to have on hand when you need them. These are gray with an orange handle, which will make them easy to spot in your toolbox or tool bag as well.
These simple pliers are 10 x 4.4 inches and weigh only about 10 ounces.
The grip on the nose includes a built-in grip piece that helps to grip the contact tip. Then you can adjust the grip to gripping larger things like the nozzle.
You can't argue with the narrow jaws and the multi-functional grip of the nose that allows you to do multiple things with one simple and affordable pair of pliers.
Not to mention, the pliers are well-aligned so your grip will be spot on and cutting those wires will be simple and straightforward
Pros:
Suitable for MIG welding
Spring-loaded functionality
Easy and comfortable to work with
Cons:
The finish is rough with burrs and requires careful handling
These pliers are designed to be multi-functional with a simple design and a comfortable grip.
These are a budget-friendly option and their overall quality would agree with that.
Nonetheless, they are worth a glance when you need a simple solution. These are the best welding pliers for the money.
2. Irwin Vise-Grip MIG Pliers, 8-Inch (1873303)
Irwin is a well-reputed brand throughout the nation.
They are known for providing some of the best MIG welding pliers.
You can purchase them individually or in a 2-pack and they are very reasonably priced.
The nose is specially-designed to efficiently remove welding splatter and cut minuscule wires.
You have multiple jaw settings available so you can work with what you need for your current project. The handles are spring-loaded to make the pliers simple to use.
The nose of these welding pliers is unique to Vise-Grip with the perfect setup for removing splatter and gripping whatever you might need.
Since the cutting edges have been hardened they last longer for cutting purposes than many of their competitors.
The cutters have been noted to have nicks in them that make it hard to cut your wire but according to information available, if you get the grip aligned just right in the center, you shouldn't have a problem with this feature.
Pros:
The edges are induction-hardened so they will stay sharper longer
The nose is multi-functional and small enough to complete any task
Includes a lifetime guarantee from Vise-Grip
Cons:
It appears that these pliers are challenged in cutting MIG wire
It's great to look at a product from a company that is known and highly recommended.
If you're looking for something reliable, these would be a suitable go-to source, particularly for MIG welding needs.
They even come with a lifetime guarantee so if something isn't right, the company makes it right.
3. Ion Tool Welding Pliers, 8" Blue/Black
The Ion Tool welding pliers are unique in that they have a grooved grip to add additional comfort and stability while using them.
These pliers are built to be multi-functional and can handle likes like splatter removal, hammering, tip removal and installation, wire cutting, and more.
These pliers were head with high-quality forged carbon steel to make them durable and long-lasting.
These are great not only for MIG welding but also for things like electrical work, HVAC maintenance, plumbing, and even in-home use.
You don't find pliers of this price and overall quality every day. And even more, you don't find companies that will stand behind their product with a 100% satisfaction guarantee.
If you find these don't live up to your standards, the company will make that right with you.
Pros:
Includes a 100% satisfaction guarantee so you can return them if you hate them
Multi-functional use that is designed for welding but can work for anything
The handle is above-par with non-slip technology
Cons:
These pliers tend to fall apart easily at the springs
These are some of the most robust and multi-functional pliers on the market.
Designed for MIG welding purposes but built to work for numerous other professions, you simply can't go wrong. The handle technology gives you one of the best grips on the market.
4. Channellock 360CB 9-Inch Welding Plier with Code Blue Grips
The Channellock welding pliers are one of the best quality welding pliers on the market. They are one of the more expensive options but they appear to be well worth the cost.
These pliers are also made in the USA. They are designed with a comfortable grip that sports a mixed red and blue color pattern.
Channellock notes that these pliers are made with XLT Xtreme Leverage Technology that allows you to cut without using excessive force or effort.
These pliers are also designed to be multi-functional so you can cut, install/remove bushings and nozzles, remove spatter, grip wire, and hammer.
If you're willing and able to dish out the extra money, these would be our highest recommended plier. However, the cost does hurt them against their competitors.
Another great commendation for these pliers is that the grip is long and slim which makes them easier to use in tight spaces.
Pros:
An exceptionally high-quality product made in the USA
Multi-functional pliers that are truly designed to complete every task
Spring-loaded handles to make your jobs easier
Cons:
The handles tend to loosen and slide off
Many people like this brand just because they are made in the USA. You can tell from the price and the product reviews that this superior product really is worth every penny spent on them.
If you want something long-lasting, local, and reliable give these pliers your consideration.
5. KM Specialty Tools New Blue 8inch Multifunction Mig Welding Pliers for Metal Fabricators
If you're familiar with Snap-On tools, or even a big fan of them, these might be the pliers for you.
These more reasonably priced pliers were designed to mimic the other brand. They are drop forged and heat treated with alloy steel to give you premium quality.
These pliers are designed with a unique comfort-grip handle that gives you good grip and comfort while using.
The nose is designed to work as a cutter and is built to stay sharp for years to come. These pliers are multi-functional and will work for cutting, MIG work needs, hammering and more.
If you're not sure about spending extra money but you know you don't want the bottom tier, then these are probably the best option for you.
They speak for themselves in terms of overall quality and functionality. They are also highly-rated amongst review boards on the internet.
Pros:
Simple and easy to use at a budget-worthy price
Spring action handle to make the pliers simple to use
Heat-treated for extensive durability
Cons:
The cutter portion tends to dull more quickly than expected
These pliers fall into a mid-range category. They are designed to be comparable to Snap-On's similar welding pliers.
And the company did it right with highly durable materials and the heat treatment that makes them that much better.
The downside is the potential to dull too quickly but you can always sharpen them back up.
A Buyer's Guide to Choosing Welding Pliers
When it comes down to it, we can brag about the best welding plier options all day long but how do you know which option you should go with?
We narrowed it down to these top 5 based on extensive research of details, functionality, and overall quality.
Ultimately, what's right for you may not be right for the welder next door but this guide should serve as an informative tool guide you in your decision.
Here are some things we believe are important for you to consider in your decision.
The Nose Functionality
What the nose and cannot do is one of the most important functions of welding pliers. You need to be able to cut tiny wires and you need to be able to grip things like the wires and the nozzles so you can remove and install accordingly.
A pair of welding pliers that can't sufficiently do these things for you is nearly useless. The other bonus feature of the nose is the ability to scrape welding splatter.
Most pliers are designed to handle this but you will want to pay attention to be on the safe side.
Pay attention to how thin the nose gets so you know whether you will be able to grip those things when you're in a tight spot.
When it comes down to it, you ultimately need the nose of the pliers to cut efficiently, grip things well, and align properly at the nose.
One of the biggest setbacks of many welding pliers is the inability for the nose to properly align.
Get a Grip
The second most important feature of welding pliers (any pliers really) is the grip. Is it comfortable, is it long enough, is it durable?
If your pliers have a worthless grip, then you may struggle to accomplish your tasks.
You want a grip that will stay in place and will be comfortable in your hands. It seems like every company has their own unique grip design.
Some pliers, like the Ion Tool pliers, have grooves to give you a firm and comfortable grip. The Channellock pliers offer grip and support in the shape and material of their grip.
They each have different grips and they each have different reasons for the way their grip is designed.
What do YOU prefer in a grip? Do you want smooth and simple or do you prefer the extra stability of grooves, notches, or raised bumps? This one boils down to what you think will work for your comfort.
Spring Action
Welding pliers should have spring-loaded action in the handles. This will make your job much easier and simplify the processes.
Chances are, if you are an experienced welder then you already know this to be true. And if you didn't know this, then we are happy we can help you!
You want springs that won't stick and won't fall apart. If the pliers are well-made then the springs basically take some of the pressure off of your hands so you don't have to kill your hands to do your job.
Sometimes holding that grip and releasing it at the right time is your biggest challenge.
Don't waste your money on pliers that don't have spring-action and definitely watch for reviews to ensure your springs aren't going to fall apart easily when you're using the pliers.
Length Matters
Picture that you're working in a super tight place and you're relying on the best welding pliers to help you.
You stick your pliers in only to find you can just barely reach what you need to. Your pliers come up just ½ an inch too short. Now, what do you do!?
The standard plier length is 8-9 inches but you will find that not all of them are that long. If you can get pliers that are 9 inches like thee Channellock welding pliers, you will be in the best shape possible.
Unless you work in a lot of narrow spaces, we recommend sticking to this average length of 8-9 inches.
If they are any shorter or longer, you might find yourself running into other issues with your everyday work. You can always keep a longer pair on hand in case you were to need them. 
Durability
There is one final thing we want to touch on, and that is durability. Welding pliers may not be incredibly expensive but if you have to replace them often the costs could sure add up quickly. You want to choose pliers that will be durable and long-lasting.
Watch for reviews and information that would allude to the pliers falling apart quickly or simply not performing as they promise. You want your pliers to be reliable and to last for some time so you aren't just wasting your money over and over.
And The Winner Is!
Now we're sure you're waiting to hear about our top pick and why it is we would choose them. When it comes to selecting the best welding pliers, you rely on the experts to help you choose.
When it comes down to it, we prefer the Hobart 770150 welding pliers because they are reliable and the price is right. These pliers can be purchased in up to 5 at a time so you always have another option handy if something happens to go wrong.
You simply can't beat the overall quality and the awesome price tag that accompanies the Hobart pliers which is what makes them our top pick.
If we were to choose a runner-up, we would go with the Channellock 360CB welding pliers. They are high-quality pliers and unfortunately, they cost nearly twice as much as most of their competitors listed here today.
However, if you're truly looking for the best and you're not worried about the cost, these make a great option.
Conclusion
Overall, there are several valuable options for choosing the best welding pliers on the market.
We've done quite a bit of testing and researching simply to help take that burden off your shoulders and simplify the process for making a decision.
Keep in mind that ultimately choosing the right pliers falls under your preferences and interests. While we highly recommend the Hobart and Channellock pliers as our top picks, the others listed here made it here for a reason.
Every option noted above is worthy of your perusal and you can determine which one you think will be best for you in the end. Be sure to keep all of the important tips and qualities in mind as you make your decision.
We hope that you find this guide to be helpful for you in your decision and we wish you the best of luck in your welding plier hunt.