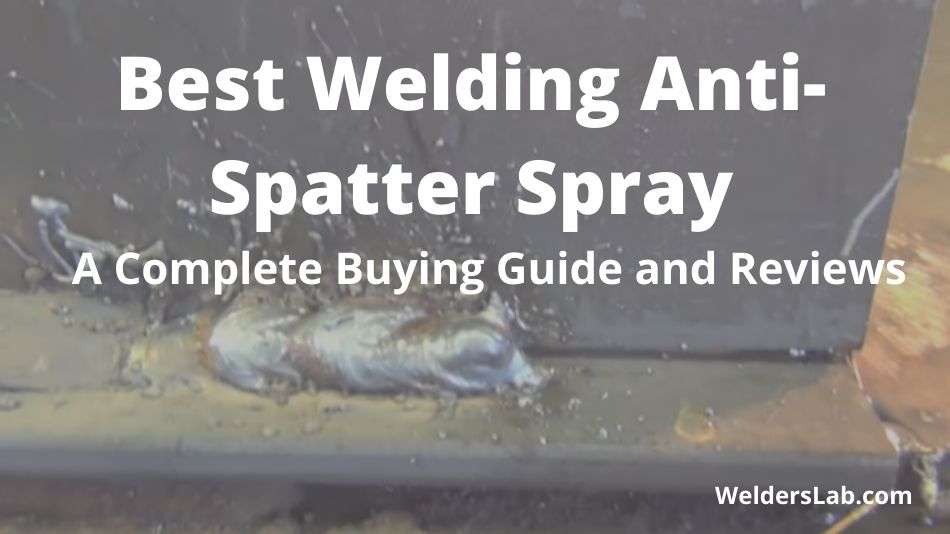 It's no secret that welders deal with a continuous stream of spatter that can make for a messy clean-up.
Welding spatter not only affects clean-up but can also affect the job at hand. It's fairly unpredictable which makes it even more complicated to treat and prepare for.
While there are things you as a welder can do to reduce spatter during your welding projects, there are also products to help you reduce spatter. Anti-spatter spray is one such product that can help reduce spatter and simplify your processes significantly. 
Whether you're an experienced welder or a beginner, you are well aware that minimizing your spatter makes a difference. Spatter is a known by-product of any welding job but that doesn't mean you have to suffer from it while you're working.
In this guide, we will review the top 3 welding anti-spatter sprays. We will walk you through each one and let you know why we think they are the best as well as sharing any cons you should know about.
Once we've reviewed the products, we will take you through a detailed buying guide to let you know everything you should know about working with welding anti-spatter spray.
The 3 Best Welding Anti-Spatter Spray Products Reviewed
We've dug through all of your options and narrowed it down to our top 3 picks for anti-spatter spray options.
These anti-spatter sprays are what we determined to be the very best available online. We've sifted and sorted and researched the options to bring to you the top 3 anti-spatter sprays for welding.
#1 Cantesco AS16-A Red Heavy-Duty Solvent-Based Anti-Spatter, 16 oz. Box/Aerosol Cans
Not all welding anti-spatter sprays are created equally and it can certainly be challenging to know you're making a good choice.
But we think this option from Cantesco is the best welding anti-spatter spray for the money.
No spatter spray is perfect, including this one, but we still feel like of all the options out there, this is one of the best.
It works great more often than not and it's suitable for various types of welding rather than designed to only work for MIG or some other welding form.
You get a 16 oz. can of red anti-spatter spray for one affordable price. There are cheaper options but like we said this one is the best for the money and it's still not expensive. This spray is solvent-based and comes in an aerosol can.
Cantesco anti-spatter spray was designed to prevent spatter build-up through a non-flammable solution.
This anti-spatter spray is paintable and does not contain any fluorocarbons silicone, making it a safe and reliable spray. It dries quickly and is resistant to high heat as well.
Pros:
Use this anti-spatter spray for your welding and then paint over it to keep your job looking nice.
Heavy-duty spray that has a proven track record for reducing spatter build-up.
The spray is non-flammable and free of silicone.
Colorless spray that will not leave behind odd colors or residues.
Only a small spritz is needed which means your can will last longer.
Cons:
It is recommended to have proper ventilation to avoid fumes.
Leaves a gel residue that you may need to wipe off.
Overall, we deem this one the best of the best. You simply probably won't find a more reliable and affordable option wrapped up into a smooth bundle.
It's so easy to use and even though it's a solvent-based aerosol it doesn't contain the silicone materials that put off hazardous fumes.
#2  Weld-Aid Weld-Kleen Heavy-Duty Anti-Spatter Liquid, 20 oz.
Weld-Aid Weld-Kleen Heavy Duty Anti-Spatter Liquid, 20 oz
A convenient solvent based, quick-drying aerosol that allows for pre-heat, higher duty cycles and higher temperature applications

Excellent for fixture and tooling protection

Paintable, non-flammable, no fluorocarbons

Regular use reduces the need for grinding and other clean-up tasks

20 oz Aerosol can
If you're looking for the best quality welding anti-spatter spray, this could possibly be the one for this.
This anti-spatter spray is a high-quality option. Weld-Aid is a known brand amongst the welding industry and this highly-rated choice certainly has a lot to offer.
This particular option is 20 oz. aerosol can but you can also purchase it in larger quantities such as a quart or gallon option that you attach to a sprayer for use.
You can even purchase the larger ones with the spray nozzle and hose. This gives you a wide variety of options to work with.
This fast-drying anti-spatter spray was designed specifically to protect your surfaces and help reduce the need for grinding and excessive clean-up maneuvers after you complete your welding.
It's perfect for high amperage jobs and easily falls into our second-place pick. You will find that your tools, parts, fixtures, and surroundings are properly protected with this product.
Weld-Aid is a water-based solution that is bio-degradable and eco-friendly.
The solution is paintable and non-flammable so you can operate with ultimate safety at all times. This is one of the more affordable anti-spatter sprays in a well-made spatter solution.  
Pros:
A water-based solution that does not contain any hazardous chemicals or materials.
Protect your fixtures and tools from that annoying spatter with this simple spray.
A 20 oz. aerosol can means you get more for your money.
This solution is made to be non-flammable and contains zero fluorocarbons.
You can purchase a variety of size options from Weld-Aid, including a gallon bottle with a sprayer.
Cons:
The nozzle tends to stop working before the bottle is empty.
Best for random and small welding jobs rather than everyday welding use.
The best thing about this option is that it is fast-drying which means you can get right to work when you use it. It's a bit of a cheaper product but it still gets the job done and it highly effective for the cost.
Clean-up will be quick and easy as you can just wipe it away when you are done welding and your tools and accompanying assets will be protected from spattering.
#3 Forney 37030 Welders Anti-Spatter, 16-Ounce
Forney 37030 Welders Anti Spatter, 16-Ounce
The product is 16OZ Weld Anti Spatter

Easy to use

The product is manufactured in China

Silicone free welding anti-spatter

Prevents weld spatter from adhering to MIG nozzles, contact tips, weld area and work surface

Also available in an anti-spatter
Forney provides us with a great 3rd place option that is one of the best welding anti-spatter sprays for MIG welding.
It doesn't always hold up as well on extra-hot welding surfaces but should do ok initially when you spray it on. This is another more-expensive option but it's reliable and well-made.
This anti-spatter spray is manufactured in China. It comes in a 16 oz. aerosol can and is simple to work with.
The mixture is silicone-free. It is designed to prevent welding spatter from messing with your MIG nozzles, contact tips, and more. You can protect your work surface and the surrounding welding area.
You don't have to clean up this anti-spatter when you're done, except maybe off of your tools and accessories.
Your welding surface can simply be painted over and you don't have to worry about clumps or discoloration. Any residual that does need cleaned up can simply be wiped away easily.
This is a lesser-known anti-spatter spray but it certainly earned its spot in our 3rd place ranking. It's easy to use, non-toxic, and effective for a decent price tag.
There's not a ton of information out there about this product but it's not a new brand and Forney produces several other welding products as well.
Pros:
Simple to use anti-spatter spray
This anti-spatter spray is silicon-free.
Clean-up is very easy when using this, simply wipe it off or paint over it.
Designed specifically to work with MIG welding needs but can be functional for other types of welding as well.
This welding anti-spatter spray is highly effective and pleasantly surprising.
Cons:
It needs to be sprayed while your metal is cold before you start welding or heating up your surface area for the best results.
A Complete Buying Guide for Welding Anti-Spatter Spray
We can share welding anti-spatter sprays with you all day long but in the end, you still may have no idea which option you should go with. There are so many options on the market.
While we researched and reviewed to bring you our top 3 picks, there is still a lot of information to familiarize yourself with before you make a decision.
That's why we've put together a simple buyer's guide to give you all of the most important information and to help you through your decision process.
Anti-Spatter Spray Explained
When you're welding away there can often be sparks and arcs of light that can leave behind a mess when you're done.
There are steps you can take as a welder to reduce spatter but one of the most effective protection means for spatter is an anti-spatter spray.
Basically, you coat your surface and even surrounding surfaces and tools with the anti-spatter spray and they are protected from those sparks and arcs.
Most of these sprays are a silicone-based substance (although they may not contain silicone) that causes the spatter to basically roll off of the surface.
Anti-spatter spray can be water-based or petroleum-based and the ultimate goal is to prevent the spatter from sticking to a surface area.
Then when you are done with your welding job, you can simply wipe up the spray and the spatter (that notably didn't stick) and move on with what needs to be done.
There is no grinding or extensive cleaning and no low-quality seams thanks to spatter. Instead, you get a clear and clean surface that looks smooth and polished thanks to the lack of spatter.
Spatter is Bad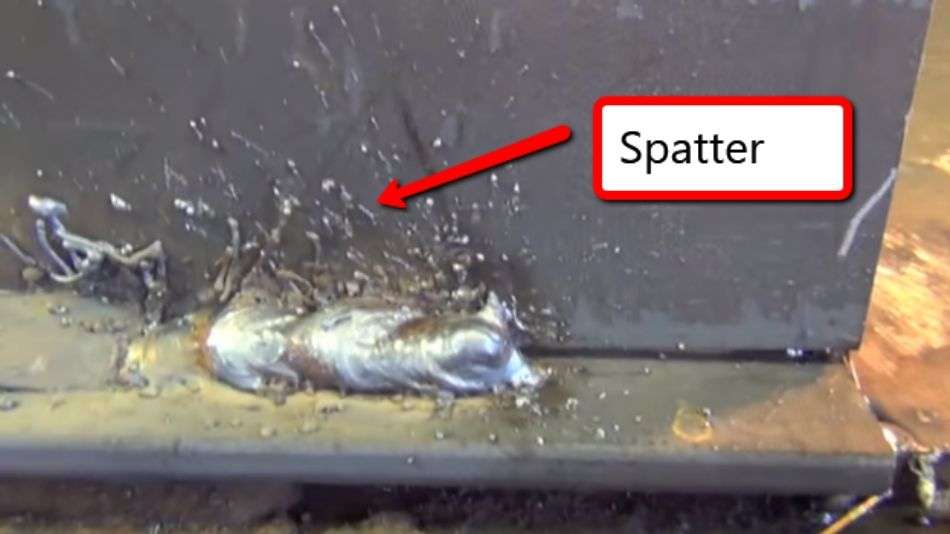 You may be rolling your eyes thinking spatter isn't really a big deal. Or maybe you find yourself such a talented welder that your spatter is incredibly limited.
Spatter is not just about the sticky mess it makes but also about the overall look and skill of the jobs you are performing.
If you let your worksite become a spattered mess, you will find yourself spending a lot of extra time chiseling, brushing, and grinding various spatter messes. Think about how you can better use that time to work on another job!
Forget all the awful clean-up and rely on an anti-spatter spray to make a bit easier for you from start to finish.
Here are some things that simply are not appreciated about spatter and should push you towards admitting that anti-spatter spray can be quite helpful.
Spatter can stick to the workspace and surrounding areas, leaving a mess.
Spatter means wasted materials that are left in a mess rather than used for welding.
Spatter can be damaging to your clothing and your workspace.
Spatter leaves seams bulky and low-quality.
You have to spend time cleaning when you could be working.
Spatter can build-up on your tools and materials, making them ineffective or requiring your cleaning time to get them back to how they should be.
Stop the spatter and improve your welding experience clean-up. Anti-spatter spray is not expensive. It's a simple, affordable tool that should always be a part of your welding toolkit.
What to Look for in Anti-Spatter Spray
Most anti-spatter sprays are made quite similarly. There are just a few variables you should be familiar with and know to look for. Here, we will break them down for you further.
Ingredients
While you won't find an ingredient label, you can be sure that your anti-spatter spray is not full of toxic chemicals you will need to worry about.
Pay attention to whether the spray is non-flammable and also checking the labeling for things like fluorocarbons, as this is a material we recommend you stay away from.
Type of Finish
Think about how you plan to finish your job when you are done. The anti-spatter sprays that we shared here are all paintable. This is the most common type of spray.
It's typically made to be water-based and silicone-free and you can simply paint over the surface when you are done welding.
There are also sprays that are made for grinding finishes and sprays that are recommended when your surface has no finishing plans.
If you know you are going to grind the surface or you're simply not sure how it will be finished, you may want to go with an oil-based spray to prevent oxidation on the surface in the meantime.
Of course, if you are grinding, you could also skip the spray if you want to but the spray can help your surrounding areas even if you intend to grind the work surface.
Reducing Spatter Through Welding
There are a few things you can do while welding to help reduce spatter as well. One of the best things you can do is practice and hone your skills to avoid causing as much spatter.
Here are a few simple things you can put into practice that might help reduce spatter in your work area.
Understand your settings. If your amperage or voltage is too high, you will have excessive spatter. Be sure your settings fit the job you're doing.
Use the right wire feed speed
Perfect your welding arc length (too short or too long can cause extra spatter).
Thoroughly clean all work surfaces to reduce spatter.
Use a high-quality welding machine.
Use high-quality tools and accessories, particularly rods and wire.
Replace CO2 with argon.
Learn how your angles can affect your spatter.
Avoid using globular transfer modes as they cause excessive spatter.
Be familiar with your surroundings, excessive moisture or humidity in the air might cause excessive spatter when welding.
Anti-Spatter Spray Alternatives
If you're going to purchase an item to help reduce your spatter, you might as well go with the real deal.
We recommend that you simply add spatter spray to your arsenal. However, if you find yourself in a bind and you ran out unexpectedly or misplaced your can of spray, there are some things you can try.
Spatter-spray is an anti-sticking oily residue that keeps the spatter from sticking to the surface. If you need a quick-fix solution, try using cooking spray.
It's not quite as effective as the spray that is designed for spatter protection but it could help you in a bind.
Another common recommendation is WD-40 but be careful with this one as it's not really a safe option.
You can use it to protect your surrounding areas, but we definitely wouldn't recommend using it on your welding area directly.
Our Top Pick
Overall, we found the Cantesco AS-16 to be the best option for the price.
This anti-spatter spray dries quickly and produces the best results overall. Clean-up is simple and the spray is highly effective.
You really can't go wrong with this option for any type of welding job or project.
Conclusion
When it comes down to choosing the best welding anti-spatter spray, you simply need to determine which you think will work best for your needs.
We've shared with you our top pick but each of the 3 products we shared is noteworthy and they rightfully earned their place amongst our ranks.
Consider your budget for an anti-spatter spray and remember to choose based on your preferences. We think you will find yourself satisfied with any of these products.
We hope that you have found this buyer's guide to being a helpful resource in finding the best spray options and providing you with reliable information for your selection process.