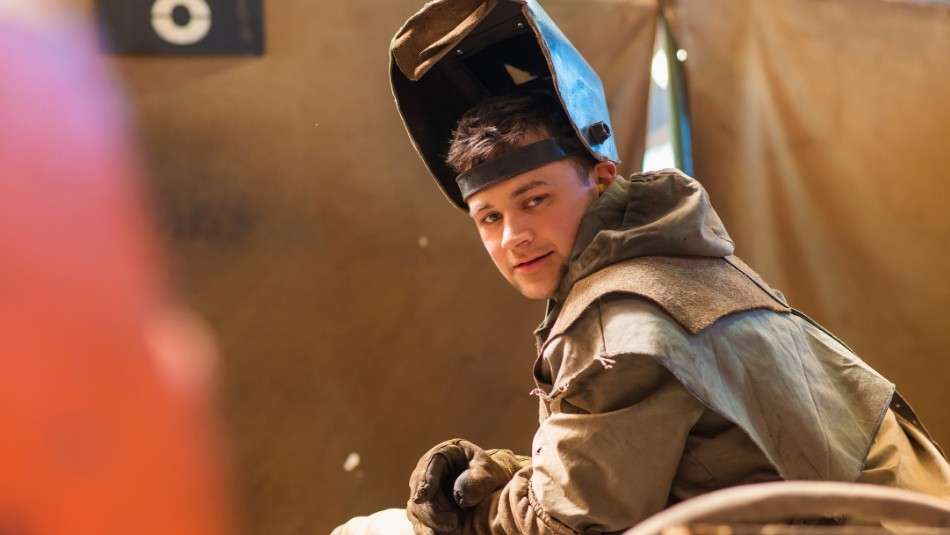 Thinking about buying your first welder? Not sure where to start? Finding the best welder as a beginner can feel a bit overwhelming but my goal in this article is to help simplify the things and make a more informed decision.
When it comes down to I've found the Hobart 500559 Handler, the Forney Easy Weld, and the Lincoln Electric K2185-1 Handy MIG Welder to be the best option for their lightweight, ease of use, and ability to be used almost anywhere there is an outlet.
This article will cover what makes a good welder, the types of welders to consider, my top 3 picks, and as a bonus, I'm going to share some extra tools you may want to consider as well.
What Makes a Good Welder for a Beginner
As a beginner, there are a lot of things you need to think about before you just pick a welder. Every welder serves a different purpose, so here are a few things to think about.
#1 What type of metal do you plan to weld?
When it comes to welders, not every metal welds the same. Whether you're welding mild steel, stainless steel, or aluminum you will need a machine that can handle those elements. Let's dig into each option.
Mild Steel – In most cases, you'll likely be welding mild steel. This type of steel in most products around your house or farm. It will typically rust if left out in the open and will have a black look or even a carbon scale to it. You can weld mild steel with MIG, TIG, and Stick Welders.
Side Note: The welders I'm going to cover in this article are used for this type of welding.
Stainless Steel – Stainless steel metal is used in products that you don't want to rust. A good example of this is in my welding company, we do a lot of stainless steel troughs because animals drink out fo them and you don't want them to rust. You can weld stainless with MIG, TIG, and Stick welders. However, with a MIG welder, you will need stainless wire and stainless trimix gas.
Aluminum – When it comes to aluminum you'll need a completely different type of welder that uses a push-pull gun. This is because aluminum is very soft metal. You'll also need straight argon gas if you're using a MIG welder. Welding aluminum is probably one of the tougher metals to weld and is not something I recommend when you're first starting out.
#2 What is the thickness of the metal?
The second question to consider is the thickness of the metal you plan to weld. If you're just welding 1/8″ mild steel then a lower amperage welder will work just fine, but the thicker the metal the higher the amperage you will need.
As a result, this will also drive the cost up as well. However, if you're just looking of the best welder for a beginner it may be better to start with a welder with a lower amperage since higher amperage machines will require 220v or 3 phase power to operate them.
#3 How easy is it to operate?
Finally, the last thing to consider is how easy the welder is to operate. Advanced welders can do all kinds of things but when you're first starting out there are only two main things you should really worry about operating and that is your wire speed and the amperage output.
Wire Speed – Wire speed tells the welder how many inches per minute it should feed out while you are welding. Depending on the amperage output and thickness of metal depends on how fast you set this. Typical beginner welder can run as low as 40 to as high as 700 inches per minute at no load.
Amperage Output – Amperage determines how hot the weld gets. Typically the thinker the metal you are welding the higher the amperage you'll want. So if you're welding something very thin you'll want to cut your amperage out back so you don't melt through it. As a beginner, I wouldn't go over a 200 amp welder.
3 Best Type of Welder for Beginners
Now that we've covered some of the basic questions you should ask yourself before you pick a welder we need to look at the type of welder you should consider. There are three main types of welders MIG, TIG, and Stick Welders.
#1 MIG Welder
The first type of welder to consider and the one that I use the most is a MIG welder. This is also the on the most common types of welding people will do.
MIG stands for Metal Inert Gas. It works by forming an arc between the wire and the metal workpiece causing the wire and metal to melt and join together. MIG also requires gas to shield the weld and protect it from contaminating the air. Typical gases used for welding are Argon and Helium.
You can also use flux core if you don't want to pay the extra cost for gas. Flux-core is a type of wire for MIG welders that comes coated so you don't need to use gas. This type of wire works well if you're out in the open air because it won't blow the gas away from your weld as quickly, like your typical MIG welders.
To learn more about MIG welding check out the short video below.
#2 Stick
Stick welders work in pretty much the same way as wire but instead of wire ,you're using a rod coated in flux. Once the rod is struck against the metal it arcs and melts both the rod and work piece joining them together.
Once the weld cools you will need to chip the slag away to see final weld. This type of welder works great for indoor and outdoor and can weld everything from mild steel, stainless steel, aluminum, nickel, and copper alloys. Of the three option, Stick can produce a lot of splatter and may take more work to clean.
To learn more about Stick Welding check out the video below.
#3 TIG
TIG stands for Tungsten Inert Gas. TIG is the Cadillac of welding since it produces some the cleanest welds. It works by using a tungsten non-consumable rod inside the gun to create an arc. Tungsten is used because it melts at a very high temperature.
Like MIG welding, TIG uses a gas to shield the weld and protect it from outside contamination. Where TIG differs is that tungsten does not melt and become a part of the workpiece. Rather you will have to add this in by hand or in some cases, you won't need any filler rod at all.
To learn more about how TIG works check out the short video below.
Top 3 Welders for Beginners
When it comes to finding the best welder for a beginner the last thing I want to do is show you, ten different welders, and complicate the buying process for you even more. Instead, my goal is to share the 3 welders that may fit your situation as a beginner. So here they are…
#1
Hobart 500559 Handler 140 MIG Welder 115V
Welder Type: Wire and Flux Core
Cost: $$$$$
Features
5 Position Voltage Selector
700 Inch Per Minute Wire Feed
Up to 140 Amperage Output
Runs Off a 115v Standard Household Current
Include a 8′ Lead and Ground Clamp
Gas Regulator
Pros
#1 Weld up to 1/4″ material. Typical welders at this size won't do more than 1/8″ or 11 gauge material but this welder seems to handle it very well.
#2 Portable. At 65 pounds this lightweight welder can be hauled around very efficiently without taking up to much space. So if you're a farmer or just tinkering with stuff around your house this may an option for you.
#3 Can Weld Multiple Types of Material. This Hobart welder is made to run mild steel but can also do stainless steel, and aluminum. However, you're going to need a shielding gas such as Argon or Stainless Tri-Mix to get a cleaner more solid weld versus using flux core.
Cons
#1 Flimsy. One of the first things I noticed about this welder is that it feels a bit flimsy. In fact, a few people have even mentioned that upon receiving the welder that it had been dented on the side. This really is the companies fault but more the shipping companies fault.
However Amazon does typically offer a 30-day return policy on items, so if this does happen I would be sure to check the return policy and return it.
#2 No Fine Adjustment on Heat Settings. While this welder is a decent welder it does not do all that great when it comes to doing all the fine adjustments. With this welder, you have five heat settings but with more advanced welders you'll see more setting so you can dial things in and get a smoother weld.
However, if you're planning to do something more advanced then this may not be the welder for you anyways.
#3 Lead is Short. Finally, the last thing to consider is the welding lead. The lead is what comes out of the welder and goes to the gun. The welder only has an 8-foot lead which will work for most applications but if you're someone who has to move around a bunch this may not be long enough for you.
However, Hobart does make longer leads but this will likely cost extra since this will require you to buy the lead and gun as one single unit.
Who Should Buy This Welder
If you're someone who travels around working on small projects this may be a great welder for you. Also if you're someone who loves to tinker around at home then this welder will do most of the jobs you put in front of it.
Click here to learn more about the Hobart 55599 Handler 140 MIG Welder
#2
Lincoln Electric K2185-1 Handy MIG Welder
Welder Type: Wire and Flux Core
Cost: $$$$$
Features
Comes with a 26-pound welder, weld gun and lead, regulator, ground clamp, tips, wire brush, 2 spools of wire and beginners welding helmet.
Pros
Lightweight – for a welder that only weighs 26 pounds it works great for hauling around places
115 volts – This welder also works great because it runs on any 115-volt outlet which almost every place has.
Wire – This welder also lets you run various types of wire for mild steel to flux core and even stainless and aluminum wire.
Cons
Metal Thickness – One big downside to this welder is that you can only weld up to 1/8″ metal. Anything bigger than that and you won't penetrate as deep.
The Helmet is Cheap – The other thing I don't like about this welder is that it's cheap. It doesn't have a headband and you have to hold with your hand.
Duty Cycle – One of the bigger downsides to this welder is that it only carries a 20% duty cycle at 70 amps. Which means you can run this welder for 2 minutes straight and then you have to let it cool down for 8 minutes so you don't overheat it.
Who Should Buy This Welder
This welder makes a great fit for those who looking to be more mobile and are welding thin material such as thin gauge tubing or sheeting say for someone who might be doing some autobody work.
Click here to learn more about the Lincoln Electric K2185-1 Handy MIG Welder
#3 Forney Easy Weld 261 140 FC-1 MIG Machine
Welder Type: MIG Flux Core
Cost: $$$$$
Features
The Forney Easy Weld is light duty flux core MIG welder that comes with an 8-foot lead and weld gun and 8-foot ground clamp. It use o.30 wire and runs on a normal 120-volt outlet.
Pros
No Need For Gas – Since this welder is a Flux Core only welder you don't need to worry about dragging a tank of gas around.
Leight Weight – At only 19 pounds it can be carried almost anywhere you need it to go.
Better Duty Cycle – Of the 3 welders I've mentioned in this article this welder this is the only welder that has a 30% duty cycle at 90 amps which means you can do 3 minutes of continuous welding and a cool down period of 7 minutes.
Metal Thickness – Finally as small as this welder is it will allow you to weld up to 1/4″ thick material.
Cons
Runs Flux Core Only – The one big downside to this welder is that it is a flux core welder only. Flux core is typically more expensive and if you want to weld other types of metal such as stainless steel or aluminum means you'll have to find a flux wire in those types of metals.
Who Should Buy This Welder
This welder is great for the beginner amateur who is just getting started and wants to do some tinkering around making some small projects.
It also may work good around a farm fixing up the odd and end things since flux core tends to better outdoors as long as your not doing any heavy duty welding it should hold up.
Click here to learn more about the Forney Easy Weld.
10 Extra Tools You'll Need as a Beginner
Now that you have an idea of the kind of welder to buy as a beginner I also want to share a few tools to consider that you may have not thought about.
#1 Welding Helmet
First off, in order to weld anything you'll need a welding helmet to protect your face and skin from getting burnt. Welding produces a very bright and powerful light. Personally, I've burnt my eyes several times from welding and I equate it to someone throwing hot sand in your eyes.
To prevent this from happening to you a good welding helmet can be all it takes. The good thing is there are a lot of different options on the market today from your standard helmets to the newer auto-dark helmets which switch off and on as you use them.
#2 Welding Gloves & Jacket
Welding gloves protect your hands from getting burnt as well. Your hands will be the closest part of your body to the weld while it is running. The hotter you are running your welder the thinker the glove you'll want.
Here are the welding gloves that I recommend and use.
Along with the gloves you may want to also look at a welding jacket or shirt. When it comes to welding closes I've done everything from leather welding jackets to cotton button down shirts. Having a good welding jacket will also prevent you from burning up you're close as well.
If there is one thing I've learned over the years it's that it doesn't take a lot of welding to burn yourself and having the right protection will save you a lot of pain in the end.
#3 Welding Pliers
Every welder also needs
welding pliers to help clean out the nozzle of your welding gun. Over time the nozzle of your welding gun can build up with splatter which can restrict the gas flow.
I've found this one to work great for me.
#4 Nozzle Gel
You'll also want to use nozzle gel to help keep the nozzle on your welder nice and clean after you've removed all the splatter. I've used several different kinds over the years but almost any type will do.
Here is one I've used in the past that works great.
#5 Wire
When you buy your first welder you may want to consider picking up some more wire since the welders I've mentioned above only carry 2-pound spools they won't last long if you're doing a lot of welding.
Also look to see if you can run a thicker wire. I prefer a 0.30 or higher.
#6 Wire Brush
Another tool every welder should have in their tool kit is a wire brush to clean off weld surfaces. Before you can weld you'll want to clean any dirty or rusty surfaces to allow for better penetration.
If the surface is rusty it won't complete the weld circuit and won't arc until removing the rust.
#7 Chipping Hammer
I also like to use a chipping hammer as well with my MIG welder. Typically they are used with stick welders to clean the slag off of your weld but I like them to clean up the splatter around the weld.
#8 Cart
A welding cart is also nice to have so you don't always have to pick up your welder and move it around. It also lets you hold your tools and shielding gas in one compact cart for easier mobility.
It's not a requirement but if your someone like me who has a lot of back pain this can be a great way to avoid picking all the heavy stuff up.
#9 Safety Glasses
One thing every welder must have is safety glasses. I've had countless pieces of metal stuck in my eyes over the years and it's not fun trying to remove it.
Invest in a nice set of safety glasses and always wear them and your eyes will thank you for it.
#10 Hand Grinder
Finally, a tool I like to keep in my arsenal is a hand grinder. It's not a required tool because it can be a bit expensive but it works great for grinding down welds or cutting out old welds.
This is the grinder I use because I've found it to hold up best.