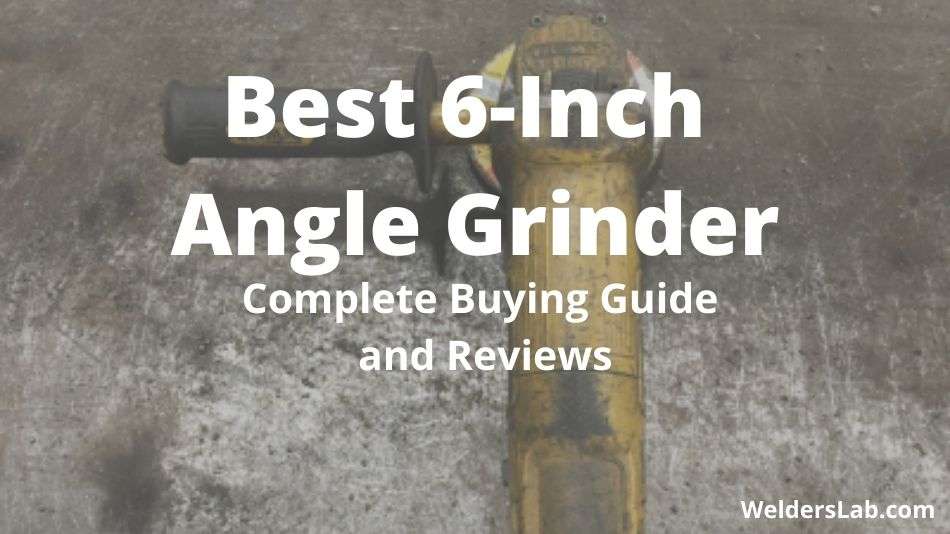 You can never have too many tools to get your jobs done. When it comes down to welding, carpentry, assembly, construction, and various other types of work, the tools are essential to your success.
If you equip yourself with the right tools, you will be far better off when it comes to taking care of business.
An angle grinder is one such tool that you should add to your toolbox. There are many things you should consider as you search for the best 6-inch angle grinder.
Related Buyers Guide: If you are looking for a 4 1/2″ angle grinder then check out this buyer's guide.
There are so many options on the market. You can look at any number of reviews and sales-driven blogs and you will find a variety of options. How can you tell what is really the best option though?
We've done the work for you and exhaustively researched and tested to bring to you the 3 best 6-inch angle grinders.
In this guide, we will share with you our top 3 picks, detailing what makes them great options. We will go over all of the specifications and details as well as the pros and cons of each grinder.
Once we pass through the product reviews, we will share a complete buying guide to help you choose your best option!
The 3 Best 6-Inch Angle Grinders Reviewed
#1 DEWALT Angle Grinder Tool, 6-Inch, Paddle Switch with No Lock-On, 13-Amp (DWE43144N)
Hands down, the DeWalt 6-inch angle grinder is our top pick. It has the best of just about everything.
This angle grinder is the best 6-inch angle grinder for welding as well as various other jobs you might need an angle grinder for.
This angle grinder has a lot to offer. We found it is one of the most durable options on the market and easily translates to the best 6-inch angle grinder for the money.
DeWalt is a well-known tool brand and they certainly deliver superior quality with this tool.
In terms of price, this angle grinder is a reasonable price point and it's built to a high-quality industry standard.
The grinder is OSHA compliant and you can even download a booklet that covers various solutions and information about the tool.
This angle grinder has a 13-amp motor and operates at 9,000 RPM. It operates on an e-clutch system that detects pinch/stall activity.
On top of that, the tool is also equipped with a dust ejection system that helps keep it clean and prolong the life of the grinder.
Pros:
The highly durable tool that is built to last for years to come
The grinder is equipped with a power-off system that keeps it from overheating
This grinder is operated by a paddle switch feature that is easy to use
This grinder is well-priced from a popular tool brand
DeWalt manufactures its tools in the USA
Cons:
The vibration is more noticeable than most would like
In summary, this angle grinder is pretty much the cream of the crop. It's not a high-dollar option but rather a budget-friendly approach to a well-made tool. You simply can't go wrong with this one. It's made to last and it's made to be a quality product.
#2 Metabo – 6" Angle Grinder – 9,600 RPM – 13.5 Amp W/Electronics, Non-Lock Paddle (600488420 15-150 Quick), Professional Angle Grinders
Metabo 6″ Angle Grinders, 13.5 A, 9,600 rpm, Sliding Switch w/Lock
Electronic overload protection which helps protect the tool from overheating in demanding applications

Electronic soft start for smooth startup, increased user control, and extended motor life.

Electronic Speed Stabilization maintains the speed of the tool for maximum productivity even under heavy

Gear housing can be rotated at 90° steps for increased comfort and ergonomics during left-handed

Metabo anti-vibration side handle provides vibration dampening for convenient continuous operation.
The Metabo 6-inch angle grinder is a great industrial option. This tool is a bit on the pricy side compared to DeWalt and our third-place option but it's an industrial-quality tool and has a lot to offer for the price.
This is one of the best quality 6-inch angle grinder options you are going to find.
The wheel is designed to be changed quickly and easily. You don't even need any tools to change it out.
It is also completely safe to change as long as you follow proper safety procedures. This angle grinder is also equipped with a simple non-locking paddle switch for operation as well.
This angle grinder was designed for industrial projects. It is heavy-duty with a long-life motor that uses reduced heat and has an increased overload capacity.
These features were incorporated with the intent to extend the overall motor life by up to 5 times.
The side handle is well-designed and works to decrease vibration. You should notice up to 60% less vibration than many competitor grinders.
The clutch is an S-Automatic mechanical safety slip clutch. It was designed to increase safety while handling. The clutch also helps to prevent kickback.
Pros:
This high-quality tool was built with ingenuity and durability in mind
This is an industrial-strength angle grinder with superior quality
Improved safety features to let you work without worry of safety
Reduced vibration for comfortable use
Simple yet effective design that makes the tool easy to work with
Cons:
This tool is quite expensive but well worth the cost
Overall, the Metabo industrial 6-inch angle grinder is a great tool if you have the budget for it. If you need something for industrial jobs, this is the right pick for you.
It's slim and simple to work with. It's also built to be durable and long-lasting.
#3 Bosch GWS 13-60PD High-Performance Angle Grinder with No-Lock-On Paddle Switch, 6"
Bosch GWS13-60 High-Performance Angle Grinder, 6″
Powerful motor - 13 amps and 9,300 rpm

Carbon brushes - more durable than previous generation brushes

Direct-motor cooling for higher overload capabilities

Constant electronics - level operation and reliable speed under load

Two-position Vibration Control side handle for more user comfort
Bosch is another well-known name when it comes to tool brands. While this certainly isn't our top pick, it's a reasonable option to fall into our 3rd place slot here.
This is a well-made angle grinder and it has a great price tag attached to it as well.
This angle grinder runs quite smoothly and the vibration is very low. It's a very simple and yet effective tool that delivers valuable results.
You can even purchase this angle grinder in a 5-inch option as well. This one is a bit smaller than its counterparts but it's comfortable and easy to use.
This angle grinder has a powerful motor that operates at 13 amps and 9,300 RPM.
The on/off switch does not lock and for safety, the motor shuts off as soon as the paddle is released. This tool is built for comfort with an ergonomic design and grip handle.
The motor knows when it needs to cool and does so directly to prevent overheating. The wheel is also tool-free so you can safely and efficiently change it as needed.
You will also enjoy the dust feature that helps keep the tool clean and prolong the life of the grinder for years to come.
Pros:
Lightweight and comfortable to use a grinder
Operates smoothly with limited vibration
The grinder is equipped with an automatic light
Built for both safety and durability
Great value for the money
Cons:
There is no wheel brake for safety
The wheel guard is somewhat hard to move around when you need to replace the wheel
We noted this isn't our top pick but it did make it into our top 3 for a reason. This Bosch 6-inch angle grinder is a great option.
It's budget-friendly and it is well-made. It's simple and comfortable to work with and the reduced vibration alone makes it a suitable find.
The Complete Buying Guide to Choosing Your 6-Inch Angle Grinder
It doesn't seem like it should be so challenging to choose a tool. The problem is there are just so many to choose from and it's easy to get caught up in the details and comparisons.
Then you find yourself back at square one, not sure which option you should go with.
That's why we're here. We've narrowed down the playing field to our top 3 picks. We felt these options were the best of the best when it came to searching the market. Each of these options brings its own unique strengths to the table.
But where do you go from here? How do you know which option will be best for you? You can always go with the delightful favorite option and you simply won't go wrong.
But it's best to know and understand what types of things you can look for as you make your decision.
In this section, we will share with you some things to consider as well as a basic overview of using a 6-inch angle grinder. We hope these things will help you as you make your decision.
Using a 6-Inch Angle Grinder
You might have also heard angle grinders referr3ed to as side grinders or disc grinders. These are essentially the same thing. These tools are designed for grinding and polishing items.
They are commonly used in the welding industry but can be used for a variety of tasks and projects outside of that as well.
Many of the more popular angle grinders allow you to change out the tool attachments. You might be able to turn your angle grinder into a saw or any number of other tools by replacing the wheel.
Overall, the purpose is to have a grinding/polishing tool at your fingertips though. The extra features are just that – extra.
If you're not yet familiar with the angle grinder, it works by having a small disc or wheel attached to the head.
The wheel spins quickly and in doing so it cuts, grinds, polishes and more. You can find them battery-powered, cordless, corded, and even air-powered.
On the flip side, you can also find them for a variety of costs. You can get a super inexpensive grinder for as low as about $30. You can also spend closer to $500 for some of the more popular and high-powered options in the market.
The point we're trying to convey is that you can do a lot with an angle grinder. They are not just for grinding. You can grind with them and that is their initial design but they are also effective for cutting things like tile, concrete, and metal.
You can rout mortar, you can sand, you can polish, and you can even sharpen things with these tools.
Since you can change the wheel of an angle grinder, you can essentially use any angle grinder to complete any number of jobs that you might not have ever expected from a tool that is labeled as a grinder.
Proper Grinder Safety
Here's the thing, grinders are powerful tools and it would be so easy to seriously injure yourself or someone around you if you are not careful with your grinder.
With the DeWalt grinder listed above, we noted that it meets OSHA compliance and even comes with a compliance solution booklet. Safety is incredibly important when you are using an angle grinder.
Many of the grinders you will find will have certain safety features but those features are only as safe as the operator itself.
These tools operate at high levels of RPMs (9,000+). In fact, compared to a drill, these are 10x more powerful. That's a lot, so it's important to know and practice certain safety measures.
Here are a few safety tips you should be aware of and put into practice when you are working with an angle grinder.
Find a way to clamp or secure your working space to keep it in place
Fully turn off and unplug the grinder when changing the wheel
Wear gloves, masks, and face shields or safety glasses to protect your hands and face
Grip firmly with both hands
Be mindful of sparks and where you are located
Be mindful of your surroundings and the way you are using the wheel
These are just a few things that will keep you and your surroundings safe when you use your angle grinder to get a job done.
3 Things to Look for in an Angle Grinder
Let's get down to business and discuss what you should look for in your angle grinder. What should you consider as you make your decision? Here are a few precise pointers to set you on the right track.
#1 Disc Properties
This may seem like a small aspect but ultimately, the wheel of your grinder is the most important part of it.
The wheel is what does the work. In this case, we are specifically discussing 6-inch angle grinders which are one of the most popular and versatile sizes on the market. You can get a wheel that is as small as 4.5 inches or as large as 9 inches.
Apart from the size, you need to consider what you will be doing with the wheel and whether the grinder you choose will have a compatible wheel.
For instance, are you going to be working mortar and concrete? Will you primarily be grinding or cutting metal and rods?
You want to know that your angle grinder will have the compatibility and versatility that you need.
You need to ensure you can choose various wheels depending on the work you are doing. Remember the wheel is where it's really when it comes to getting the job done.
#2 Speed, Power, and Functionality
We've got the power! But really, angle grinders are powerful tools. You're talking about incredibly high RPMs when you compare them to something like a drill.
We touched on this in safety but an angle grinder can be 10x (or more) more powerful than the drill you use every day.
Angle grinder power is measured in amps and RPMs. RPMs means revolutions per minute.
The higher the RPM, the more powerful the angle grinder will be. There is not necessarily a magic number just be aware of the number and how powerful and fast that number will make the grinder.
Additionally, you need to be prepared to power the tool. Is it corded, battery-operated, fuel-powered, or air-powered?
Ensure you have the proper tools necessary to operate the grinder you choose.
#3 Grip & Handle
The grip and handle of the portion are important for your comfort. You want to ensure that you can safely and comfortably grip and handle the tool while it is operating.
Remember these are powerful and often accompanied by significant vibration during use.
The right sized handle and grip area could make a significant difference in your ability to properly control the tool you are using.
If your grinder has an adjustable handle, that is one of the best things you can do for yourself because it means you can adjust it to your needs and preferences.
And the Winner Is!
If we didn't make it clear before, we definitely have a favorite in the 3 products we reviewed above.
When it comes down to choosing the best 6-inch angle grinder, you simply can't beat the DeWalt option.
This grinder is versatile, affordable, and durable. You can expect it to pass the test of use and even hold up in industrial settings.
Conclusion
We hope that you find this guide to be a valuable resource for choosing a 6-inch angle grinder.
It can certainly be an overwhelming task to make a decision. When it comes down to it, just remember that you are the one that will be using the tool.
It's up to you to determine which tool will work best for your needs and the work that you do.
We simply want to point in the right direction on your journey.