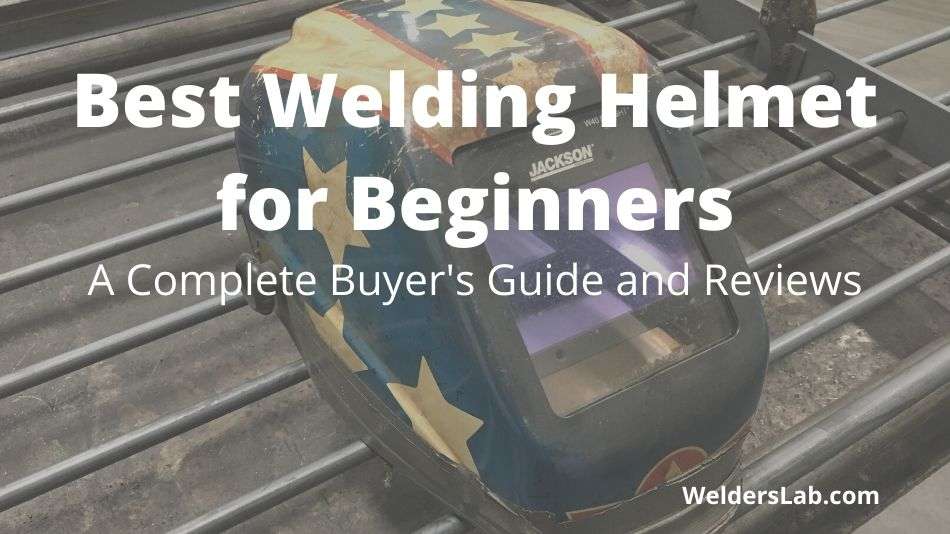 When it comes to working in the welding industry, safety is one of the most important aspects you can consider. Having a proper welding helmet is one of the utmost regards for safety but also for comfort.
You need a helmet for your welding work but you don't want just any helmet. You need something that will be both effective and comfortable. After all, you're both protecting and covering your eyes and your face with your welding helmet.
There are so many options, how can you possibly choose the best welding helmet for beginners? It's nearly impossible to know if you are purchasing a helmet that performs as the distributors promise it should.
Don't worry, that's why we're here. We've sifted and sorted, researched and tested, and we're here to deliver to you the best 3 welding helmets on the market.
In this guide, we will walk you through what makes these helmets our top picks. We will share their features as well as their pros and cons. We will also cover an essential buying guide to help walk you through the process of choosing the helmet that is most likely to be right for you.
Stay tuned to find out everything you should know for choosing the best welding helmet for beginners.
The 3 Best Welding Helmets for Beginners Reviewed
This guide is geared towards choosing the best welding helmet for beginners, but every welder needs a helmet. We encourage you to take it back to the basics as you search for the best helmet. This guide could certainly help any welder in need of a helmet.
#1 Jackson Safety W10 HLX Passive Welding Helmet (20508), Ultra-Lightweight, Heavy Metal Graphic
Jackson Safety W10 HLX Passive Welding Helmet (20508), Ultra-Lightweight, Heavy Metal Graphic
2 Jackson Safety Fixed Shade Welding Helmet (W10 HLX) / Case; Heavy Metal Graphic

The welding hood has an ultra-lightweight shell (weighs just 6 ounces) to help reduce neck tension; Hydraflex shell is the ultimate in flexibility and durability

This durable shield is hard hat adaptable using the Jackson Safety 187-S

The standard shade 10 filter plate and cover plates installed at factory, but its adaptable to upgraded Jackson Safety ADFs like Insight, NexGen, Professional Variable and TrueSight II

Meets ANSI Z87.1 - standards and is CSA compliant
This welding helmet from Jackson Safety is hands down the best cheap welding helmet for beginners.
If you need a budget-friendly option that you know if high-quality, this is the helmet for you. This helmet is easily the favorite of many welders throughout the world and it will last for years to come.
The helmet is made with a heavy metal material that will protect your eyes and face as it is intended to do.
The visual shield is large to give you plenty of comfortable view-space. Don't be fooled by the "heavy" metal, this helmet is actually quite lightweight to wear. It weighs only 6 ounces.
Comfort and safety are the keys behind the design in this helmet. You don't have to be concerned about added weight causing neck tension.
The helmet is flexible and durable. You can move and work easily without the helmet being in your way.
The visor shade is made with a standard 10 filter plate. It can easily be upgraded to other shades as well if you want to make improvements later on to one of the higher-tech shield options from Jackson Safety.
This helmet is CSA-compliant and meets ANSI Z87.1
Pros:
A lightweight helmet that is both durable and comfortable
Shield meets all compliance standards and can be upgraded
A budget-friendly helmet that is highly-rated
A welding helmet can easily be adapted to work with hard hats
The helmet is designed with Hydraflex technology that makes it flexible
Cons:
You may have to work with adjusting the headgear to ensure you can move the helmet comfortably up and down as needed
You won't find any arguments from us that are truly better than this helmet for beginners. It's affordable and well-made.
You will protect your eyes and be comfortable all in one blow. This is a standard helmet with no special features but it's certainly one for the books.
In our #2 spot, we have another optimal choice from Jackson Safety. This is the best quality welding helmet for beginners.
It's a bit more expensive but it's well-liked and rated throughout the industry. Many welders prefer this helmet for comfort and auto-darkening features.
This helmet will set you apart with a unique red, white, and blue design. It looks great, feels great, and works great when you need it. There are various modes, including one for welding and one for grinding.
The shade darkens automatically, but there is a digital display inside the helmet that is also adjustable to your preferences.
In this helmet, you will find that the shade can range anywhere from 9 to 13.
The viewing area is comfortably large enough to see what you are doing without as many blind spots. The viewing screen size is 3.93 x 2.36 inches.
You can maneuver this helmet easily and adjustments are simple.
The digital controls are super easy to work with and the helmet is equipped with 4 sensors that work independently of each other to trigger the auto-darkening feature.
Pros:
Variable shade options from 9-13
Sizable viewing area so you can easily see what you need to
Digital controls that auto-darken but are also simple to work manually
Fully adjustable mounting gear that is comfortable to wear
Built-in sensors for the effectiveness of auto-darkening features
Cons:
The auto-darkening feature sometimes takes quite some time to kick in
This helmet is all about the special features and it has the price tag to prove it. It's not overly expensive but certainly more costly than its counterparts.
Jackson Safety is a well-known brand and this unique helmet has a lot of great extra features for your eyes.
It's comfortable and easy to work with.
3. YESWELDER True Color Solar Powered Auto Darkening Welding Helmet, Wide Shade 4/9-13 for TIG MIG ARC Weld Hood Helmet
YESWELDER is one of the newer brands of welding helmets but they have a great price point.
We can certainly see this helmet being one of the best MIG welding helmets for beginners. This helmet is budget-friendly and certainly has a lot of great things to offer.
This helmet has 4 sensors for auto-darkening features and the viewer screen is considered extra-large to give you the ultimate viewing abilities.
The brand still has some figuring out to do to perfect this helmet but they are certainly on the right track to a quality helmet option for beginners.
This helmet has a lot of great features, including true color, eye protection shade, fast-darkening technology, and comfortable wear.
The material is strong and meets the industry standards to give you a suitable helmet for your needs.
While this helmet has auto-adjustment sensors, you can also easily control the shading on your own with ranges from 9-13.
You can override the sensors, you can also make them more sensitive and adjust the delay for adjustments as well so it's not falsely triggered. Just keep in mind the delay when you are working.
Pros:
This helmet was designed with increased battery life so that it will last
You can manually adjust your shade if you feel as though it doesn't adjust correctly
The true-color feature allows you to see the real colors through the shade
The shade is extra-large to give you a better view
An incredibly budget-friendly helmet from a new brand building a name
Cons:
The brand still has some adjustments to make to get better quality
There have been light leaks reported from some purchasers
Overall, this option deserves a chance. We recognize that it takes time to get the perfect project but for a beginner on a budget, this product has more rave reviews than bad ones.
It's a great low-cost helmet that is comfortable and reliable and you can easily override the sensors to control the shade yourself.
A Complete Buyer's Guide to Purchasing a Welding Helmet for Beginners
If you're a beginner in the welding industry, getting all of the right tools and equipment can quickly become overwhelming.
You have this list of things you MUST HAVE and a helmet is by far one of the most important items.
If you're going to dish out the money to get yourself set up, it's only fair that you don't waste your money in the meantime.
That's why we've put together this buying guide to try to help you with all of the factors that you need to know and understand as you try to choose the best welding helmet for you.
There are several things you should know and consider when you are purchasing a welding helmet.
Many welding helmets will claim to protect you but when it comes down to it, your eyes end up burnt. Your eyes are a serious thing to protect and so we take guiding you very seriously as well.
Welding Helmets Defined
We're sure you know but let's cover the basics about welding helmets. Welding helmets are designed to protect your eyes from the light, flashes, sparks, and heat that comes with anything welding.
You can't work on a welding job using only safety goggles, it's not enough protection.
Welding helmets do more than just protect your eyes. That is their primary focus but they are built for much more.
You will notice welding helmets cover your whole face and often even part of your neck.
Apart from the shade that protects your eye, the remainder of the helmet also protects your face and neck from things like sparks and heat. Nobody wants to experience flash burns.
The visual shade can be multi-faceted. Overall, the purpose is for the shade to protect your eyes from arc flashes, ultraviolet lights, sparks, infrared lights, and heat.
Some helmets have a standard eye shield that does not adjust but still protects your eyes while others have adjustable shading and high-tech features like auto-darkening.
Ultimately, a welding helmet is an essential tool. You don't want to mess with your eyes for many reasons. For starters, it can affect your job performance in the future but we all need our eyes working as properly as they can be.
It doesn't really matter where you're working but if you are working with welding materials and processes, don't skip out on buying a quality helmet for your protection.
Single Shade vs. Variable Shade
You've seen us discuss variable shades and single shades in a helmet already. Which one do you need?
Is it better to just spend the money on the variable shade? There's a fine line here. Standard shades are typically made to the industry standard, which is a 10.
This shade stays the same. It does not darken further; it does not get lighter. It's made to protect your eyes from both ultraviolet and infrared.
You simply lift the helmet when you don't need the shade and lower it when you do. It's easy to use and quite effective.
The downside to the standard shade is more about convenience than anything else. You have to manually lift and lower the helmet rather than relying on sensors to adjust your vision screen accordingly.
The safety of the helmet is just fine and the price is usually much better for a beginner.
Qualities to Consider
When it comes to choosing your helmet, here are some of the key qualities you should consider or at least be aware of in your consideration.
Size of Viewing Shield
The viewing shield that protects your eyes also allows you to see. If you wear a helmet with a standard shade, you solve this problem by lifting the helmet when you aren't welding.
But if you wear an automatic helmet, you need to be able to see with that helmet down.
Be sure to check reviews about the visual shield but also just check the dimensions and ensure that it seems like a suitable size for you to be able to work with.
Everyone's visual capabilities are different so what will work for you could be smaller or larger than what works for your neighbor.
Delays on Lens Adjustments
One of the number one complaints about auto-darkening helmets is the delay for the shade adjustment.
If your shade delays in adjusting, then you could burn your eyes when you think you are protected. Unfortunately, when it comes to arc flashes you don't have time to wait on significant delays for adjustments.
You need a helmet that is going to react fast if you're relying on sensors and auto-adjustments to protect your eyes. Many of these helmets allow you to adjust the delays and the sensors but just keep in mind that it may take some adjusting and playing with to get to an effective setting.
Helmet Weight
When it comes down to it, there are a lot of great options for welding helmets for beginners. Our top pick of the best welding helmet for beginners is the Jackson Safety W10.
It's a fan favorite amongst beginner welders and many of those welders go on to use it for years to come.
This welding helmet is durable, safe, reliable, and comfortable to work with. You simply can't argue with all of those incredible features when they're wrapped into a single, affordable package.
If you prefer the auto-darkening functionality, we definitely recommend going with the Jackson Safety Auto-Darkening helmet. It's tried and true and comes from a reputable brand that has proven they can turn out quality products.
It's a bit more expensive but the safety of your eyes and face is well worth the investment if you think about it.
Conclusion
We hope that you find this guide to be a valuable resource for choosing the best welding helmet for beginners. The market can be overwhelming and it's best to be able to focus on some minor details without having to sift and sort through an abundance of options that can quickly become overwhelming.
In the end, only you can determine which helmet or type of helmet is going to work best for your needs. Be sure to consider all of the factors we shared in the guide but also keep in mind your own personal preferences in your search as well.
There is not necessarily a right or wrong helmet but rather which helmet will be best for you. Your helmet needs and uses might be quite different from the person in the welding booth next to you so just keep in mind what types of jobs you will be doing and what features are most important for your uses.