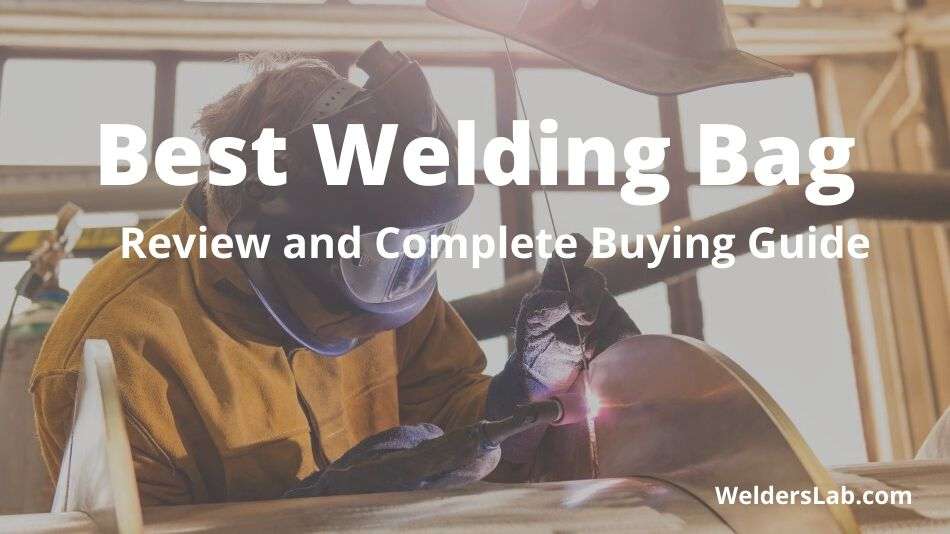 When you go to offsite welding jobs, how do you tote your gear? It is common knowledge that welders have a lot of safety gear and tools accessories that they need to complete a job on any given day.
It would be a tremendous hassle to tote everything without having something to keep it together and slightly organized.
Introducing a welding bag. These bags are not just your everyday briefcase. A welding bag is made specifically to carry welding tools and accessories, as well as your gear.
Probably the biggest need for a bag is your helmet but there are so many other things it would be nice to also be able to toss into the bag.
A welding bag is an optimal solution for packing up gear and carrying it from job to job or even from job to home.
There are a lot of welding bags on the market to choose from. How can you possibly know where to even begin?
That's where we come in. We've sifted and sorted through the options to present you with the best welding bag options on the market.
We will share with you our top 3 picks in a detailed format. Once we've reviews the 3 products, we will provide you with an informative buying guide that can help you through the selection process.
Stay tuned to learn all about the top 3 welding bags and find all of the essential tips for picking yours.
The Top 3 Welding Bags Reviewed
In these reviews, you will find a detailed explanation of all of the relevant information about each bag.
We will go through them one by one and cover everything you need to know. We will also include a list of the pros and cons of each bag to give you a clear picture of what we're dealing with.
Let's get started.
#1 Revco Industries GB100 BSX Extreme Gear Pack with Helmet catch
You know that feeling when you put your helmet in the bag and it awkwardly takes up all the space so you struggle to fit everything else in?
Or maybe you put everything else in first and then can't quite squeeze in your helmet? Well, this bag eliminates those struggles, making it the best welding gear bag on the market.
This bag is uniquely designed to be worn like a backpack. It has a large luggage space that is square in shape to fit things nicely.
It's full of pockets and accessory holders. It even has some extra zippered pouches and deep side pockets.
But the best part is, this bag has a helmet catch on the front. The helmet catch clasps to the front of the backpack and is simple to open and place your helmet to secure it to the bag.
The catch is super easy to work with and allows you to move quickly and efficiently.
This bag is the perfect option for welders constantly on the road.
It secures and organizes your tools and gear and holds that helmet without taking up all of your bag space. Plus, it's simple and easy to carry with the backpack straps.
It does cost a bit more but we believe it's worth every penny.
Pros:
Has a special helmet catch space
Carries like a backpack
Plenty of space, including pockets and holders everywhere
Can carry all of your gear in one simple place
Lightweight and easy to work with
Cons:
Stitching in some areas seems to start coming out much too quickly
This bag costs a pretty penny, but it is also one of the best traveling bags you will find. It's rated highly across the board.
It has a lot of great pockets and one of the most attractive features is the special helmet catch so you don't have to stuff it somewhere.
It's durable and comfortable and quite simple to work with.
#2  Optrel 6000.001 Helmet Backpack with 2 Side Pockets
If you mostly need a bag for your helmet with maybe a few other accessories, check out this bag.
We voted this bag the best welding helmet bag because it is designed specifically for your helmet but also gives you some additional space to work with.
This bag will reliably carry your helmet and a few small tools or pieces of gear but definitely will not carry as much as our first option.
The sole purpose is your helmet so just understand it won't carry much beyond that, which may be all you need!
This highly-rated welding helmet bag is very affordable. It's made to be durable and it looks nice.
The zippers are strong and sturdy and the bag is comfortable and simple. It also has a pop of color with those lime green zippers against the black bag.
You can expect this bag to fit just about any helmet on the market – big and small, with no worries. It's reliable.
It carries like a backpack for your convenience and also has a hanging hook so you can stow it away or keep it up off the floor and the middle of your work surfaces.
Pros:
Designed specifically to carry helmets
Contains 2 side pockets for small accessories or tools
Carries like a backpack
Durable materials
Affordable helmet bag
Cons:
Limited extra space for things besides your helmet
The zipper quality is inconsistent
This bag is the perfect price for what it offers. It's fairly limited on space but it clearly advertises that it is designed to carry your helmet.
The company even added side pockets to give you some additional room, just don't expect to pack all of your gear and tools into this bag.
It's durable and well-made and it's quite easy and comfortable to work with.
#3 Tillman 520 Welder's Welding Gear and Helmet Bag
Tillman TILLMAN – 520 Welders Welding Gear and Helmet Bag
Large capacity main compartment with drawstring closure can fit virtually any welding helmet, including face shields

Has (2) mesh side pockets to hold welding gloves, water bottles and tools

Hook/loop closure front pocket is ideal for keys, cell phone or sunglasses
If you're looking for the best cheap welding bag that is handy and reliable, stop your scroll because this is probably the one for you.
This bag is so affordable but it's made with high-quality materials that won't let you down. It's a bit more compact than its competitors but its great on-the-go.
This bag is meant to be lightweight and easy to carry. It won't hold a lot but should hold your helmet and a few small accessories if you pack smartly.
It is designed with a single carry strap that slings across your back. The strap is even padded to make your carrying more comfortable.
Tillman's welding bag measures about 20 inches high. It has a drawstring closure so you don't have to wrestle with a zipper or worry about the zipper breaking or not closing.
It's made with high-quality polyester and it is super affordable considering the quality.
The strap is fully adjustable and there is a small pocket on the front of the bag that could come in quite handy.
There are also two side mesh pockets that can be used for gloves or water bottles easily. This bag is advertised for helmets but a helmet could be a tight fit or take up the entire bag.
It's really best for carrying other small gear and accessories when you're on the road.
 
Pros:
Perfect for on-the-go
The super affordable price tag
High-quality materials
Adjustable strap
Small but mighty
Cons:
The small size might be inconvenient for some
The bag may have a strong factory odor upon receipt
This bag truly is a winner if you need something small and easy to carry on the go.
No, it probably won't hold your helmet but it's well made and incredibly useful and convenient for your gear. It's made with high-quality materials and the price is simply something you can't beat.
It's cheap without being cheaply made and we don't think you will be disappointed in this one.
A Buyer's Guide to the Best Welding Bag
Every welder has a myriad of tools, gear, and accessories to carry around. The question is, how do you choose a suitable bag and what makes a bag a great option?
There are tons of welding bags on the market. You could easily spend hours upon hours doing research and sorting through all of the bags that claim to be the very best. And then, you find yourself just as lost and confused as you were before you started.
We've done the leg work for you. We've sifted and sorted. We've tested and researched and we took specific criteria to determine the top 3 bags.
You will notice no two bags are exactly the same in what we shared here. That's because no two welders have the exact same needs.
Our goal was to provide an array of options that could fit various needs. We came up with a large bag that has specific helmet space, a bag designed mostly for your helmet, and a bag that's perfect on-the-go.
Let's talk about choosing a bag in more detail.
Why Use a Welding Bag?
You could certainly use any type of bag for your welding needs. Whether you want to try out an everyday gym bag or a regular backpack or even a tool bag, this decision is up to you.
What sets a welding bag apart is that it's designed for the life of a welder. Some welders are constantly on the road. Some welders spend their days climbing up and down ladders.
Other welders travel to various work sites while other welders work from a specific location the majority of the time.
The job of a welder can vary greatly. Every welder knows their own needs and what type of bag would work for them. Welding bags are made in many styles as you see in our picks.
There are even welding bags that resemble gym bags. There are large bags and small bags and all sorts of options.
A welding bag is made to make your life easier. It allows you to carry your safety gear and many of your small tools and accessories with you in a simple solution.
Of course, if you've been a welder very long, you already know these things. And you're probably wishing we would just get on with the buyer's guide!
Welding Bag Capabilities
If you're not quite sure what you might need to put into your welding bag, you can choose. It might also differ based on the type of welding you do and the type of job location you go to.
Here are some examples of things you may (or may not) use a welding bag for.
Knee pads
Helmet
Gloves
Personal accessories (wallet, keys, phone, etc.)
Tip dip
Anti-spatter spray
Welding cap
Jackets
Welding pliers
Welding clamps
Welding blankets
Well, you get the picture, right? You might not use all of these at every job so you can always pack your bag based on what you need.
Some of these items, you probably carry with you at all times. Filling your bag might be like filling your toolbox or it might be just a carrying space for your safety gear.
What to Look for in a Welding Bag
As we've discussed, not all welding bags are made the same. However, there are some specific qualities and characteristics you can look for as you work towards finding the best welding bag for your needs.
Here are a few of the things to consider
What will you put in it?
How will you carry it?
Where will you use it?
Will it be reliable?
This list isn't like some of our lists with specific identifiers but rather gives you specific points to consider.
Let's dig a bit deeper.
What Will You Put in It?
What you plan to carry in your bag is perhaps one of the most important aspects to consider. Knowing what you will plan to carry on average can help you determine just what size of bag you might need.
You may want something small to hold your gloves, sleeves, and a few small accessories.
Or you may need something larger than you can easily carry the majority of your gear in at all times, including your helmet.
Obviously, what you carry with you may. Just take the time to work through what items you will need to carry with you the majority of the time and work from there to determine how large of a bag that may require.
How Will You Carry It?
This is an important aspect that many don't really consider as they should.
Some people don't look past the fact that a bag has handled. But gives this aspect some consideration.
Will you be carrying your bag up and down a ladder frequently? If so, you probably want straps that will secure to your back. This is the safest way to carry it.
If you just carry your bag location to location and carrying straps and handles may work for you.
Consider looking for something comfortable and something you know will work for how you will need to carry your bag on the job.
Where Will You Use It?
Don't roll your eyes yet. We are well aware you will use this bag for your welding work. But where is that? For you, it might be in your shop stall. For someone else, it might be on boats and ships or anywhere really.
Welding jobs are vast and they could take you anywhere. If you are constantly traveling with your welding gear, be sure to choose something that will be great on-the-go.
Will it Be Reliable?
This is another incredibly important question to ask. The last thing you want is a bag that is going to fall apart when you're on the road. You need durable materials and you need strong straps or carrying handles.
You need a bag that will stand up to wear and tear and that can handle you tossing it around all the time. Don't settle for cheap if it's not made with high-quality materials. Remember, we gave you a cheap option that is still high-quality.
The materials matter and you want something both durable and reliable for your welding needs.
Our Top Pick
When it comes down to choosing the best welding bag, it's a hard decision to make. Our top pick goes to the Revco Extreme Gear Bag.
We feel as though this option could be suitable to literally everyone. It's got the helmet catch and it has plenty of storage space without being overly bulky.
You can be comfortable and carry as much or as little gear as you need in this well-made bag.
Conclusion
Remember that not every welder has the same needs. As you peruse your options for the best welding bag, keep your specific needs in mind and base your decision on your preferences. Only you can truly know what is best for your welding needs.
We hope that you find this guide to be informative and valuable for helping you in your decision process. There are some great options here in our top 3 picks and also some great information to keep you focused while you choose.