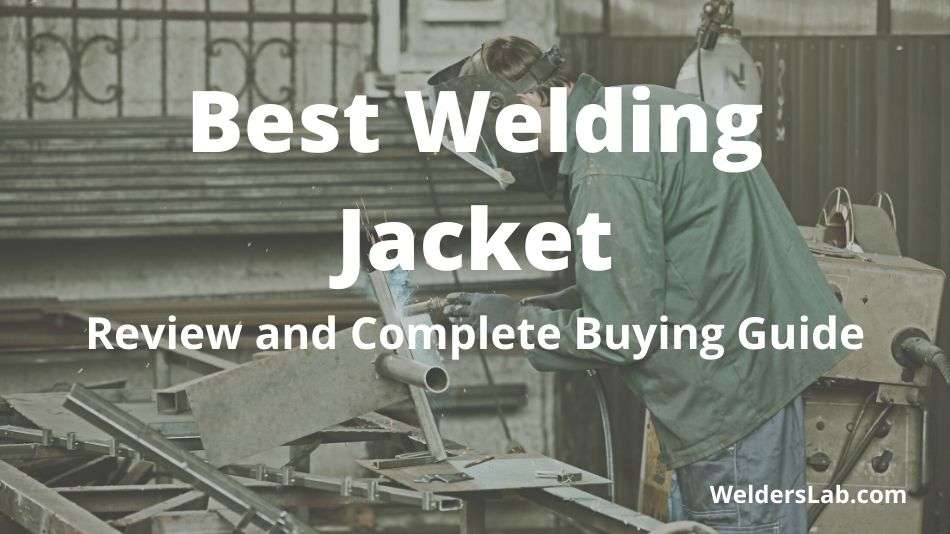 Many welders come into the profession understanding it's considered a high-risk environment. Most welders also know that there is a lot of necessary protective equipment necessary to ensure you are as safe as possible.
The last thing you want is to burn your arms or worry about those sparks singing them. I mean, a wayward spark could cause a knee-jerk reaction that could also leave you with a shoddy job in the end.
The best thing you can do as a welder is to invest in protective equipment. This is why we've put together the 3 best welding jacket options and reviewed them in a comprehensive manner.
We've put together a complete guide to share with you the best welding jackets with detailed reviews. We've also included a buying guide to give you all of the best tips for selecting your welding jacket so you know what to look for and why.
Stick with us as we review 3 welding jackets and dive deeper into the selection process.
The Top 3 Best Welding Jacket Reviews
In these reviews, you will find a comprehensive overview of each jacket as well as the pros and cons. We want to provide you with all of the relevant information so you know exactly everything you should know about the product.
#1 Black Stallion BSX FR Welding Coat – Royal Blue/Black XL
This welding jacket from Black Stallion is perhaps one of the best quality welding jackets on the market.
It's highly-rated across the board and comes in a very nice royal blue and black coloring that could work great for anyone. What's more, this is an affordable jacket considering the quality.
This welding jacket is in size XL, which would be compatible with a large number of people but you can purchase other sizes as well.
The jacket looks and feels great and is made with a nice cotton material so you can be comfortable while you wear it.
The jacket has black side panels to give it some visual appeal and there's even a flame pattern up the side, as well as the Black Stallion logo.
The material is flame-retardant cotton so it's both lightweight and protective.
They designed this shirt with comfort, style, and protection at the forefront of the design. The collar is nice and high so you don't burn your neck area.
You can even buy a matching hat in the same color scheme to go with it if you want to up your game a bit.
Pros:
The jacket is made with fire-retardant cotton so it's breathable in the hot summers
This jacket is comfortably made and stylish
All cuffs and wrist straps are fully adjustable
The jacket is equipped with a high welder's collar for ultimate protection
This shirt can be machine washed (but should not be dried)
Cons:
It tends to fit smaller than expected
The material is thin and tends to wear out quickly from welding sparks
Overall, this is one of the best welding jackets you will find for the price. It's affordable which means you can purchase several and have backups as well.
It's stylish and comfortable while also offering the essential protection that every welder needs to have on hand.
#2 Lincoln Electric Split Leather Sleeved Welding Jacket W/ Cotton Body K3106-M
Lincoln Electric Split Leather Sleeved Welding Jacket | Premium Flame Resistant Cotton Body | Black | Medium | K3106-M
DURABLE LEATHER SLEEVES– Made from high grade split cowhide, the leather sleeves provide great protection from spatter, sparks and heat while allowing free flowing arm movement. Additionally, the leather sleeves can withstand heavy abrasion and friction which is a common failure point of cotton sleeved jackets.

PREMIUM FLAME RETARDANT (FR) BODY – The jacket is made from ASTM D6413 compliant 9 oz. FR black cotton which prevents and extinguishes fire / flames. The fabric also has an anti-mildew and anti-static coating for added longevity and protection.

ADJUSTABLE CUFFS – Each cuff has chrome plated metal snaps allowing for important wrist and forearm protection from sparks, spatter and heat.

NECK PROTECTION – The flip-up collar can protect your neck from arc rays, spatter or sparks.

INTERNAL STORAGE – One large inside pocket for protected storage.

USED BY PROFESSIONALS – This jacket model is used by professional fabricators on a daily basis.
This welding jacket from Lincoln Electric is one of the best leather welding jackets you will find. What makes it so great?
It has leather to protect your arms and then the body is made with flame-resistant cotton to make the shirt much more comfortable and breathable.
This jacket is available in sizes medium through 3XL, which means there should be the perfect size to fit your measurements somewhere in that span.
The company includes a detailed sizing chart that even details how to take your measurements for sizing appropriately.
Lincoln Electric is a popular brand in the welding industry. They turn out reliable products that many welders have come to know and trust throughout the years.
This jacket is quite unique in that you get the added protection of leather for your arms but you don't have to suffer the heat of wearing a full-leather jacket.
This jacket is made with a nice flip-up collar that gives you additional protection for your neck and face area. The collar can be flipped or folded.
The arms also offer adjustable cuffs so you can get a secure fit for added protection. The jacket also includes a large pocket on the inside so you can keep tools or other gear on your person as you prefer.
Pros:
A reliable brand that has provided quality welding gear for more than 10 years
Sleeves are made with leather to give your arms the ultimate protection
Body of the shirt is flame-resistant cotton so it's not as hot to wear
Available in an assortment of sizes
Adjustable collar and cuffs to fit your needs
Cons:
The flame-resistant cotton of the body is not very durable
The shirt length is a bit on the short side
This jacket is quite unique in that it is made with a combination of leather and flame-resistant cotton. This means it boosts the protection, particularly for your arms without giving you the miserable heat of a full-leather jacket. You get breathable and protection in one simple design from a reliable company.
If you're looking to find one of the cheapest welding jackets that still offer reliable protection, this could potentially be the winner for you.
When it comes to something affordable and reliable, this flame-resistant cotton can certainly deliver.
This jacket comes in a variety of sizes from small clear up to 5XL so you should be able to find your size somewhere in that selection.
Additionally, you can also buy the jacket in bulk (up to 12 jackets) for a reasonable price that will allow you to always have a jacket on hand.
This jacket closely resembles a flannel shirt. It's even a dark green color so it stands out – you won't accidentally mix it up with a regular shirt when you're planning to start a welding job.
This jacket is quite versatile and covers all of the essential basics to make it worth a review.
This is a great option for welding on a budget or even buying protective wear in bulk. You could easily pair the shirt with sleeves for additional spatter protection.
The cotton material is flame-resistant and there are snaps for adjusting the sleeves. Additionally, you get a breast pocket as well as a collar that can stand up for added protection.
Pros:
Includes a breast pocket where you can easily stow small accessories or tools
Made with green flame-resistant cotton that is breathable
Material is mildew-resistant and anti-static
Available in multiple sizes and quantities
Cheap price but well-made
Cons:
Material is thin and may not hold up long
The pocket is advertised as the exterior but is really on the inside
When you look at the good vs. the bad for this flame-resistant welding jacket, the good wins. It's cheap and it gets the job done.
If you're concerned about it wearing out too quickly, you can afford to purchase it in bulk since you're saving money on overall costs compared to many other welding jackets.
The Best Welding Jacket: A Complete Buying Guide
We can share reviews and details with you all day but when it comes down to it, how can you make a decision.
Let's be honest, the internet is full of options. You can do a welding jacket search and quickly be inundated for hundreds of options.
It only takes a few minutes to wind up deep in the depths of welding jackets and still not know what to really look for in order to effectively make a decision.
That's why we're here! Not only do we have relative reviews for our top picks but we also have a lot of information to keep you informed for your purchasing decisions.
Let's start with why you might need a welder's jacket.
Why Use a Welding Jacket?
You've heard it before but allow us to remind you that safety is of the utmost importance.
Is a welding jacket required? Well, not typically, but that doesn't mean it doesn't serve a valid purpose. There are tons of protective wear items for welding that you most likely already know about. Here are a few.
Gloves
Boots
Helmet
Eye wear
Apron
Pants
Sleeves
It seems like a lot. Understand, that each of these items serves a particular purpose. They are designed to protect you from sparks and spatter.
Even the most beginner level welders understand that you can't control the spatter and sparks. They often just happen and the best thing you can do is wear appropriate attire to protect yourself.
This is where jackets come in. Yes, you can wear sleeves, gloves, and aprons but they have openings and limitations.
A jacket simply gives you another layer of protection against the hot metal and flame you are working with. Every little bit counts when it comes to protecting your skin.
Welding jackets are also equipped with collars that can typically be flipped up to provide some added protection for your neck area as well.
Don't be fooled by the term jacket. You don't have to sweat and be miserable. Look for a breathable material that still offers protection. We will get into that a bit more, later in this guide.
What to Look For
Not all welding jackets are created equal. In fact, some will be great high-quality and expensive. Others will be cheap and may not hold up as long but they still offer adequate protection.
There are some specific things every welding jacket search should consider. Let's start by covering those items.
Durability
Fire Resistance
Insulation
Heat Protection
Style / Simplicity
Materials
Budget
These seem like common sense characteristics but you would be surprised that not every welding jacket meets these standards.
You might also be surprised that some items are advertised as welding jackets when they really aren't even close to what they should be.
Durability
It would be quite the bummer to purchase a welding jacket only to have to replace it after one use. Yes, some jackets last much longer than others and some are made with expensive materials. You don't have to break the bank.
If you can't afford the high-dollar jackets, be sure to look for something that will still do the job and do it well. Preferably an option that will last for several uses.
Some cheaper options allow you to buy in bulk. This is great because it means you always have backups on hands. The truth is, at some point they all will fail to be effective.
Fire Resistance / Heat Protection
There are a number of materials that can be used for welding jackets. The key is that the jacket needs to be flame and fire-resistant. It really would make no sense to wear a jacket or shirt that is not fire-resistant.
The ability to deflect and protect from fire is ultimately the purpose of a welding jacket. Be sure it is labeled as fire-resistant, for your protection.
Insulation
A layer of insulation is not necessarily required. However, it can come in useful, particularly if you work in a cold environment. Insulation simply adds another layer of protection between the heat, sparks, spatter, and your skin.
Insulation is optional but certainly something to keep in mind. If you're welding in a cold climate, be sure to watch for this option as it can keep you comfortably warm and protected while you work. Also, consider the level of protection you prefer.
Style and Simplicity
This category is two-fold. You're not necessarily purchasing a welding jacket for the style but you still want a style that is suitable for you.
Most welding jackets closely resemble the style of a flannel shirt. However, you can find heavier jackets as well as jackets that come in various colors and designs.
What is it you need to specifically look for when it comes to style? Watch the length of the shirt. You want something you can either tuck in or that will be long enough to cover past your belt line.
Next, check out the collar. Many welding jackets are designed to either have high collars or to have collars that can flip up.
The extended collar capability is something you will want to ensure your welding jacket has. This is essential to protecting your neck and it's an important feature.
The other style piece you will want to watch for is adjustable cuffs. Nothing is ever one-size-fits-all. You want to be able to tighten the cuffs close to your skin, so be sure they are either elastic or adjustable to your needs.
Materials
Most welding jackets are made with leather or flame-retardant cotton. These are the most popular. However, there are a lot of other materials you might see as well that can be effective.
Here are a few you can watch for:
Flame-resistant denim
Sateen
Flame-resistant cotton
Leather
Aramid and Rayon mix
Carbon fiber
Rubber
Kevlar
Kevlar is perhaps another popular option. It typically is quite a bit more expensive but it offers one of the highest levels of protection available.
Budget
Finally, you want to consider the budget you have to work with for buying such protective equipment.
There are many affordable options that are also highly effective. Be sure to check out the product. Don't buy something just because it's cheap or just because it's expensive.
Don't waste your money, take the time to make sure you're getting a good product. Just be sure you're buying a product that reasonably fits into your available budget allowance.
Final Verdict
Overall, there are many great options on the market. We prefer the Black Stallion BSX welding jacket. It's got a great price tag considering the quality. It looks great, feels great and it works great.
This jacket will be comfortable to wear even in the summer since it's made with high-quality cotton that is treated to be flame-resistant.
If you want a second option or want to take your protection to the next level, we also recommend the Lincoln Electric split-leather jacket.
It's quite a bit more expensive but the sleeves are reinforced with leather for added protection. The body remains flame-resistant cotton for breathability.
Conclusion
At the end of the day, you must determine which welding jacket will work best for your own needs and preferences.
It is certainly important to do the research and understand just what makes a welding jacket reliable but remember to consider your needs besides just what it takes to be protected.
There are many great options for the best welding jacket. We hope that you find our review and buying guide to be a valuable resource for remaining informed and for finding a suitable option for your needs.