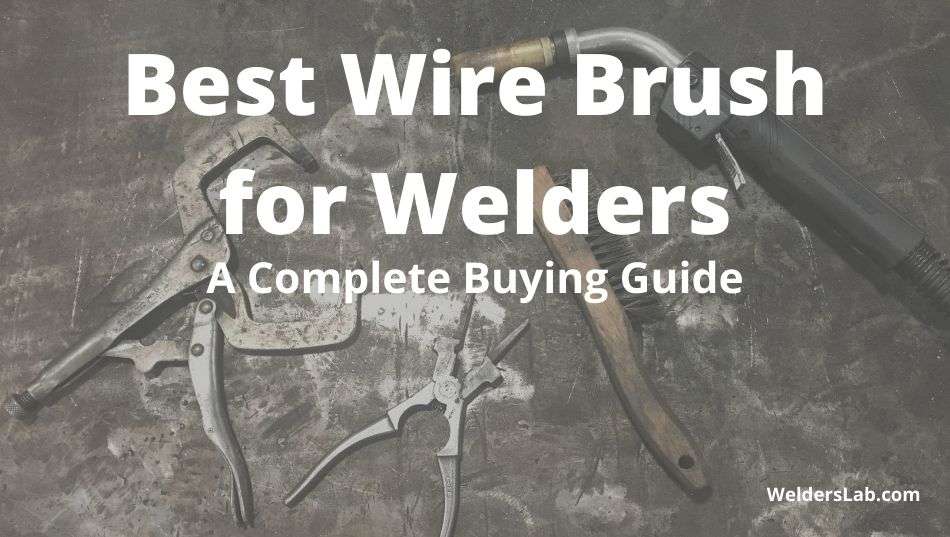 Whether you're a beginning welder or an experienced one, you know that welding can be a messy job.
I know from experience that anti-spatter sprays and tip dips don't always solve all of your problems. You have to be prepared to clean things up, sometimes the cleaning is even done before welding.
Here is where wire brushes for welding come into the picture. These brushes are designed with stainless steel bristles that can chip away spatter, rust, slag, paint, and other hard to remove materials.
It's a cleaning tool and it is essential that it should be found in every welder's tool bag, with no exceptions.
There are many different wire welding brushes on the market, so you need to make sure you find a good one.
What is the best wire brush for welding? There are a ton of options out there and many of them have their own unique qualities. You may want different types of brushes depending on the types of jobs you do.
I've sorted through the options and chosen the 3 that I believe are the top 3 on the market. Trust me, with my years of experience in the welding industry, I kind of know what to look for and what to stay away from.
In this comprehensive guide, I will break it down for you with detailed reviews of my top 3 choices. These reviews will include relevant information as well as the pros and cons of each brush.
Once we wrap up the reviews, I'll share a buying guide that gives you the best insight on just what you should look for before you buy a welding wire brush.
Stick with me to learn all about welding wire brushes, includes the best options available.
The Top 3 Best Wire Brush for Welding Reviewed
These reviews are designed to give you a summarization and depiction of everything you should know about each brush.
We will run through the good and the bad and round it out with a good, honest review so you know why these 3 made my top pick list.
Let's get started!
This brush is a nice quality brush that isn't terribly expensive. It has a great long handle that is sturdy and easy to grip.
I like this handle because when you have your bulky welding gloves on, it's much easier to grip a handle like this and work away with the brush.
You can purchase this brush in packs of one, two, three, or four. The one pack is really the best value for the money so I recommend just buying a few of the one pack to have on hand.
The brush is 13 inches long and only a little over an inch wide. The thin design allows you to work in small spaces but also covers a good area so it doesn't slow you down.
The handle has a nice little curve which makes it more comfortable to grip. It's also not cheaply made.
It's wood that is sturdy and durable and not likely to just break while you're brushing. The handle even has a hang-up hole so you can store it at your workspace and not clutter things up.
The bristles are stainless steel and set up with groupings of small bristles spread out in about a 6-inch section of the brush head.
The bristles are firm and stiff so they will brush away any material you might be working with easily. This brush is highly recommended across the board.
Pros:
Affordable brush
Well-made with a sturdy build
Nice looking wood
Stainless steel bristles that are strong
Comfortable to grip, even with gloves
Extra-long handle
Cons:
Larger than expected compared to the pictures
The bristles do tend to lose their shape
When it comes to value for money, this is the best cheap wire brush for welding you will find. The price tag is nice and the brush is definitely reliable and well-made.
It's affordable enough that you can order several and have backups on hand in case it starts to lose shape.
You can check the price and the latest reviews by clicking here.
This combo pack gives you great options making it one of the best quality wire brush for welding options that you can possibly find.
You get a 2-pack of quality brushes and you get them quite cheaply. Ruddman is a well-known brand name and these brushes are great for light-hard brush needs.
These brushes are highly recommended and rated for a reason. They are reliable and well-made.
The pack has a 5-inch and a 6-inch brush. You will find one brush with a thicker build and shorter handle. The second brush has a slim handle that is quite long so you can easily reach into tight spaces to get your cleaning done.
These brushes are kiln-dried hardwood, which makes them sturdy and comfortable.
The wood also holds the tufts of the brush in place. The bristles are evenly distributed and firmly set into the brush head so that they last longer and remain effective.
The brushes can stand hearty use but are best on light and medium substances.
They are industrial bristles that will easily cut through debris, spatter, rust, and more. Those carbon steel bristles are reliably heavy-duty and won't disappoint you.
Pros:
Highly-rated brush set
Two brushes for the price of one
High-quality brushes
Combo pack with varying designs
Sturdy bristles that last and stay in place
Cons:
Tends to create a lot of excess dust
If you just want a good reliable brush, go with this one and you actually get two good reliable brushes.
You can't go wrong with this combo pack that gives you comfort and durability with two options.
You especially can't go wrong with the price tag that they come with either. These are handy and effective.
You can check the price and read the latest reviews by clicking here.
Does it really get any better than an all-in-one tool that features your wire brush AND a chipping tool? That chipping tool can come in quite handy when you have to spatter residue or paint to chip away.
This brush is great because it can do multiple things but it's not quite hard enough to get rid of slag if that's your primary concern.
This is another highly-rated option from Ruddman and it's the best all-in-one wire brush for welding that I've found on the market so far.
Many times the all-in-one tools aren't as effective as you need them to be but this one works nicely for the most part.
You can remove the brush if you need to when you're chipping.
This set has a nice handle that is specifically designed to absorb shock with your hammering or chipping to make the tool comfortable to use no matter what your purpose for using it.
At first glance, the brush looks like it is just designed to be fancy but there is a certain thought process behind the unique design that makes it a great option for using for any of the intended purposes.
This brush is made from heat-treated steel so it is hard, strong, and durable.
Pros:
All-in-one tool
An affordable tool that is versatile
Well-designed for comfort and stability
A highly-rated tool that simply can't be outdone
Made with durable materials to last
Cons:
The bristles probably won't work for slag but you can use the chipping tool
Be sure to regularly check the brush screw as it does wiggle loose
This one is my favorite of the 3 wire brushes because it has so much to offer. If you look at the price compared to what you can do with this brush, this is a great value for the money.
You can hammer, chip, and brush and it's so simple to work with. Plus, it's built to be tough and reliable which you simply can't argue with when it comes to welding.
You can check the price and the latest reviews by clicking here.
A Buyer's Guide to The Best Wire Brush for Welding
So, how did I choose these brushes? What makes them stand out in a world full of wire brushes that I could choose from? There are specific qualities that I look for when I'm choosing my equipment. As a seasoned welder, I've come to know what I can rely on and now I base my decision around the knowledge I've built up over the years.
I think it's important to understand just what makes a brush worth trying or buying. You can easily look at an array of options and not necessarily be able to pinpoint the differences right away. That's where this buyer's guide comes in.
I wanted to share with you some features you should keep in mind as you peruse your wire brush options and let you know what qualities you might want to consider.
Why Use a Wire Brush?
A wire brush is primarily a cleaning tool. If you think about it, you have probably used wire brushes for things before. Maybe not a welding wire brush, but what kind of brush do you use to clean your grill? Am I right?
Wire brushes are designed with steel bristles that clean and brush away hard to remove debris and gunk from various surfaces.
Obviously, you wouldn't want to use a wire brush on just any surface (like your new car) but it can be an effective tool for cleaning many types of surfaces that are abrasive and require something solid and sturdy to effectively clean.
These wire brushes can prep a surface for welding by removing rust and paint but they can do so much more than that. The brush can also help remove scratches, dirt, slag, spatter, and more.
Welders work primarily with various forms of metal and these brushes have the capability to clean and prep our surfaces but they also can help to clean up and finish a surface when we finish welding.
A clean surface might make or break a welding job's quality overall.
There are both steel bristles and carbon steel bristles. It is important to know and understand the difference as one might work better on some surfaces.
You might also see brass bristles on wire brushes but we don't use those as much in the welding industry because they are softer and meant for softer surfaces.
On top of the various types of bristles, you will also see various bristle placement. Bristles may be wide-set and spread out or they may be closer together.
In welding, we typically go for more bristles, closer together but we will get to that more shortly.
Features to Look for in Wire Brushes for Welding
Wire brushes are made very differently because they can be used for many different purposes.
However, there are wire brushes that are specifically designed for welding. These brushes are often labeled as such but not always.
It's important to know just what qualities might make a wire brush a suitable option to use for welding jobs and why.
Here are some of the things I pay attention to when I am looking for welding wire brushes.
Bristle Material
Thickness/Spacing of bristles
Sturdy handle
Durability
Capability
Bristle Material
We mentioned earlier that brass is really not the type of bristle you want for welding purposes. Although, on a side note, brass bristles might be great for smooth and finishing your surface afterward.
Which material you choose out of stainless steel and carbon steel may vary based on what type of welding you do.
For instance, MIG welders do a lot of work with aluminum. The best type of bristles to use when working with aluminum is stainless steel bristles.
Stainless steel is abrasive but it won't bite into the softness of aluminum. We also recommend using stainless steel for stainless steel surfaces. Really, stainless steel is my go-to choice for wire brushes.
Carbon bristles are also quite good. They are a bit stiffer than stainless steel which is why we don't recommend them for aluminum. Outside of that material, carbon can be quite functional and really is a good option also.
Thickness/Spacing of Bristles
When you look at wire brushes for welding, you want bristles that are close-set. It should almost look like those boar bristle hairbrushes, although with different materials. You can find wire brushes that are spaced out also.
These brushes could have the same number of bristles but be set up differently and the design can make a significant difference. For the purposes of welding, it's better to have close-set bristles that appear thick and hearty.
You also want your bristles to be strong and mostly stiff. They should have only a slight movement to them if you press down on them against a surface or even your hand.
They have to be sturdy in order to be abrasive so they will be able to scratch away that awful rust and grime.
Sturdy Handle & Durability
There's nothing worse than diligently brushing away only to have the handle break firmly in your grasp. Oh, and guess what? That was your backup brush!
Don't be afraid to read reviews and look for information that specifically discusses the sturdiness of the handle. Be sure your brush is made with strong and sturdy material. I've found that sturdy wood makes some of the sturdiest wire brushes.
You want your brush to last and we are hard on those brushes – both bristles and handles.
The other part of durability is to ensure your bristles are made tough, which often comes with bristles made of the right materials and the thickness and spacing of the bristles as we already discussed.
Capability
Capability is mostly about versatility. You can totally buy a basic wire brush, just be sure to check those relevant features I've already laid out for you. Then, there are brushes that have all-in-one features or potentially have additional capabilities.
In this case, the choice is totally up to your preferences but I wanted to make you aware that some brushes go above and beyond simply being a wire brush.
Much like the #3 item shared in my reviews, you can find brushes that can also chisel, hammer, and chip. Just something to remember as you're looking at your options.
My Top Pick
When I review these options and the features and reliability, the best wire brush for welding is the Ruddman all-in-one wire brush.
This brush is pretty great because it has the brush and the chipping hammer in one simple tool. It's great if you have a lot of slag to clean up from your welding jobs.
On the other hand, if you don't need the chipper, the Osborn 83101 is another great option that will do just fine.
Conclusion
I hope you find this guide to be a reliable source for choosing a wire brush for welding.
Remember that the right brush for you might vary based on what you intend to use it for.