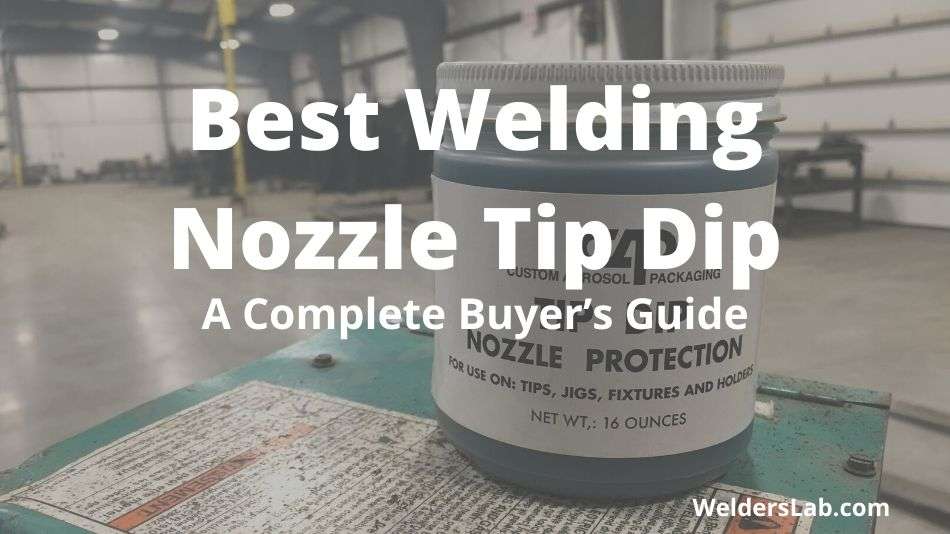 As a welder, you will quickly become familiar with the hassles of spatter and spatter build-up.
One of the worst places to deal with spatter build-up is the tip of your welding nozzle. It's such a pain and it can cause your nozzle to clog or not work properly.
So, what do you do about it?
Welding nozzle tip dip is the best solution for this type of crisis. You can use welding dip or gel regularly during your jobs and it works to prevent spatter build-up on your nozzle.
There are numerous things you can do to help reduce spatter and nozzle dip is one of the many helpful solutions.
We've put together a simple guide to help you best understand the 3 best welding nozzle tip dip options on the market. In this guide, we will take you through a detailed review of our top 3 picks.
We will then take you through an informative buying guide that will share with you many pertinent details about nozzle dip as well as helping to reduce spatter.
Stick with us to learn everything you need to know about welding nozzle tip dip.
The 3 Best Welding Nozzle Tip Dip Options Reviewed
Each of these reviews will take an in-depth look at the 3 best nozzle dips we could find.
We will sort through each option in detail and round out the reviews with the pros and cons as well. We hope that you find these reviews informative for choosing a nozzle dip option for your toolbox.
#1  Best Welds MIG Welding Nozzle Gel Tip Dip 16 oz.
This tip dip from Best Welds is the best welding tip dip on our books. This is a great brand that is well-known for its quality items.
This tip dip works incredibly effectively and is quite easy to work with. In our shop, it's the brand we use the most when we need a solution.
This tip dip is a gel substance that is blue so you can see where you put it and if you missed any spots in the process.
The blue color also makes it fairly easy to clean up when you're finished with your welding job.
The tub comes with a full pound of gel and it doesn't take a lot when you're welding so it should last you for several uses.
It's relatively affordable, considering the quality and you don't have to worry about it being ineffective with its stellar ratings and labels.
This tip dip gel is odorless and non-toxic – no miserable smells or worries about it harming your person when you use it! The gel is specifically designed to prevent spatter build-up on and around your welding nozzle.
It's well-suited to MIG nozzles and tips as well as fixtures and positioners. It's compatible with various types of welding equipment.
Pros:
Gel protects tips well
Easy to use
An affordable gel that is high-quality
Designed to prevent spatter build-up
Compatible with a variety of welding tools and accessories
Non-toxic and odorless
Cons:
The color is blue while some welders prefer clear
Overall, this is one of the best tip dip products on the market. It's a great price with great results and it is so easy to work with.
It's highly effective, which is the point if you're going to spend the money on an accessory that is supposed to make your job easier.
#2 Dynaflux MIG Welding Nozzle Gel Contact Tip Dip 16 oz.
DYNAFLUX MIG WELDING NOZZLE GEL CONTACT TIP DIP – 16OZ
Nozzle Gel Petroleum Based Nozzle Gel - 16OZ

Provides excellent protection against weld spatter build-up on M.I.G. gun nozzles, contact tips,

positioners, stud welding chucks and electrode holders on all automatic

and semi-automatic welding apparatus.

Will not cause porosity. Blue in color.
This welding dip from Dynaflux is another of the best welding nozzle dip options there is.
This one is a bit more expensive than our #1 slot but it's still quite affordable and it has a lot to offer. It's one of the most highly-rated options that simply doesn't get the credit it deserves. Don't overlook this one!
The welding dip is a gel-based nozzle dip designed to prevent welding splatter build-up.
It's simple to apply and works pretty well. The downside is this gel is somewhat thin and has a liquid-like consistency so it doesn't clump well and could potentially cause a plug in the line too fast.
 You can expect this welding gel to work great for positioners, welding chucks, contact tips, MIG nozzles, and even electrode holders.
There is no job too big for this gel. The gel is blue in color which allows you to put it on and clean it up pretty easily since you can clearly see where the gel is located.
This welding gel simplifies the welding process and will last quite some time because a little bit goes a long way when you're on the job.
It's very easy to use and you might even find that you prefer the liquid-like gel once you get the hang of coating your surface with it. It just takes a different approach.
Pros:
Highly-rated welding gel at an affordable price
The liquid-like gel can be used to your advantage
Easy to apply and use
Works great on a variety of surfaces
Prevents spatter build-up
Cons:
The liquid-like state may be hard to get used to and take some adjusting
No disclosure as to whether this mixture is non-toxic or has an odor
Overall, if you want the top of the line, this may just be your pick. You can't go wrong with it even if you do have to retrain yourself to use the gel as a coating rather than as a clumping material.
It's still very easy to use and is a highly effective solution for preventing spatter build-up on your nozzle and tips.
Weld-Aid is another trusted welding brand for offering viable solutions at appropriate price points.
This highly-rated welding gel is the best cheap welding nozzle tip dip you will find on the market. It has everything you need in a welding gel and at a fraction of the cost compared to many other options.
This cheaper welding dip option is great for hot or cold situations. It's far better than many petroleum-based gels welders tend to flock to.
It's also paintable which is a unique feature that you don't always get with welding gels and tip dips.
By the way, worry less about toxicity because the label clearly states this dip does not contain silicones, fluorocarbons, or methylene chloride.
This container actually contains twice as much gel product as its counterparts and it does so at a cheaper price tag.
The cooling properties of this gel should help prolong the life of your nozzle and tips.
You can dip in both hot and cold environments so if you forget before you start, it's no big deal. And what better is you don't have to worry about it dripping and clogging your liner.
Pros:
Works in hot or cold scenarios
Twice as much product for a cheaper price
Non-toxic materials
Paintable
Effectively prevents spatter build-up
Cons:
May require periodic re-dipping for the best results
At times, it may drip from the nozzle while you are welding
Welders across the globe, many of whom have been practicing for more than a decade, recommend this product as one of the best available tip dips you can possibly find.
The aye's have it in this case, it's cheap and it works great which is often qualities that cannot be paired together well.
A Complete Buyer's Guide for Welding Nozzle Tip Dip
There is a multitude of tip dip options on the market when you start your research. You can do a simple search, be it an online store or your favorite search engine, only to find more varieties than you can count.
The options can quickly become overwhelming, leaving you to try to figure out just which one is truly the best option.
Let's be real, they all claim to be the best so how can you really tell? Many of this might sought out on a trial and error basis while others simply know where to look.
The good news is that we've done all of the siftings and sorting for you. We've researched and we've tested and our efforts have allowed us to narrow down the playing field.
While we've narrowed our picks down to the top 2 options available, we think it's important for you to know what sets them apart and what you might be able to appreciate as you search for the best welding nozzle tip dip.
We've put together a buyer's guide to help you understand just what characteristics can set a particular tip dip apart and what you might want to consider as you peruse your options.
Why Use a Welding Nozzle Tip Dip?
If you're stumped trying to figure out why tip dip is even important, picture this. You're welding away on a job when suddenly your tip becomes clogged or ineffective.
Upon inspection, you find it is covered in spatter that's built up across surface and you're going to have to replace your nozzle and tips yet again.
You're so tired of changing them so often and it's costing a lot of money for supplies, but it's just part of the job right?
Wrong.
What if you can take action against that spatter on your tips and nozzle and prolong the life of the nozzle?
That's where tip dip comes in. Welding nozzle tip dip is usually a gel-like substance. What is does is effectively coat your nozzle and tips to prevent the spatter from building up. Instead, you can simply wipe off the splatter as you.
Welding nozzle tip dip is designed to coat the area so the spatter doesn't stick in such a way that the surface becomes worthless.
Basically, you will be able to just wipe off the spatter rather than worry about the build-up and a clogged nozzle.
Qualities to Look for in Welding Nozzle Tip Dip
Most welding nozzle tip dips are made quite similarly. There are just a few things that can vary from product to product that deserve your attention when you're looking at your options.
Here are the qualities we recommend you look at closely.
Color
Paintable?
Type of dip (liquid, gel, etc.)
Ease of use
Easy to clean up
Materials – is it toxic or high-odor?
These are all minimal but they could affect how well you like the product in the end. Let's break them down a bit further.
Color
The color of the gel may or may not matter to you but it's something to consider. Some welders prefer a clear gel that won't leave any type of color residue.
Other welders prefer a gel with color so you can clearly see it and know if you need more or if you need to clean it up.
Paintable?
Choosing a welding tip dip that is paintable could save you some clean-up time.
The gel versions of dip typically clean off or wipe away easily, but you may prefer to have a paintable material just in case. Plus, it could make your cleanup process simpler so you can move on.
Type of Dip
The most common type of dip is a gel. However, tip dips can vary in consistency quite easily. Each of the ones we listed above is gel but two of them are more liquid-like than the other.
This simply requires some patience and understanding with the application so you know how to make it most effective.
Be prepared for the type of dip and know how to use it appropriately for your job.
Ease of Use
Nothing is worse than purchasing a product that is hard to use. You want a product that will be simple to use so you can put it to work and get to work. After all, in the welding industry, time is money.
Just be sure to check reviews and directions so you can rest assured the tip dip you choose won't be complicated or awkward to work with.
Easy to Clean Up
Don't shrug off this characteristic. Even if your tip dip is paintable, there is still clean up involved.
Are you going to have to grind off spatter or will your dip make the clean-up process easier?
The best kinds are the ones that you can pretty much just clean or wipe off easily rather than spending a lot of time and effort on clean up.
Materials
This one is simple but almost definitely one of the most important things to consider. The materials aspect correlates directly with safety.
You will be subjecting your tip dip to super-heated temperatures. Is it toxic? Does it contain ingredients that will smell awful or cause other reactions?
Simply remember to pay close attention to what is or is not in your tip dip so you know you're working safely when you use the product.
What Causes Spatter?
Spatter is the natural result of welding, particularly with MIG welding. It can happen with any type of welding though, really.
Spatter can cause all sorts of problems. This is why you see the anti-spatter spray on your checklist of tools that you need for welding.
Anti-spatter spray works much like tip dip but it's meant for your welding surface and surrounding areas.
Here are some things that might be causing spatter in your workspace.
Incorrect settings (check your amperage, voltage, and ESO)
The surface isn't clean
Metal transfer modes
Steep work angles
Unstable wire feeding
Quality of surface
Incorrect arc
Spatter is basically the hot droplets of your welding material that spray or drip and cause a build-up. The build-up can be impossible to work with because it dries and hardens like cement on a space.
Those droplets cool somewhere unexpectedly and you might find a work surface ruined.
There are a lot of things you can do to help reduce spatter in your space.
Our Top Pick
When we look at all of the details and options, it can be hard to choose a favorite sometimes. We shared 3 great products here.
Overall, we prefer the Best Welds MIG Welding Nozzle Gel Tip Dip. This is the most reliable gel. It comes at a great price and does a fantastic job.
You can rely on this tip dip to hold up in both hot and cold situations and to be the best solution for your tip dip needs.
You simply can't go wrong with an affordable and reliable solution that comes highly-rated and has stood the test of time. Not to mention it comes from a reliable brand.
Conclusion
When it comes to choosing the best welding nozzle tip dip, it ultimately boils down to your preferences and needs as well as your budget.
There is no doubt that welding nozzle tip dip can offer a profound solution to your welding tasks, particularly for that spatter build-up that is always a nuisance.
We hope that you find this review and buyer's guide to be a valuable resource as you peruse your tip dip options and move forward into effective solutions for your welding needs.