You've gotten pretty good at welding. You've picked out your welding machine and learned how to prepare and clean your projects and master various positions and techniques.
As you advance, you're ready to invest in a few more tools and accessories to help get the perfect finish on your projects. This has led you to search for the best angle grinder for welding.
Angle grinders serve a variety of purposes in welding.
They have the ability to pass grinding wheels over your metal to smooth out imperfections,
They can hold attached wire brushes that can be used to rapidly clean and prepare metals that are going to be used for welding projects,
And they can even smooth over imperfections with flap discs.
Finding the best angle grinder for your needs is important. Each of them can specialize in a different aspect, and it's hard to know which one is the right one.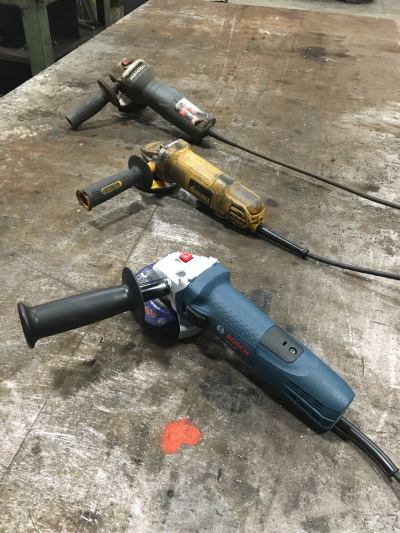 Start by asking yourself what you typically weld and the sorts of projects you need an angle grinder for. This will tell you what features to look for.
One common feature is a dead man's switch, which will automatically turn off the grinder if you've let go of the trigger to prevent safety issues or destruction of your project.
It also helps to look for a welder that can handle a few different speed settings, so that you don't run the risk of it overheating halfway through your tougher projects.
For more information, we've listed our 3 favorite angle grinders for you. With the flood of options available, it can be overwhelming shopping for grinders and differentiating between similar products.
These 3 angle grinders have all been tested and vetted so that you can trust and depend on their quality.
Product Reviews – 3 Best Angle Grinders for Welders
We know that you want the very best angle grinder for welders. We also know that everyone uses welders for different purposes and works with different materials.
This means that there isn't one grinder that will be perfect for all welders. For this reason, we have chosen our 3 favorite grinders and given you the information about them. Each one's strength is highlighted.
Best Angle Grinder for Welders – Metabo Grinder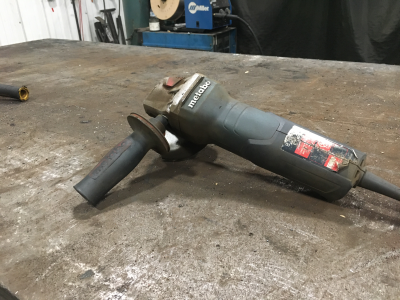 My all-time favorite angle grinder for welders is this Metabo WP9-115 Angle Grinder with Non-Locking Paddle Switch.
The LongLife motor allows for significant torque, and the dead-man switch will immediately shut it off when your switch is released.
Pros:
The field winding is amazing – no movement or intrusion is possible!
Amazing cooling capability – rarely overheats!
A tool-less disc switch and a movable guard are very convenient.
Cons:
More expensive than other angle grinders.
Very uncomfortable to use – will cause hand pain.
Very heavy and bulky compared to other models.
If you have smaller hands or plan to use this for longer lengths of time, you may want to look at ways to make it more comfortable. The tool is pretty bulky and the dead man switch is placed at a strange spot.
This setup can cause even larger hands to strain the muscles and tire out when using, and small hands may not be able to comfortably use this grinder at all.
One of the amazing features is the way they've insulted the field winding. These copper winding coils are so tightly insulated in thermoplastic that they can't possibly move. As an added bonus, there's no way any dust will be able to find its way in.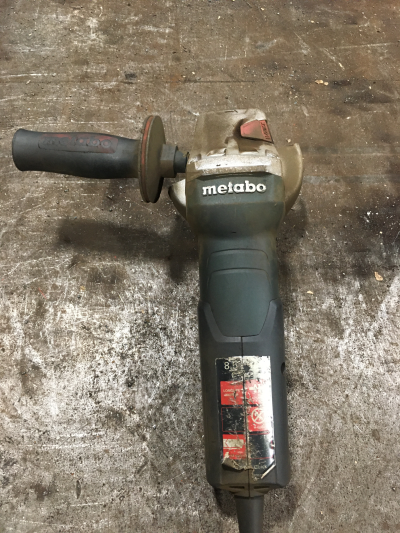 This angle grinder is packed with tons of great features. It is extremely powerful and even better than Bosch and Dewalt, which is rare in the tool industry!
The LongLife motor offers up to 50% more torque with a 20% higher overload capacity, so you can race through material removal with speed.
It includes a dead-man switch so you don't have to worry about safety if a hand slips or you lose your grip on the grinder. It's also got an S-automatic safety slip clutch to ensure that you shouldn't need to use the dead-man switch.
This safety clutch will let you keep control of the accessory even if it ends up jamming, so you don't experience dangerous kickbacks.
Overall, I've found the Metabo WP9-115 Angle Grinder has an easy-to-use paddle switch for a quick on and off and works great for everyday situations, so click here to buy it now.
Best Angle Grinder for Cutting Metal – Dewalt Grinder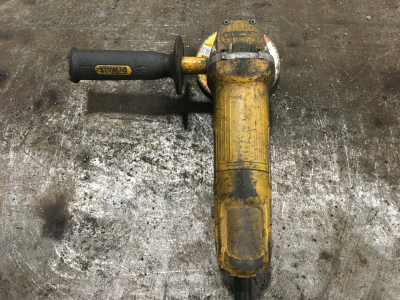 If you need a grinder that can cut through metal as easily as it prepares it, then check out the Dewalt DWE402 Angle Grinder with Paddle Switch.
This tool offers a one-touch guard, a multi-position side handle, and a dust ejection system for durability.
Pros:
Extremely flexible – can handle delicate and intricate work or brute jobs.
Extended lifespan – lasts longer than competitor models.
Dust ejection system maintains a clean workspace and won't contaminate the weld or metal surface!
Cons:
Heavier and bulkier than comparable tools – may be uncomfortable to use for some.
Not as friendly for beginners – better suited to expert users.
It does not include grinding discs – they're sold separately.
This angle grinder has an 11 amp AC/DC motor that can handle 11,000 RPMs. This offers an insane ratio of power to weight.
The dust ejection system lengthens the product's lifespan because any of the debris it sucks up gets swiftly ejected from the tool. The grinder uses an oversized brush, which doubles the lifespan over other comparable models.
It also comes with a one-touch guard that will rotate all 360 degrees with a single touch. The quick-change wheel release will allow for the removal of the wheel without the need for tools.
The spindle lock button mounted on top will maximize cut depth without compromising durability and the small gripping surface compared to other models in this power class offers more comfort than other options.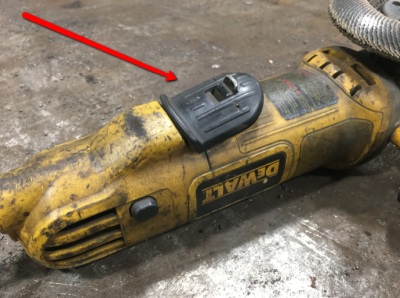 It also has a newly designed side handle that was ergonomically created and oversized threading for even more durability. It intuitively shuts down if the brush needs to be replaced so you don't inadvertently damage the tool.
A dead-man paddle switch with a safety lock will also prevent the tool from starting up accidentally.
Overall I've found the Dewalt DWE402 Angle Grinder has an easy-to-use paddle switch for safe grinding and holds up well in industrial work conditions so click here here to buy it now.
Best Affordable Angle Grinder for Welders – Bosch Grinder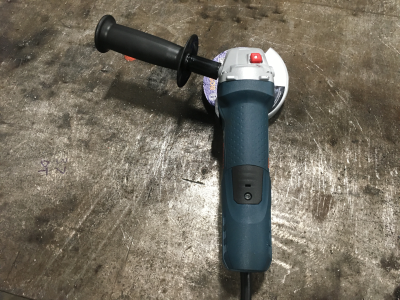 For those of you with more conservative budgets, the Bosch GWS8-45 Angle Grinder is the best bang for your buck.
It still has plenty of features but doesn't cost quite as much as the other favorites on this list. It's our pick for the best value angle grinder.
Pros:
Extremely affordable without sacrificing too many key features!
Powerful motor – especially for its size and weight!
Ambidextrous grip – handle can be swapped for left or right-handed use!
Cons:
Doesn't support cutting – grinding and wire brush only (though some users have reported that it will easily cut).
Burns out more quickly than other angle grinders so shorter lifespan.
The shield isn't great – difficult to attach, a bit flimsy, and not ideally placed.
Bosch has a reputation for producing high-quality tools that have catapulted it into being one of the largest power tool manufacturers globally.
This angle grinder has a lot of great features that come with higher-end models at a very competitive price.
This is one of the lightest angle grinders around, which makes it nice for smaller hands to use. It also comes with a slender grip surface, so you won't wear out your hand muscles trying to hold the grip handle.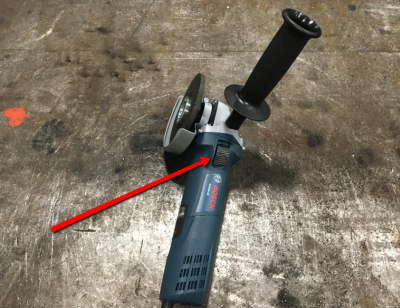 The handle can also be moved into different positions, allowing for greater control.
The grinder includes directed airflow, allowing dust to be pushed away from the tool for a longer lifespan. The guard protects against bursts and adjusts for your needs.
It's also got a preventative shutoff when your brush needs maintenance so you don't have to guess. \
Overall I've found the Bosch GWS8-45 Angle Grinder to have the best price of the three and with its smaller frame it makes it much easier to hold and use, so click here to buy it now.
Frequently Asked Questions
Although any of these grinders will be fantastic for your needs, we understand that you have some questions.
Here are some of the most common questions that are asked when people are buying angle grinders.
What is the best size angle grinder for welders?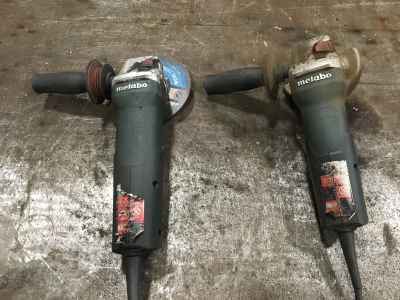 The size of your grinder will depend on the type of jobs you usually perform. A grinder's size is a measurement of its discs, not length.
Therefore, a 6-inch grinder will get through small pieces but the same grinder used for thicker pieces will be much harder to use. The most common angle grinder size is 4.5 inches.
Bigger wheels and discs will also make deeper cuts. Smaller discs and circumferences will also move faster than larger disks, so they're ideal for polishing or cutting metal.
These are also the most susceptible to overheating. That's why angle grinders are the best choice – they come with adjustable speed settings so you don't overheat it on higher settings than you need.
What is the best way to hold an angle grinder?
You want to have a strong grip on your angle grinder. Make sure you are wearing gloves and a face shield, then make sure to have a firm grip with both hands. Use a guard whenever possible.
You want to make sure that you are oriented in a way that will send the debris downward instead of towards you. The wheel should also spin away from sharp edges.
A wheel that gets caught on an edge can cause your grinder to kick back, so you need a firm enough grip to control it and prevent that from happening.
You also need to make sure that your wire brush is pointing the right way. You want the grinder positioned so that your brush is spinning away from the piece you're grinding and not into it. If you're working on slicing, press very lightly rather than with too much or too little pressure.
When you're working the edges of metal, you want to press the grinding wheel against the edge with the grinder off. It should be perpendicular to the blade.
The grinding wheel's angle should match the edge of the blade so the wheel turns away from it rather than towards it. Make light passes, never letting the blade become hot.
You should support your grinder with both hands. One hand should grab the handle. If your grinder included a dead man switch then this same hand should hold on to that. It will need to be continually held in place while the tool is on, or the tool won't work.
Your other hand should hold the weight of your grinder. This hand will be in control of maneuvering, balancing, and controlling the grinder to accomplish the desired task. The handle should be held in whichever hand feels most comfortable holding it.
Remember: that to operate the grinder safely, you will need to let it come to full speed before you apply it to any surface. You should move the grinder around constantly if you're cleaning welds with it, otherwise, it will gouge the surface of your metal.
Smoother finishes should be created by rotating the grinder over the surface. To clean a small area, move it around and over the area rather than holding it in one spot.
If you're working the tool, you should only use light pressure. The tool is doing the work, not your muscles. If you press too hard, you will rip your piece and kick the tool, leading to being injured.
You also need to make sure your wheel is attached at the right angle. Apply at a 5 to 10-degree angle for sanding and cleaning. For grinding, you can try 15 to 30-degree angles as long as you use the flat part.
What is the best angle grinder grinding wheel for welding?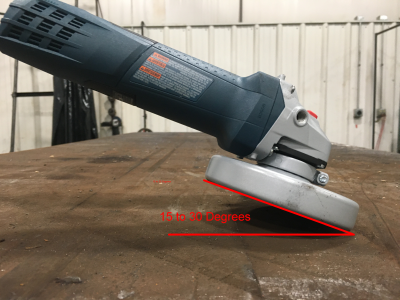 For welding and fabrication, there are 4 main types of wheels for angle grinders. These include the grinding wheel, the flap disc, the cutoff wheel, and the wire wheel. Each of these serves a different purpose, and the most commonly used one is the grinding wheel.
These wheels are consumable, so they only last for a certain amount of time before they must be replaced. Because of this, it can be very tempting to purchase bargain and budget wheels that are extremely cheap. This is a bad idea.
These wheels don't last anywhere near as long as their mid-range counterparts and they don't hold together as well as them either. This means you will actually end up spending more money in the long run, rather than less.
DeWalt makes several great wheels. Norton, Milwaukee, and Gemini also make some very strong products. Stay with these wheels and you will have a nice balance between cost and durability.
An angle grinder grinding wheel is key for removing material quickly. Your standard angle grinder grinding wheel's primary purpose is to rapidly remove metal.
It works to grind out welds, clean up some nasty cuts, ad clean and prepare your metal for welding so that it is bare, and shiny, ad ready to go. This is the fastest of the 4 wheel types at removing materials.
It is also the one that runs hot and is the most dangerous. It produces very large hot sparks. You need to make sure that these sparks don't hit anything you care about, from fabric to skin and more. These sparks are hot enough to embed themselves in nearby glass and burn holes in clothing.
These grinding wheels all come in different grit measurements. These work like sandpaper, with the lower numbers (like 40) being more coarse and able to remove material quicker.
Pro Tip: The lower the grit, the larger and hotter the sparks that it creates and the more painful they will be if they hit your skin.
This means that if you're using a workbench you can use lower-grit wheels, but if you're grinding under a 4 by 4 or in an awkward position, you will get very uncomfortable using low-grit wheels because it will take way more control to avoid the sparks and even the typical safety gear can only do so much to protect your ears, eyes, and body from the sparks that will ricochet around in an enclosed space.
For these projects, using a higher-grit wheel would be better. This prevents the stray sparks from bouncing underneath your face shield or goggles. It will take longer to get the job done, but you will be much safer while doing it. That's a worthwhile tradeoff.
A good way to cut down the cost of grinding wheels is to buy them more than 1 at a time. This leaves you with backups in case one needs to be replaced unexpectedly and allows you to time your purchases by grabbing new wheels as soon as you're down to your last backup.
Not only does this ensure you're never caught without one at a time of need, but it also allows you to save money as compared to buying singles because many companies will offer a discount on 5 and 10-packs.
Another thing to keep in mind regarding low-grit grinding wheels is that they can occasionally leave the appearance of scratches in your metal pieces.
Conversely, extremely coarse wheels will leave some slight burrs on your edges. You can clean these up with a flap disc. Just work that disc over the affected area until it shines and returns to a smooth finish.
Conclusion
These are all awesome grinders, and you will no doubt love all of them. No matter which you choose, you will have a great grinder. That being said, my favorite is still the Metabo grinder.
It's capable of handling any task that you ask it to perform and results in the cleanest angle and base metal that has been perfectly prepared and cleaned.
If you want to take your welding project to the next level with the best possible tools for preparations, then you need to invest in a great angle grinder.
Go ahead and buy the Metabo today. I promise it will be worth it when you see the difference it makes!