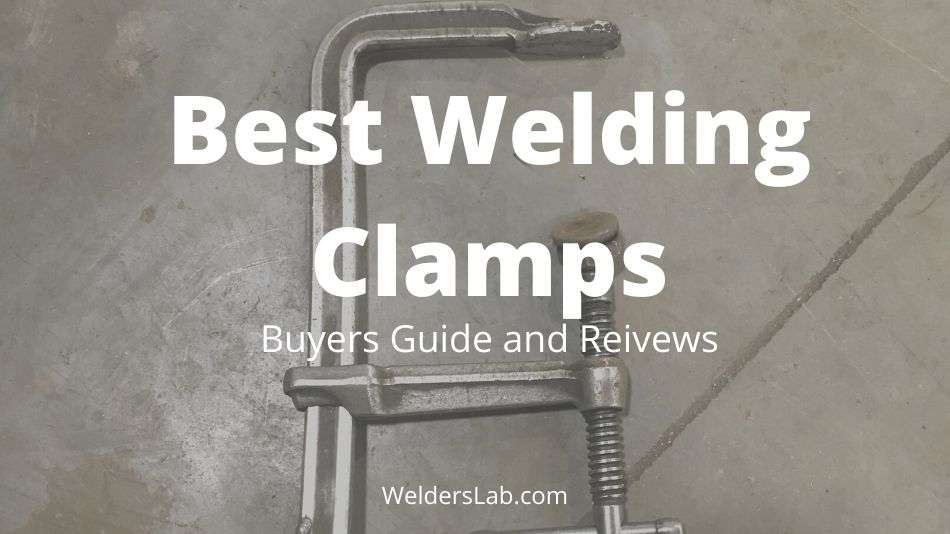 Every welder needs welding clamps in their tool bags. In fact, you probably need multiple welding clamps with various capabilities. Of course, the type or size of clamp you need could vastly vary based on the welding work you do.
There are numerous types of clamps to choose from. Here are just a few of the designs.
Deep reach C-clamps
Divide clamp
C-Clamp (G-Clamp)
F-Clamp
Pipe clamp
Parallel clamp
Quick-Action clamp
Locking clamps
Sheet metal clamp
Kant-twist clamps
Spring clamps
Edge clamps
This is just the beginning of the list. There are actually significantly more clamps on the market. Can you see how choosing the best welding clamps could quickly become an overwhelming task?
Not to worry, that is why we are here! We've dug through the trenches and narrowed down the options to a variety of the 5 best welding clamps. We have chosen multiple types to share here in this guide.
As you progress through this guide, you will find product reviews for our top 5 picks as well as an extensive buyer's guide to walk you through all of the little details of the process.
The 5 Best Welding Clamp Options Reviewed
#1 Bessey Bar Clamp Set, F-Style Sliding Arm
These clamps are by far the best quality welding clamps. One reviewer quotes that these are the "best clamps I've ever owned; they hold up great."
You simply can't argue with a review like that, particularly when there are numerous others that leave these clamps with a 5-star rating across the board.
This is not your everyday cheap set of clamps. These clamps come a bit on the pricy side but F-style clamps typically do cost more.
There are also multiple clamps in the package. These clamps work like bar clamps with an F-style sliding arm and swivel.
The Bessey clamps are made with tempered alloy steel that has been heat treated. The handle is also forged steel. These two characteristics make these clamps heavy-duty and multi-functional.
You can use them for all of your welding needs and they are also great for maintenance, assembly, construction, and general use.
These clamps are well-made. You can expect them to last for your needs. They won't randomly break or fall apart when you really need them to work their best.
They are heavy-duty without being awkward and they will clamp your materials to a T.
Pros:
Set contains 2-5", 2-8", and 2-12" to fit a variety of needs
High-quality welding clamps with raving reviews
Clamps with a proven history of being durable and lasting
Multi-functional F-style clamp that can be used for things besides just welding
Cons:
A bit on the pricy side but well worth the dollar if you can swing it.
If you're looking for the best of the best and you're willing to spend the dime to get them, look no further.
You will not find a better option than these no matter how long you search.
The 5-star rating speaks for itself as to just how great these clamps would be in your toolbox.
#2 Irwin Vise-Grip Original C Clamp, Locking, 11-Inch (19)
Irwin is a trusted brand throughout the welding industry. They have a reputation for making quality welding tools at reasonable price points.
These are quite possibly the best cheap welding clamps you will find due to the versatility and durability.
This C-clamp style clamp can be purchased individually or in a set of 4. The jaw opens to 4 inches wide to give you plenty of working versatility.
You can manually adjust the pressure of the clamp and it's quite easy to do so with the screw at the end of the handle.
These pliers are made with heat-treated alloy steel and designed to be highly durable. They will stand up to the heat and challenge of any of your welding jobs.
They are also equipped with a trigger release that locks the clamps into place and then easily releases the clamp when you're ready for it.
One of the unique features of this clamp set is the wide jaw paired with the locking features.
The jaw gives you much room for clamping various shapes and sizes and does limit you to a specific style or shape for clamping purposes.
Pros:
Simple to use with a locking screw and a trigger-release feature
Built with heavy-duty materials
Made by a trusted brand in the industry
Budget-friendly price without being cheaply constructed
Irwin backs their products with a lifetime warranty
Cons:
The handle may break if too much torque is applied
Irwin has taken some bad reputational jabs in recent years because they went from manufacturing in the USA to manufacturing in China several years ago.
It was immediately noted that quality just wasn't the same. Since that time the company has worked hard to fix the quality and prove their worth again.
#3 Irwin Vise-Grip Original Locking Pliers with Wire Cutter, Curved Jaw, 10-Inch (502L3)
Here we present you with another option from Irwin Vise-Grip. This clamp option is actually a plier in disguise.
If you're working with thin materials, this option practically gives you a plier and a clamp in one single tool.
The great thing is you can grip, cut, or clamp with these pliers. They lock and have a curved jaw that gives you some flexibility as to the size of the item you can work with.
These pliers are a reasonable 10 inches in length which makes them comfortable and easy to work with.
You can purchase this item in packs anywhere from 1-5. It's always a good idea to buy in bulk when you find a solid tool as affordable as this option.
Overall, the best feature of these pliers is the curved jaw enhanced with teeth to provide you a firm and steady grip that conforms to various sizes and angles.
Much like the C-Clamp, these are equipped with the adjusting crew to tighten your pressure as well as the trigger release that locks and then releases when you are ready.
These are made to be durable with heat-treated alloy steel. You can even cut wire with these bad boys.
Pros:
A multi-functional tool that can serve as pliers or clamps
Enhanced with a trigger release and pressure screw for the perfect grip
The curved jaw allows you to set to various angles and shapes
Produced by a trusted brand in the welding industry
All Irwin Vise-Grip products are backed by a lifetime warranty
Cons:
The jaws tend to be soft which causes the serration to wear down quickly
Overall, this set is really designed to be pliers but depending on what kind of materials you work for they work quite well for clamping purposes as well.
Since they are built like pliers and they have the screw and trigger features, they might actually be easier to work within tight places for your jobs.
#4 PONY 55 Pro Pipe Clamp, Fixture for 3/4-Inch Black Pipe
These pipe clamp style clamps from Pony are some of the best clamps for welding on the market.
They are great for doing bigger projects but they can work for your small projects as well. The pipe clamp is adjustable by a long screw that allows you to mount to various sizes.
These are designed to be user-friendly. They have a bright orange color and are equipped with a built-in clamp stand and a clamp hanger.
It's simple and easy to work with which makes it a desirable option across the board.
This highly-rated clamp has a budget-friendly price tag and delivers you with ha high-quality multi-functional option that you simply can't beat.
You get a tall and wide stance as well as wide jaws to give you plenty of working and adjusting room.
These clamps are very lightweight but are made to be heavy-duty and reliable.
The screw allows you to manually tighten to your clamping needs. Overall these clamps measure 10.2 x 2 x 6.5 inches for dimensions.
Pros:
Clamp includes handle and base needed for use
Clamps to a wide range of sizes
Perfect for using with bigger jobs
The castings are made of iron for high durability purposes
Cons:
The 3/4-inch pipe is not included in the purchase
The feet are plastic which means they may not stand up to extreme pressure
These clamps overall have a lot to offer for any welding job. While they are designed for bigger projects you can easily use them for any project.
Be mindful of those plastic feet as you don't want them to break from careless pressure applied. These are budget-friendly and highly-rated.
#5 Hold Down Toggle Clamps Latch Antislip Red 201B Hand Tool 200Lbs Holding Capacity Antislip Horizontal Quick-Release Heavy-Duty Toggle Clamp Tool
Hold on to your hats with this heavy-duty toggle clamp that is extremely budget-friendly as well.
Toggle clamps are uniquely made to give you a quick-action hold. They are typically attached to something stationary such as a specific fixture or even your workbench.
Toggle clamps are also great for holding various layers of materials together while you work on a piece.
They can be quite multi-functional. This particular set comes with 5 clamps which should be sufficient for just about any project you might be working on.
These toggle clamps have a heavy load capacity and can handle up to 198 pounds per clamp.
The grip is solid and covered with rubber to make it comfortable. It is also adjustable with pressure tips so you can get the grip where you need it to be.
The Hold Down Toggle clamps are made with cold-rolled carbon steel and covered with a galvanized steel coating. This gives them extensive durability and stability.
They are easy to use and mount as needed. Use these for rugged fixtures, movable bases, or quick-action needs.
Pros:
Comes in a 5-pack so you have multiple grips to work with as needed
The efficient design provides you with a non-slip clamp to get the job done right
Lightweight grips with a heavy load capacity of nearly 200 pounds
The company offers a 100% manufacturer guarantee for satisfaction, quality, and defects.
Cons:
You may have to adjust the rubber head of the screw to get a proper fit to some sizes
The screws tend to wear down too easily and may need replaced soon
A Complete Buyer's Guide to Welding Clamps
When it comes down to it, it's essential for you to know and understand what qualities and features you may be looking for in a welding clamp.
There are a number of options but we have done our best to narrow it down to the top 5 options for you.
In the following, we will provide you with the essential features you should take into consideration.
We share these tips in hopes that they will be useful to you as you determine which option might be the best for you.
Durability
What your clamps are made of can make a substantial difference in the quality and durability of the clamps. You certainly don't want to invest in clamps that are going to break down at the first application of pressure.
Iron is durable and will get the job done but the best material is steel. If you have the option between iron and steel, steel is the better choice.
Of course, steel may not always be an option for the type of clamp you feel fits your needs so understand that iron will work sufficiently.
Padding Features
If you're worried about clamps leaving bruises, mars, abrasions, or scratches on your materials you should definitely go for a clamp that has some sort of padding material. There are clamps made to be soft as well that won't scratch your surfaces.
Padding can add cost to the clamp that you purchase so just be mindful of your budget.
However, at the same time, there are many affordable options that offer padding and soft-grip features.
One thing we want to point out for the padding features is that you might not always see a padded grip or end on the clamp tool.
Some clamps are made with a "soft grip" feature that gives you a firm grip that is soft and gentle.
This means you can tighten the grip but not worry about scratches or abrasions from the material of the jaws.
Clamp Sizes
Last, but certainly not least, clamp sizing is important. The last thing you want is to be in the middle of a project only to find your clamps won't properly adjust to or fit the size of the project. Most clamps have a specific size range that they are compatible with.
Pay close attention to the jaw gap measurement details and consider keeping multiple options on hand if you need to. The Pony pipe clamp shared is a valid option for those large projects but there are many sizing variations above.
Look for versatility in sizing if you don't want to have to purchase multiple sets or clamps. For instance, the Bessey Bar clamps come with 3 different sizes and the Irwin C-Clamp has a 4" jaw allowance.
Choosing a Winner
If we were to share our top pick of the best welding clamps, the clear winner would be the Bessey Bar Clamp Set.
While these are a more expensive option, they hit the nail on the head in all of the above features we mentioned.
These are truly one of the best welding clamps on the market and you probably won't find anything better without spending even more than what these are priced at. They are well worth every penny.
These clamps are versatile, durable, and have a soft grip. They also come in 3 different size options so you should be fully set with your purchase for any type of job you might find yourself up against.
If you need a more affordable option, we would point you in the direction of the Irwin Vise-Grip original C-Clamp.
These are simple to operate and they have a wide jaw allowance that allows you to work with various sizes and angles. The clamp is also designed for a soft grip that won't scratch your surfaces.
Conclusion
In the end, the choice is yours to make. No one knows your welding business and practices better than you do.
You know what your general needs are and if you consider your typical customer and job, you will quickly be able to pinpoint which style of clamp may work best for you.
We've shared with you the 5 best welding clamp options according to our research and we feel as though there is sufficient information here for you to make an informed decision.
We hope that you find this guide to be helpful as you make your selection. You may decide that you need multiple welding clamps for varying jobs.
A successful welder prepares themselves for any possible scenario by filling their tool bags with an assortment of tools.