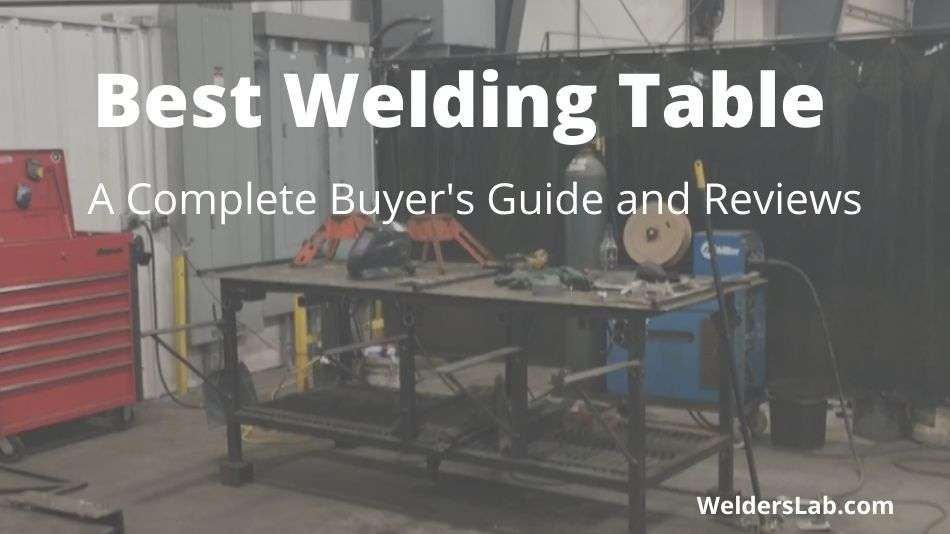 Welding tables are one of the foundational needs of any welding business. Let's face it if you're a welder you need a welding table to do your job. And not just any table will do, you need a table built to withstand the pressures of welding.
The table must be strong and sturdy. You need a stable and reliable surface on which you can square corners, gauge, measure, mount, and everything else you may need to do. The table also should provide a certain level of comfort.
The thing is finding the best welding table is quite the challenge. They come in all different shapes, sizes, heights, and other varying factors. How can you possibly sort through those and figure out which one is really the best option for you?
We've sifted, sorted, and researched through a myriad of options to present you with the 3 best welding tables on the market. We've narrowed down the choices to the best of the best and we think you will be pleased with the results.
Keep reading to find detailed product information and reviews, as well as a complete buying guide for choosing the best welding table.
The Top 3 Welding Tables Reviewed
#1 Adjustable Steel Welding Table
Adjustable Steel Welding Table
Heavy duty steel surface is zinc plated to resist rust

Adjustable table angle with five positive stops

Retractable edge guides for use as a fence or for clamping

Four table slots for clamping and heat reduction

Reinforced trestle-style legs for maximum stability
This welding table from Adjustable Steel is the best cheap welding table on the market.
It's small and folds up so you can easily take it with you to any job site. You get the best of both worlds with budget-friendly and portability in this table. 
This table is relatively small but it has a lot of great noteworthy features. The tabletop is made with heavy-duty steel and is also zinc-plated.
The zinc plating helps to make the table rust-resistant. The table can be adjusted to 5 different positions and angles which makes it incredibly versatile.
This welding table stands just over 32 inches high and the work surface measures 30 x 20 inches.
You can use the retractable edge guides to help you with clamping and other activities. There are also 4 slots that reduce heat and help with clamping.
This table is not huge and it is cheap but it is not what we would call cheaply made. It has a great range with all of the small things you would need in a table.
The portability also is a really nice feature and the size helps with portability.
Pros:
The legs are trestle-style and reinforced so you don't have to worry about stability.
Small but highly durable table-top
Several nice additional features like heat reduction slots and clamping spaces
Compact and foldable for portability
Cons:
Quality of the table is inconsistent making it hard to know if yours will be great
This table is not a high-dollar table so you can only expect so much from it. But it does deliver a great option for those who need an affordable and portable welding table.
This table is not really designed for super heavy-duty jobs but it is sufficient to handle the majority of your welding work on the fly if you get a good one.
#2 KASTFORCE KF3002 Portable Welding Table Welding Cart
KASTFORCE KF3002 Portable Welding Table Wedling Cart
portable welding table

18inch*36inch heavy duty welding top

storage tray for material and tools storage

4 bearing heavy duty 3inch swivels with brake function

Welding top thickness: 10Ga (2.8mm). Holes diameter: 5/8 (16mm)
Kastforce presents the best portable welding table you will find. It's also pretty cheap but you would never even know it was cheap using it.
The quality certainly does not point to cheaply made. This table has a nice setup on locking wheels and even has a shelf underneath for convenience.
This heavy-duty portable welding table has a top that measures 36 x 18 inches. The top is designed specifically for welding purposes and the thickness is 10 gauge.
Additionally, you will find a significant number of holes that are perfect for clamping and are 16 mm each in diameter.
This table is a bit on the heavy side, weighing in at nearly 56 pounds. This should be a good indicator of the heavy-duty nature of the table.
It comes to about 3 feet tall as well. You also can't argue with that convenient shelf built-in underneath the table or the wheel that lets you move your table wherever you need to.
This table is highly-rated and is made with durable steel. You can rely on this table to work for nearly any kind of job, even if you have to load it up and take it somewhere.
It doesn't fold but the wheels make it easy to port around.
Pros:
Heavy-duty table made for portability purposes
Has a well-made tabletop with plenty of clamping holes and a sturdy surface
Can handle weight up to 1200 pounds
Includes a tray to let you easily port your gear with the table
Cons:
Worksurface tends to get very warm when welding
You can't beat a portable welding table at a decent price such as this. If you review the market, tables this sturdy and convenient can often cost much more for a very similar approach.
You will need to be careful of the heat of the table since it does not have slots for heat reduction but as a welder, you most likely are already careful about heat as it is.
#3 Strong Hand Tools BuildPro Modular Welding Table
If you're looking for that steady high-quality table, you've found it here with this option from Strong Hand Tools.
This is the best quality welding table on the market. It will cost a pretty penny but it is well made and receives a 5-star rating across the board pointing to it is well worth the cost.
The tabletop is uniquely designed to fit a broad range of clamps and other various accessories.
You can get matching accessories from the Strong Hand brand or use or find your own and they should still work well with this table.
This free-standing table is meant to be put somewhere and not moved around a bunch. The feet have added grip features to give you the ultimate stability and comfort for your workspace.
This table is considered a precision welding table made with ground steel.
The clamping holes are 5/8 inches each and set in 2-inch grid patterns. There are also slots between the plates to give you heat reduction and additional clamping edges.
You can also move the plates around for large projects to best fit your surface needs.
This table can support 2 tons of weight and the feet are designed for leveling purposes as well.
Pros:
Heavyweight capacity with extreme stability
The table is designed to simplify necessary clamping
Leveling legs to keep your table stable and level at all times
You can purchase additional mated accessories or buy another kind
Cons:
The table is fairly heavy and meant to stay in one spot
The table can be hard to clean when needed
This table is not for the faint of heart. It has a hearty price tag attached to it but it is well worth every penny you might spend.
If you do some digging, this table is highly-rated and is one of the best options you will find for a stable table.
Purchase this table with the intent of leaving it in a distinct location in your workspace.
A Complete Buying Guide for Choosing a Welding Table
Giving you suitable options in different categories is all well and good but what do you do with that information once you have it in your hands? How can you possibly choose the best welding table?
While we've tried to sort through the options and provide you with our top picks for a cheap table, a portable table, and a high-quality table the fact remains that there are many more options available.
As you review your table options, it's important that you understand just what you should look for.
This is why we've developed a buying guide to provide you with some specific features and characteristics you should take note of in your search for a welding table.
Let's get started.
Why Do You Need a Welding Table?
Welding tables can be used for things besides just welding but they are designed for welding practices. The point of a welding table is to give you a surface that provides you with stability and capability for your welding jobs.
Welding tables are typically made highly-durable materials so that they can withstand the heat and the weight of your welding jobs. You should be able to clamp and even conduct a ground to the tabletop you choose.
Additionally, the welding table should give you comfortable height and even be adjustable to the height you need for the project you are working on. All of these features and more simply provide you with a suitable workspace for your welding purposes.
The fact of the matter is you need a stable and durable surface so you can work safely, comfortably, and efficiently. This is not just a luxury addition to your welding tools but rather a basic necessity that every welder should have in their arsenal.
The Functionality of a Welding Table
We've covered some of the basics of what you should expect from a welding table. For instance, your table should have a steel tabletop. There are various sizes and functions, including the ability to change angles and heights of the table.
But what exactly might you use a welding table for overall? Technically, you could use your welding table for anything but here are some of the primary functions a welder might find these tables useful for.
Electrical grounding
Clamping
Gauging
Measuring
Welding
Squaring corners
Mounting
Bending
Jigs
These are just a few things that the tables are uniquely designed for. You will also find that welding tables typically have a surface full of carefully made holes. These holes give you additional functionality, particularly for clamping purposes.
Welding Table Size
You can choose the size of welding table you need based on various factors. Welding tables typically fall into a range of sizes beginning as small as 6.5 x 13 inches and spanning up to large sizes that are 20 x 40 inches.
As you look at your size options maybe consider the size of projects you most commonly work on.
While not every project is the same size simply keep in mind your average project. If you only do one extra-large job every year or two, then you probably don't need a huge table to start with.
If you commonly work with large pieces of metal or wood, you probably need to consider a large table that has a width of at least 4 feet in order to fit your jobs.
Welding tables are not a one size fits all element. Choose your table based on the average size of your work scopes.
If you're just getting started, try to determine whether you will be working mostly with smaller or larger projects and what will best fit your needs.
Welding Table Use
This probably seems straightforward but it's something you need to consider. Are you constantly on the go traveling to various sites for your welding projects or do you always work from your own shop?
In other words, do you need a portable table or a fixed table that will stay in your shop? Maybe at some point, you will need both.
Portable tables are great, particularly if you have limited workspace because you can often fold them up and put them away if you need some space.
However, if you're working with heavy jobs, a portable table may not work for you. They often have weight constraints that just might not work for those big jobs. In that case, a fixed table is your best solution.
Fixed tables can usually be expanded upon to make them even larger. You can often join multiple tables together if you need to.
Before you decide whether you should buy portable or fixed, consider your workspace as well as the types of jobs you will be completed. Make sure you choose something that will be compatible with your work.
If you're just beginning, you might start small with a small portable option and then upgrade when and if it becomes necessary.
Table Surface
Most of the time, welding tables surfaces are made with heavy-duty steel. The surfaces are subjected to heat and grit and residue and any other number of factors.
You need something strong and durable. In addition to the steel, welding tables may also be coated in zinc. The zinc primarily helps to prevent rust and corrosion.
Also, your table surface should have a reasonable amount of both slots and holes. The slots can be used for many things including clamping, measuring, and heat reduction. The slots are primarily used for clamping but could serve other purposes as well.
The unique design of a welding table is to have both of these elements to assist you with particular aspects of your welding jobs.
Without these features, you might not find the table to be useful for the purposes intended.
Table Height
Most welding tables have adjustable height features. If the ones you are looking at are not adjustable then just be sure to not the height so you can determine whether it will be a comfortable height for a working surface.
Tables like the Strong Hand Tool table are adjustable in height but also have leveling features so your table is level all around. Then there is the Adjustable Steel table whose legs fully adjust but then it can also be set to various angles for your needs.
Our Verdict
When it comes down to it our top pick of the market goes to the Adjustable Steel table. This is particularly great for beginners.
It is cheap but well-made and it is also portable. This gives you the versatility and the price tag to simply have you equipped as you get going.
As a runner up, we are big fans of the Kastforce table. It's well-made and can be used for fixed or portable means.
It has a reasonable load-bearing capacity and a nice storage shelf which makes it a versatile welding table for many varying needs.
Conclusion
When it comes down to it, only you can decide which table is truly best for your needs. We've shared 3 wholly different tables here that are each at the top of their own category.
From there, it's up to you to determine just what your needs are so you can make the best selection in the end.
We hope that you find the resources in these product reviews and buying guides to be helpful in aiding you while you make your decision. We simply want to provide you with the best information to make a fully-informed decision.
Choosing a welding table can be challenging with there being so many options in the market but we are confident you are now well-equipped to be able to choose a table that will work for your needs and your welding career path.
Here's to finding the best welding table for YOU.