One of the first things I learned as a welder is that you need a reliable set of tools for the job. I'm not just talking about welding tools, I'm also talking about basic tools like hammers, chisels, pliers, tape measures and more.
As you know, these tools can vary greatly and there are literally hundreds, maybe even thousands, of them available to choose from.
The thing is, welding needs are very specific. We work with heat and we have sparks, spatter, slag, and other debris. We need our tools to work for the welding environment.
What is the best tape measure for welding? Can you use just any tape measure? You really can use whatever you prefer but I strongly recommend that you go for something durable.
There are also many specialty-type tape measures that have features that can be very useful when you use them for welding purposes.
In this guide, I will share with you my top 3 picks for the best tape measure for welding. I will share comprehensive reviews detailing all of the things you should know about each of these choices.
The reviews will also include the pros and cons of each tape measure for your reference.
Once we've completed the detailed reviews, we will move into a buyer's guide. Here, we will discuss the features you will want to be mindful of as you determine which is the best tape measure for welding for your needs.
Let's get started!
The Top 3 Best Tape Measures for Welding Reviewed
The following reviews are meant to provide you a comprehensive overview of my top 3 choices for welding tape measures.
My years of experience in the welding industry have given me some insight as to what works and what doesn't and I'm excited to share that information with you.
If you're looking for the best cheap tape measure for welding, I highly recommend this option from Stanley.
Stanley is a well-known tool company that turns out high-quality products and this tape measure certainly fit the bill. You can't go wrong with a good old-fashioned Stanley option.
What's even better is you get 4 tape measures so you can keep one at your booth, one in your toolbox, one in your portable bag, and still have a backpack for when you just can't seem to remember where you left your tape measure.
Or, of course, you can do whatever you want since you get 4 of them.
These are priced very well and they are definitely my favorite option available. I've been using these for years, they're industrial quality so they hold up to the welding lifestyle.
They are reliable and durable and you simply can't find a tape measure that is better made for a basic option.
This tape measure has stud center markings on the tape. It also is designed with a 7-foot standout. The tape measure itself is an inch wide and measures up to 25-feet in length.
It has a locking mechanism that actually works and with the 7-foot standout, you don't have to worry about it bending or breaking.
Pros:
Suitable length and overall size
Added stud center markings
Comes with 4 tape measures
Built to industrial strength
Solid background of reliability and durability
My tried and true favorite tape measure for welding
Cons:
No "extra" features like magnets or fractional measurements
Hands down, this is quite arguably the best in the market. This 4-pack is very well priced.
There are no fancy extra features that many newer tape measure models offer but they're still really great.
The fact that they hold up to industrial needs offers a lot by way of proving their worth. It's cheap but it's definitely not cheaply made.
To check the price and reviews for the Stanley tape measure click here.
Milwaukee is another reliable tool brand and they produced a really great option with this tape measure.
This is perhaps the best quality tape measure for welding. It's a bit higher-priced than the Stanley option but it is well worth the cost.
This tape measure is built to be heavy-duty. It has a nice grip design to make it easy and comfortable for you to hold and use.
It even has a nice clip so you can easily attach to a belt, jeans, or whatever you want to. This tape measure is nice and simple to work with.
Another great feature of this tape measure is that is has been enhanced with the magnetic ends, which makes it ideal for welding purposes.
The magnets can help keep your tape measure where it's supposed to be so you don't have to fight with it staying in place.
This tape measure will measure up to 25 feet, which is plenty long enough. It's highly durable with a 5-point reinforced frame.
It's going to be able to stand up to hearty use in the welding industry as well as any dropping or mistreatment it might come across in your shop.
Pros:
Enhanced with a finger for blade retraction
Designed with magnetic ends to simplify measuring
Built to be highly durable
Measures up to 25 feet
Reliable brand that makes quality products.
Enhanced grip design for comfortable use
Cons:
A bit more expensive (but also high-quality)
Slightly wider than most tape measures, making it heavier than necessary
For my second pick, I don't think you can do much better if you're looking for top-notch quality and premium design.
Yes, this tape measure costs a bit more but look at all of the additional features it offers to satisfy your welding needs.
This tape measure seems like it was designed specifically for welders.
Click here to check the prices and reviews for the Milwaukee tape measure.
You know when you're measuring and things just don't end up smooth to the nearest quarter or half?
This particular tape measure has got you covered with its fractional measurements that break out into as low as 1/8 to help you measure with utmost accuracy.
This well-made tape measure is the best fractional tape measure for welders. It's very nicely made with a great grip that is smooth and comfortable to work with. In fact, this tape measure is really known for its grip and fractional measurements.
Komelon provides you a well-made option that you can purchase in a 2, 3, 4, 0r 5-pack. These are relatively inexpensive without feeling like they are cheaply made.
It's really nice to be able to find a well-marked tape measure that includes fractions so you don't have to worry as much about accuracy.
You can measure and mark quickly with the design of this tape measure. It's a standard 1-inch in width, which is great.
This tape measure is slightly shorter, only measuring up to 16-feet but really that should be decent enough for most welding measurement needs. There are also stud markings on the tape measure, which could come in handy.
Pros:
Made with comfortable grip design
Comes in a multi-pack
Super cheap without being cheaply made
Includes fractional measurements
Designed for speedy measuring and marking
Cons:
Slightly shorter in length
Quite heavy considering the size of the tape measure
You can't go wrong with cheap and simple. This tape measure is heavier to hold than most tape measures of comparable size.
It looks small so just be aware that it's heavier to hold than it looks. It's well-made, durable, and easy to use.
A great bonus is the fractional measurements to help promote accuracy!
Click here to check the price and reviews of the Komelon tape measure.
A Buyer's Guide to the Best Tape Measure for Welding
It's true that you can choose whatever type of tape measure you prefer to use for a welding tape measure.
However, there are some features that you may want to specifically consider while you are attempting to determine which tape measure you want to have on hand.
The ultimate truth is that we each have our own preferences and requirements when it comes to choosing a tape measure that will suit our needs. It's ok to have your own preferences.
In the above reviews, I chose 3 very different and unique tape measures in an effort to find options that span across multiple types of functionality.
There are some specific features you may want to just be informed about or even aware of as you check out your options.
These features may just help you make a specific decision when it comes down to narrowing down your options.
Learning to Read a Tape Measure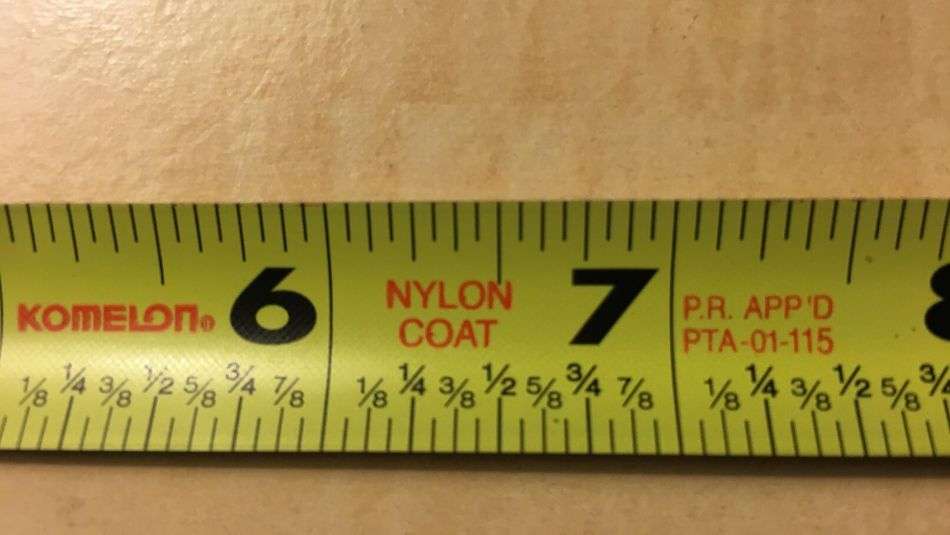 You can purchase tape measures that label each line and detail out fractional inches for you.
You can see an option like this in the #3 slot listed above. Hover, many tape measures are just marked with lines and a number that marks the inches.
Unfortunately, most people are never taught how to read a tape measure. Many of us are taught using rulers in school and tape measures can be read in a similar manner.
But let's face it, that was back in grade school and the majority of us don't remember much more than reading the inches from those lessons.
In welding, being able to read the minuscule measurements on your tape measure is important. Many welding jobs rely on exact measurements and reading the tape measure is simply part of the job.
So many people don't really understand what the tick lines stand for in between the inches but you definitely need to be able to read these.
Yes, you can buy a fractional tape measure but it's a good idea to familiarize yourself with the measurements anyway rather than simply relying on a measurement device that does it for you.
You never know when you might be stuck without the fractional measurements to guide you.
While this by no means is meant to be a guide to teach you how to properly use your tape measure, here is some basic guidance.
Tape measure lines are set from whole inches with markings in between for halves, quarters, and eighths. Some tape measures even mark sixteenths of an inch for you.
How do you know which markings are which? Tape measure tick lines are different lengths. You've probably noticed this but if you haven't, take a quick look. The smaller the measurement, the smaller the line.
That means, on a standard tape measure, the smallest lines equal 1/8-inch increments.
The next line measures quarter-inch increments and then the one-half inch increment is the longest and it's directly in the middle between the inch markers.
This is just a simple overview of understanding what those little markings mean on a tape measure.
Hopefully, if you're not quite sure how to read a tape measure, this will be informative for you as you go forth and measure.
Features to Look for in a Welding Tape Measure
Most tape measures will not be labeled "welding tape measure". You might find some that are but overall, you're just checking out the specifications and features to determine if that tape measure you're looking at is going to work for your welding needs.
Here are some features you may want to consider.
Length & Measurements
Lock Feature
Grip
Magnetic
Durability
Length & Measurement
The length of the tape measure may or may not be very important to you. Ultimately, you want to make sure that your tape measure has plenty of length. Many tape measures are 25+ feet as a standard but there are also plenty of tape measures that measure far less.
Just be sure to check out what your tape measure can handle and ensure that it will be suitable for the type of measuring you will be doing. Many of us only need a few feet at a time but there are plenty of jobs out there that require substantial length measurement.
There is another aspect of measurement to consider as well. The standard tape measure is 1-inch wide. Some tape measures are wider and some are actually not even that wide. This is a feature that may have no impact on you whatsoever but it's something to be aware of.
Be sure to check the width of the tape measure you're considering, particularly if you have a specific width in mind or you often work in narrow spaces. You don't want to end up disappointed with a tape measure that is too wide for your needs.
One more thing I want to mention here for you to remember. If you need those fractional measurements in plain sight, be sure to choose a tape measure that has them marked for you.
Lock Feature
Most tape measures are equipped with a locking feature that allows you to lock at a certain length. This will come in more handy than you could possibly know.
You might just want to double-check and be sure whatever tape measure you end up with has some sort of locking mechanism. It can be quite convenient at many times.
Grip
This may not seem important but it really is. You and that tape measure will probably be very good friends. Find one that's comfortable to handle and grip and will fit nicely in your hands so you're not fumbling around wasting time when you're measuring.
Not all tape measures have special grips and that's ok, just be sure you will be comfortable with whatever you get. Sometimes, the grip additions make the tape measure heavier so this is also something to keep in mind.
Magnetic
Again, this is not required but it's something to be aware of. As welders, we work with metal all day long. There are tape measures that have magnetic ends to hold the end in place while you're measuring.
This is a matter of preference and convenience but those magnets can be quite useful when you're trying to measure and the tape measure simply won't cooperate or stay in place like you need it to!
Durability
Last, but definitely not least, durability is very important for choosing a tape measure for welding purposes.
Chances are that little tool is going to get dropped and tossed around. Not to mention, it's probably going to be left much too close to your welding tools and subjected to heat and debris.
Industrial-strength tape measures are your best bet. Whatever you do, just be sure to choose something made with high-quality materials that can stand up to your abuse.
My Top Pick
Overall, my choice for the best tape measure for welding goes to the Stanley tape measure.
It is just a basic tape measure with no special features but it is heavy-duty and will hold up in the heavy-duty situations that welders face every day.
This tape measure is affordable and comes in a 4-pack and it will serve your welding purposes quite nicely.
Conclusion
I hope you find this buyer's guide to the best tape measure for welding to be a valuable resource for choosing a tape measure and also having the best information for what to look for in a tape measure.
Remember, choose what works for you!